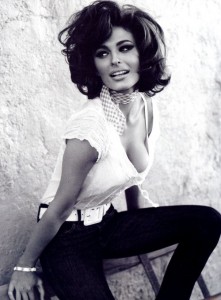 "Everything I am I owe to pasta."
You know who said that?
Sophia Loren.
I've had a crush on her for a long time. My Uncle Oscar once sat next to her on an airplane. They flew from New York to Rome. A long flight, for sure.
But if I were sitting next to Sophia Loren, I would have been praying that we'd get stuck on the tarmac for a few days.
Or better yet–crash into the ocean, where just the two of us would be stuck on a small, deserted island for the rest of our lives, where I'd cook for her every day on an open fire on the beach next to our thatched hut while the waves gently wash on the shore as the sun sets gracefully on the horizon while I play my guitar (that miraculously washed ashore) as we drink wine that I made from wild grapes that I discovered when we were bathing in a nearby waterfall.
I can dream, can't I?
Sophia Loren loves pasta. So do I.
The key to eating pasta on a regular basis is…don't eat a wheelbarrow full. Italians eat small amounts of pasta. Italian restaurants in America serve buckets full of pasta, all covered in cheese and sauce and goo.
Take your hands. Cup them together. That's the amount of pasta you should put on a plate–unless you're four feet tall and have hands the size of Shaquille O'Neal's.
Let me tell you a little story, a heart-warming tale about a boy, a bike and a zucchini.
I was living in Nashville. I rode my bike to the post office. I dropped off some thank you notes—I write a lot of them, I have a lot to be thankful for—and saw some beautiful mums outside the fruit and vegetable stand across the street.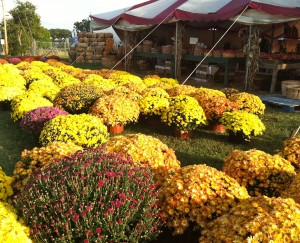 I walked in to the red and white striped tent, and there were so many vegetables and fruits; fresh, ripe, colorful, local…it was amazing. They had baskets and baskets of home grown tomatoes. So much stuff to choose from.
Only one problem…All I had was a five-dollar bill in my pocket.
So, I picked out a green zucchini, a yellow summer squash, and a brown eggplant. I had enough left over for a bulb of garlic and a shallot. The total was four bucks and change. I put the stuff in my messenger bag and rode my bike home.
It was a beautiful fall day in Nashville; sunny, cool, and clear. On my way home, I stopped by a friend's restaurant, a great place called Mafioza's. These mobsters grow basil outside in planters that border the entrance. I picked a small handful, put it in my bag, and rode my bike home in a hail of bullets, ducking and weaving.
I got back to the shack and decided to make a little sauce. I put the sauce over pasta, but keep in mind, you can use a dish like this for anything…a side dish, on bruschetta, on pizza, over rice, as an appetizer, on your corn flakes…use your imagination.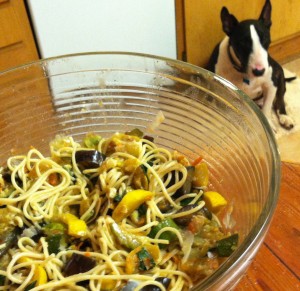 The sauce was delizioso. Batu loved it. Start to finish, it took 30 minutes. And it cost about five bucks. My kinda dish!
I added some freshly grated carrots, about a ¼ cup, for a little color, and a little crunch.
This should serve about three people, unless those people are teenage boys, in which case this will serve one.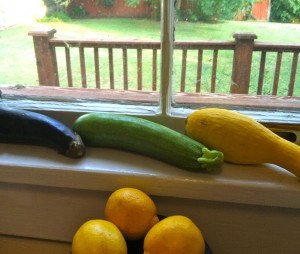 INGREDIENTS
1 green zucchini, ends cut off, chopped into 1" triangular pieces (about a cup and a half)
1 yellow summer squash, ends cut off, chopped into 1" triangular pieces (about a cup and a half)
1 small eggplant, ends cut off, chopped into 1" triangular pieces (about a cup and a half)
1/4 cup fresh grated carrots
Small handful of fresh basil
4 tablespoons of olive oil
6 cloves of garlic, peeled, sliced into thin slices, about 1 1/2 tablespoons
1 small shallot, peeled, minced, about 1 1/2 tablespoons
1/3 cup of white wine
1 cup of broth (chicken or vegetable)
¾ pound of spaghetti, or fusilli, or farfalle
Salt and crushed red pepper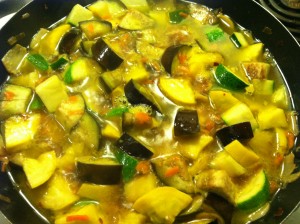 Here we go…
Put a large saute pan over medium-low heat. Add the olive oil.
Add the garlic and shallots and some crushed red pepper (to taste), cook for 3 or 4 minutes, until the shallots are clear, and the garlic is pale gold.
Turn the heat to high for 1 minute. Then add the white wine, let it cook off for a minute or two.
Turn the heat down to medium-low, add all the vegetables.
Add the stock, and salt to taste.
Let it cook over medium-low heat for ten minutes. Stir every so often.
Taste the vegetables. You want them firm–not crunchy (underdone) or mushy (overdone).
Adjust for salt and pepper.
Take your basil, and snip it with scissors right into the sauce. Give it a stir.
Remove from the heat.
If you want to use this over pasta, get a large pot, fill it with cold water and put it on the highest heat you got.
When the water comes to a boil, add a couple tablespoons of salt (I use Kosher salt, not for religious reasons—I just like the way it tastes).
Then add your pasta. Stir it up every few minutes, so it doesn't stick together. People should stick together, pasta should not.
When the pasta is al dente—firm to the bite–drain it in a colander.
Put the pasta in a large bowl. Drizzle with a little olive oil and mix it up.
Add most of the sauce, save a large spoonful for each plate (save three large spoonfuls).
Mix it up. Then plate it up!
Put a small amount on a plate. Add a spoonful of sauce on top. You can add some freshly grated cheese if you like—Parmigiano-Reggiano or Romano—and…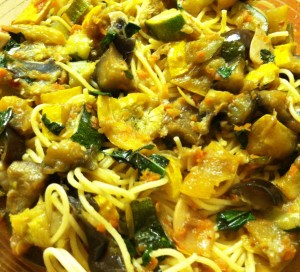 MANGIAMO!!!!