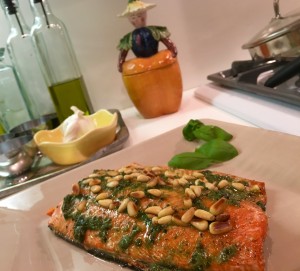 Most women I know love salmon.
I once went out with a woman who ate so much salmon, she started developing small gills behind her ears.
Most women I know prefer to have things baked or broiled, rather than fried or sautéed.
That's OK. I'm a big admirer of women folk. I like to keep them happy. The world seems to work best that way.
So if there are Lady People involved when I'm cooking, baked salmon is always a good bet.
The thing about baked salmon is, it can get a little dry if you cook it too long. Don't overcook!
Wild Alaskan King salmon is best, a nice thick piece. I found a nice piece of sockeye salmon at the local grocery (Ralph's) for $7 a pound, and yes, it was wild.
I baked it in the oven for about 8 minutes, took it out, put a little pesto and some toasted pine nuts (pignoli) on top and put it under the broiler for a minute or two, and it was…
Delizioso.
Keep in mind…
Thicker fish take longer to cook.
You don't need to toast your nuts for too long, they'll get another roasting when you stick them under the broiler.
My pesto sauce has Parmigiano and romano cheese in it, and a lot of cooks frown upon putting cheese on fish.
But what about the fish sandwich at McDonald's? What about tuna casserole?
Ingredients
1 pound wild sockeye salmon filet, (the piece I used was about ¾ " thick)
1 tablespoon olive oil
Glass baking dish
Salt and freshly cracked black pepper.
1 tablespoon Slim's pesto (the video link to my recipe is down below)
1 tablespoon toasted pine nuts (toast and shake in a dry pan over medium-high heat, don't burn your nuts!)
Here we go…
Heat oven to 425 degrees.
Rinse the fish, and pat dry with paper towels.
Put a tablespoon of olive oil in the bottom of the baking dish.
Put the fish in the dish, turn it over so each side gets a little olive oil.
Put the skin side down, add salt and pepper to the top.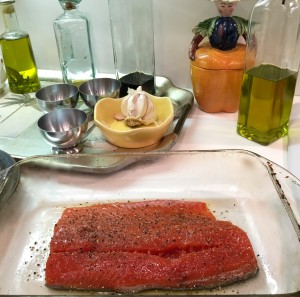 When the oven comes to temperature, place the fish on second lowest rack.
Bake for 8-10 minutes, or until almost done (pink inside).
Remove from oven.
Turn the oven to broil.
Spread the pesto evenly over fish.
Top with the toasted pine nuts.
Put the salmon under the broiler for a minute or two.
Remove from oven.
Dish it up! Make it look good. She's a-so nice!
MANGIAMO!
Click on the pic to see the YouTube pesto video: