My Dad—I called him Paps—used to say my music was like ginger ale.
"It's not for everybody."
I get it, I understood what he was saying. You've got Coke. You've got Pepsi. They're the Big Two, people drink billions of bottles a day. Both are extremely popular.
And then you have ginger ale. That's me.
This recipe is like ginger ale, it's really good and a nice change of pace, but it might not be for everybody. That's OK. I love it. It's unique.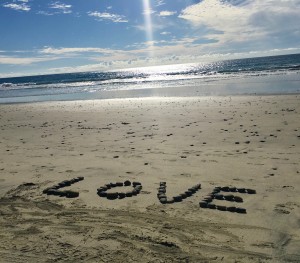 I was in Carlsbad, California, and as I was driving home from a walk on the beach, I stopped at a fish store. They had some halibut that was so fresh it pinched me on the buttcheek as I walked by. The nerve! Hasn't he been reading the papers?
He should have–I think he was wrapped in one!
Carlsbad must be the halibut capital of the world. They always seem to have an abundance and it ain't too expensive at all.
I bought a one-pound piece, it looked wonderful and smelled like the sea. Then I went next door to the grocery store and bought some antipasti. Antipasti means "before the pasta" in Italian. It's usually some peppers, olives, cheeses, salami, that kind of stuff. You have antipasti out on plates as your guests arrive at the trailer park.
I wasn't having anyone over for dinner, I just thought it might be nice to gnaw on an olive while I was cooking.
So I bought some green and black Cerignola olives. My uncle Oscar used to buy these huge jars of Cerignola olives, and I always loved them. Then I got some red peppers. Or at least, I always thought they were red peppers.
They were red, yes. And they were peppers, yes. I've been eating them for quite a while, and I always thought they were Italian. I was wrong. I know, hard to believe that Mr. Man could ever be wrong about anything, but it happened.
I saw a little sign right above the bright red peppers, a sign that said "Peppadew."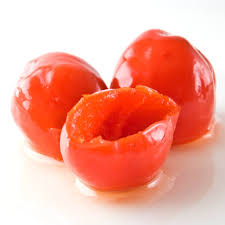 Peppadew? Sounds like some kinda over-caffeinated energy beverage that the kids drink these days to get all jacked up before they go to one of them damn rock music festivals.
I put some in the container with the olives, and when I got back to the house where I was dog-sitting, I decided to look them up. Peppadew.
Well, it turns out that these were created—actually patented—in the 1990s in South Africa. I know, it sounds like something I'd make up, but I swear it's true!
I've been eating these things for years and I always thought they were Eye-Tralian. But they ain't. They're from South Africa, which is not too far from the country that's named in my honor…
SlimBobWay.
Peppadew peppers are about the size of a cherry tomato; they taste a little sweet, and a little spicy, and I've always liked them.
So I put a few Peppadews and some olives in a bowl, and put the halibut on a plate, and in a stroke of fish-making mastery, I decided to make a sauce with the antipasti.
But I wanted to make sure everything would get along, that these flavors would synch up.
I tasted a black Cerignola olive and it was delish, not too strong. I tasted the green Cerignola olives, and they tasted…too pungent. Kinda sour. I wasn't digging the flavor, so I left them out.
So, I had black Cerignola olives, Peppadew, and what else should I add?
I rounded up the Usual Suspects—olive oil, lemon, garlic, and shallots.
And the sauce? She was a-so nice!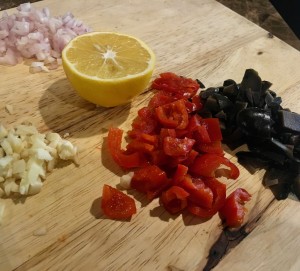 INGREDIENTS
The Fish:
1 pound skinless halibut filet
2 tablespoons olive oil
Kosher salt
Black pepper
Turbinado sugar
The Sauce:
2 tablespoons olive oil
2 tablespoons chopped shallots
2 tablespoons dry white wine
1 tablespoon minced garlic
2 tablespoons chopped black olives (no seeds)
2 tablespoons chopped Peppadew peppers
2 tablespoons freshly squeezed lemon juice
2 tablespoons chopped fresh Italian parsley
HERE WE GO…
The Fish
Heat a 12 inch sauté pan over medium heat.
Add 2 tablespoons of olive oil.
As the oil heats, sprinkle a little Kosher salt, black pepper and turbinado sugar on top of each piece of fish.
Place the fish—seasoned side down—in the pan, and sauté for 3 minutes. Don't stir, don't move.
As the fish cooks, sprinkle the unseasoned top of the fish with a little Kosher salt, black pepper, and turbinado sugar.
Turn the fish over, sauté on the other side for 3 minutes.
Remove the fish from the pan to a nice platter.
The Sauce
Add 2 tablespoons of olive oil to the fish pan.
Add the shallots, let them cook for a minute or two until the edges get golden.
Add the white wine, stir, and let it cook off for a minute or two.
Add the garlic, cook and stir for a minute or two.
Add the olives and peppers, stir and cook for a couple minutes.
Add the lemon juice and parsley, stir and cook for a minute or two.
That's it!
Put the sauce on the fish, make it look all pretty with a garnish of fresh parsley, and…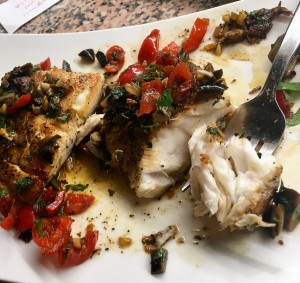 MANGIAMO!!!