Cooking these days can be a pain in the ass.
I'll tell you why…
This weekend, there were some folks visiting the Slim Shack. People came in from around the globe to pay respects to my friend, Abe, who passed away recently.
He was a colonel in the Army, and one of the good guys. He was well-read, kept himself in great shape, was thoughtful and generous and kind and strong and had a sense of humor, too. Plus, he was a sharp-dressed man.
I cooked many dinners for Abe. He ate everything, and when I say everything, I mean he didn't turn vegan or vegetarian or paleo or Mediterranean, Abe ate a balanced diet. Reasonable. Moderate.
And he passed away at the age of 97 recently. Not from something I cooked, promise!
He live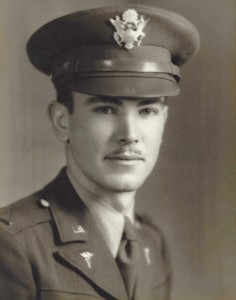 d a very healthy life right up until his last days. And he ate whatever he wanted. But that was then. And this is now…
And now folks have all kinds of dietary restrictions. Here is what I was up against this weekend. Seriously.
This one doesn't eat meat. That one doesn't eat onions. This one is a vegetarian but can't eat tomatoes. The other one can't eat pasta. Another one doesn't eat anything fried or even sautéed. This one is completely vegan, and…
What the hell was I supposed to cook?
Well, I made one of the best dishes ever. Seriously. All these restrictions forced me to come up with something I never would have made. Sure, in the beginning I felt like smacking each numbskull upside the head with a wooden spoon, but after…
Wowoweewow. I'm telling you, it was so good and so healthy.
And I'm gonna show you how to make this primavera dish.
Primavera in Italian means spring. So, the point to this dish is to find all the fresh—not frozen—and colorful spring vegetables you can, and make a dish of pasta with them.
I went to the local grocery, and picked out the most gorgeous vegetables I could find. And there were plenty. Here in California, all the produce looks so beautiful and tastes like it hasn't been sitting on a truck for a month.
Because it hasn't.
Never in my life have I seen so many fresh and beautiful and scrump-diddly-umptious vegetables. And not to mention Gilroy, the Garlic Capital of the World, is not far away!
So I found some magnificent vegetables, and then I roasted them, that's right, roasted them in a pan. Because this one doesn't like fried or sautéed.
And then I put them over pasta. Well, I made one batch with real pasta, and the other one with some quinoa-edamame-tofu-Styrofoam-type fake pasta.
I wasn't jumping for joy when I tasted the fake pasta.
But when I put this primavera sauce over farfalle? It was one of the best-tasting dishes I've made in a while. All because of those knuckleheads!
So, in life, when confronted with knuckleheads, know that they are there to improve you. They are like sandpaper that smooths out your rough edges. When you have a bunch of knuckleheads over for dinner, and they have a bunch of dietary demands, cook this.
This dish is simple. And quick. And easy. And inexpensive. And ridiculously healthy.
NOTES: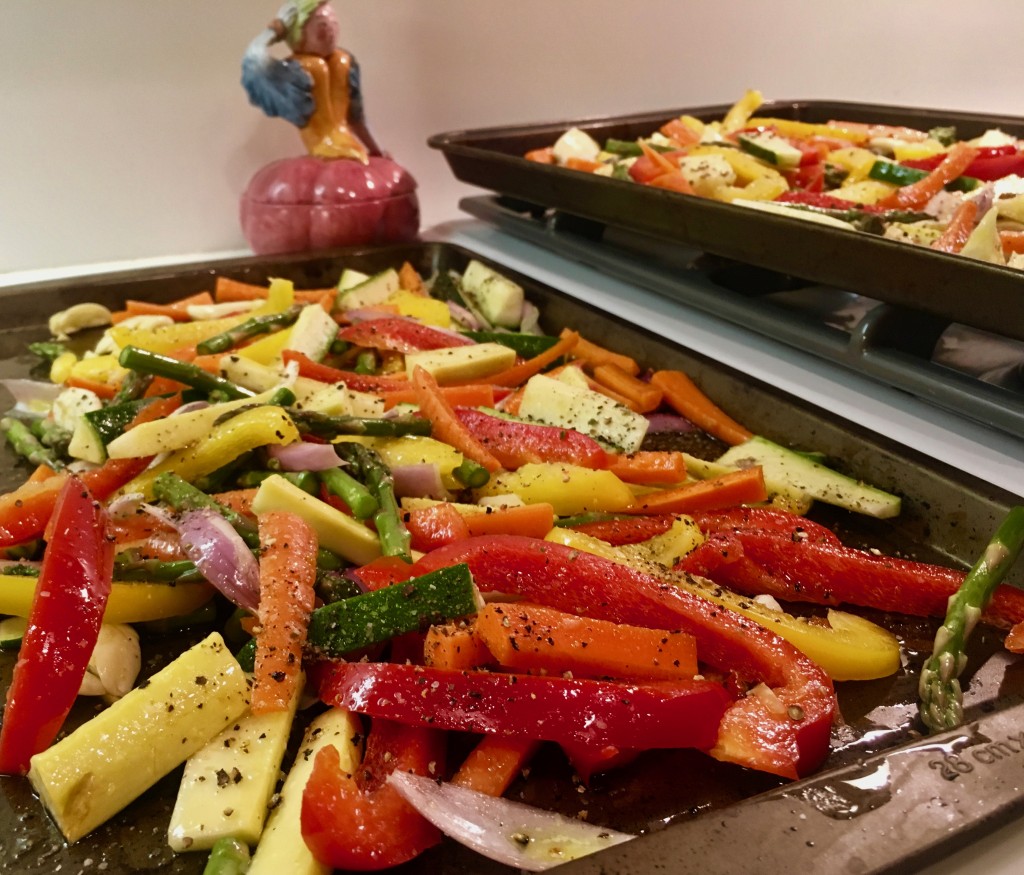 I put the chopped, slivered, sliced vegetables in two baking pans. After I sliced and diced and smashed and chopped, I divided up the vegetables equally…half the carrots in one pan, half in the other, and so on, with all the vegetables.
The carrots need to be sliced thinner than the other vegetables. They cook quicker that way, and will be done when the rest of the other vegetables are.
I used a whole garlic bulb. There were about 10 cloves inside, I smashed each one, peeled off the paper, and put 5 in each pan. The roasted garlic was delizioso.
I have two racks in the Slim Oven.
I put one pan on the lower rack, and one on the rack above it.
After 20 minutes, the lower pan was perfection, so I took it out of the oven. But the upper one needed a little more time.
So I put the upper pan on the lower rack for 5 or 10 minutes, and wow, it was done to perfectly perfect doneness.
I put the grape tomatoes in at the end. For two reasons…One is that they really don't need to cook/roast. They just get all mushy.
The second reason is…that one couldn't eat tomatoes. Or didn't like them. Whatever, I left them out of her dish, and put them in after I served her.
Cazzo!
INGREDIENTS
1 yellow bell pepper, de-seeded, and sliced into thin pieces
1 red bell pepper, same way
4 carrots, sliced into matchstick-size slivers
1 zucchini, sliced the same way, but thicker
1 yellow squash, sliced the same as the zucchini
1 generous cup asparagus tips
2 shallots, slivered
10 garlic cloves, smashed and peeled
1 cup grape or cherry tomatoes, halved, seeds squeezed out
1/3 cup of fresh snipped basil leaves
1 tablespoon of chopped fresh oregano
1 tablespoon of chopped fresh thyme
Olive oil
1 pound of farfalle pasta
Kosher salt and fresh ground pepper
Here we go!
Preheat your oven to 450 degrees.
Divide all the vegetables in half (except for the tomatoes) and put half on each baking tray.
Drizzle with olive oil and mix.
Add Kosher salt, and fresh ground pepper to taste, and mix.
Put the trays in the oven for 10 minutes.
Then take them out, and give 'em a stir, stir, stir.
Bake for another 10 minutes.
When the carrots are done, take the trays out of the oven.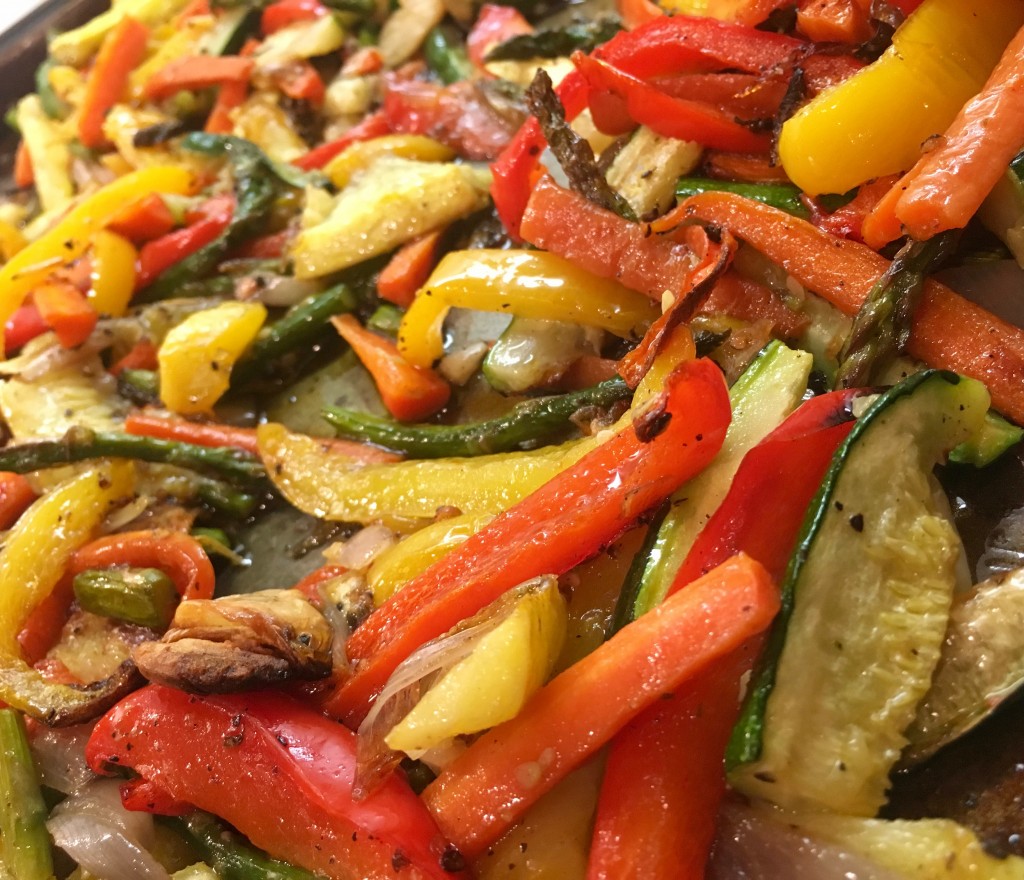 You can put this over pasta, or quinoa, or rice, or hedge-clippings.
I used farfalle pasta, 1 pound.
I put it in rapidly boiling water (I added a couple of tablespoons of Kosher salt first) and cooked it until al dente.
Al Dente! Wasn't he a pitcher for the Yankees?
Drain the pasta and put in a bowl.
Give a little drizzle of olive oil and stir.
Add the vegetables to the bowl, stir gently.
Add the tomatoes and the herbs, and mix gently. Gently, Slim boys and girls!
Dish it up on a nice plate, maybe garnish with a sprig of oregano or thyme, and sprinkle with some freshly grated parmigiano cheese (unless you're vegan, or dairy intolerant, or whatever) and…
MANGIAMO!