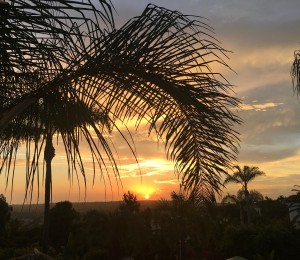 Slim Man Cooks Halibut with Capers, Lemon, and White Wine
So…I went to house/dog sit for some friends. Their kid, a 20-year-old singer/surfer/guitar player with dreadlocks, had bought 2 pounds of fresh halibut, as in really and truly fresh, not frozen and then defrosted fresh, we're talking fresh caught that morning.
The fish was so fresh that I had to give it a cold shower.
They asked me to cook. I love to cook. And I love not to cook. If someone wants to cook for me, or take me out to dinner, I'm good with that.
But if people ask me to cook, I'll cook. I don't mind. They're not asking me to paint their house, or tar their roof. I'm cooking dinner. So shut the hell up!
So I started asking questions of my dear hosts…do you have flour? Capers? White wine? Garlic? Lemons?
I went through a list of what they had, trying to figure out how I could make the halibut.
There's a chicken piccata recipe in the Slim Man Cooks cookbook. I thought, why not try it with halibut?
Just for the halibut?
I had everything but lemons. But I had some stashed in my bag. I carry lemons when I travel, about 4 or 5 in my bag. I drink lemon water just about every day, a couple glasses every morning, and I use fresh lemons.
Plus, it makes my clothes smell oh-so nice!
So I had lemons.
The kid had bought 2 pounds of halibut. I'll do this recipe for one pound; double it if you want.
From the time I started, until the time it was ready to eat, we're talking 10 minutes.
KEEP IN MIND…you don't have to use garlic. My chicken piccata does not have garlic. I put garlic in with the piccata halibut, just for the halibut.
Here we go: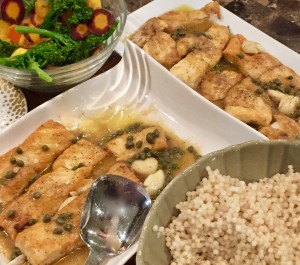 INGREDIENTS
2 tablespoons of olive oil
2 tablespoons butter
1 cup flour
salt and fresh cracked black pepper
1 pound skinless halibut filet, cut into small rectangular pieces (5"x3" or so)
4 cloves of smashed garlic (garlic cloves, smashed with broad side of knife, peeled)
½ cup dry white wine (room temperature)
2 tablespoons capers (and their juice)
The juice of one fresh, ripe lemon (a tablespoon or two)
Let's get started…
Put a large sauté pan over medium-high heat.
Put the olive oil and butter in the sauté pan.
When the butter starts to bubble…
Put the flour on a large flat plate, sprinkle with salt and pepper.
Take a piece of fish, roll it around in the flour, get it coated, gently shake off the excess.
Gently, you morons.
Put the fish in the sauté pan, do this with all the pieces of fish.
Sprinkle the tops with a LITTLE salt and pepper.
Cook for 2 or 3 minutes, until the underside is golden brown.
Turn all the pieces of fish over.
Sprinkle the tops with a LITTLE salt and pepper.
Cook on the other side until golden brown.
Remove to a beautiful platter.
Let's get back to the sauté pan, the one that's still on medium-high heat.
Add the smashed garlic to the pan, swirl it around for 30 seconds.
Flip it over, swirl it around on the other side for 30 seconds.
Add the wine, SLOWLY, IT'S GONNA FLARE UP–try not to give yourself third-degree burns.
Swish the wine around. CAREFULLY!
Add the capers. Swish and swirl for 30 seconds.
Add the fresh-squeezed lemon juice, make sure you don't let any seeds get through!
Swirl and swish for 30 seconds.
Remember the flour? The flour you dusted the fish with?
Take a pinch or two of that, whisk it into the garlic/wine sauce.
Keep taking a pinch of the flour, and whisking, until the sauce becomes more like a light…gravy.
Pour the sauce over the fish.
Garnish with lemon wedges, and maybe a sprig of parsley, and…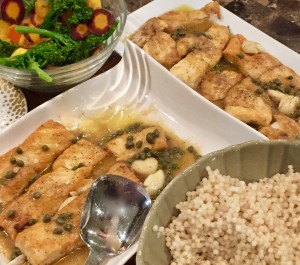 MANGIAMO!