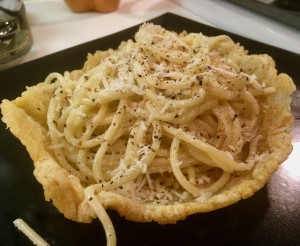 This is gonna be quick and easy and fun and delizioso…
For each bowl, grate about a ½ cup of Parmigiano-Reggiano cheese.
Get a 12-inch, non-stick sauté pan, put it over medium to medium-high heat.
Put the cheese in the pan, spread in a thin layer (make a 7-inch disk), and let it cook until it starts to bubble and brown, about 3 minutes.
Remove the pan from the heat for a minute.
Get a small soup bowl, place it upside down.
Get a spatula, and carefully remove the cheese disk from the pan, and place it on the upside-down bowl.
Form the cheese around the bowl, and let it cool for a minute or two.
Take the cheese—carefully—off the bowl, and you should have a delicious and edible bowl, perfect for pasta cacio e pepe, or Slim's Hail Caesar salad.
MANGIAMO!