I was hanging out at Mitch and Andy's house in Carlsbad, Californee.
Andy has a garden. He's really into it. It has raised beds, river rock pathways in between. Everything is staked and well-maintained. Groomed and trimmed.
He has all kinds of vegetables and herbs. And Fourth of July weekend, he had a little Holiday Harvest.
It didn't require any fancy farm machinery or machetes. He just picked some fresh San Marzano plum tomatoes, some red and yellow bell peppers, some basil and parsley, and then he picked some farfalle off the pasta tree.
JFK. Just Effing Kidding. Pasta doesn't grow on trees.
It grows on bushes!
I took Andy's Independence Day Crop and decided to make a little summertime pasta salad.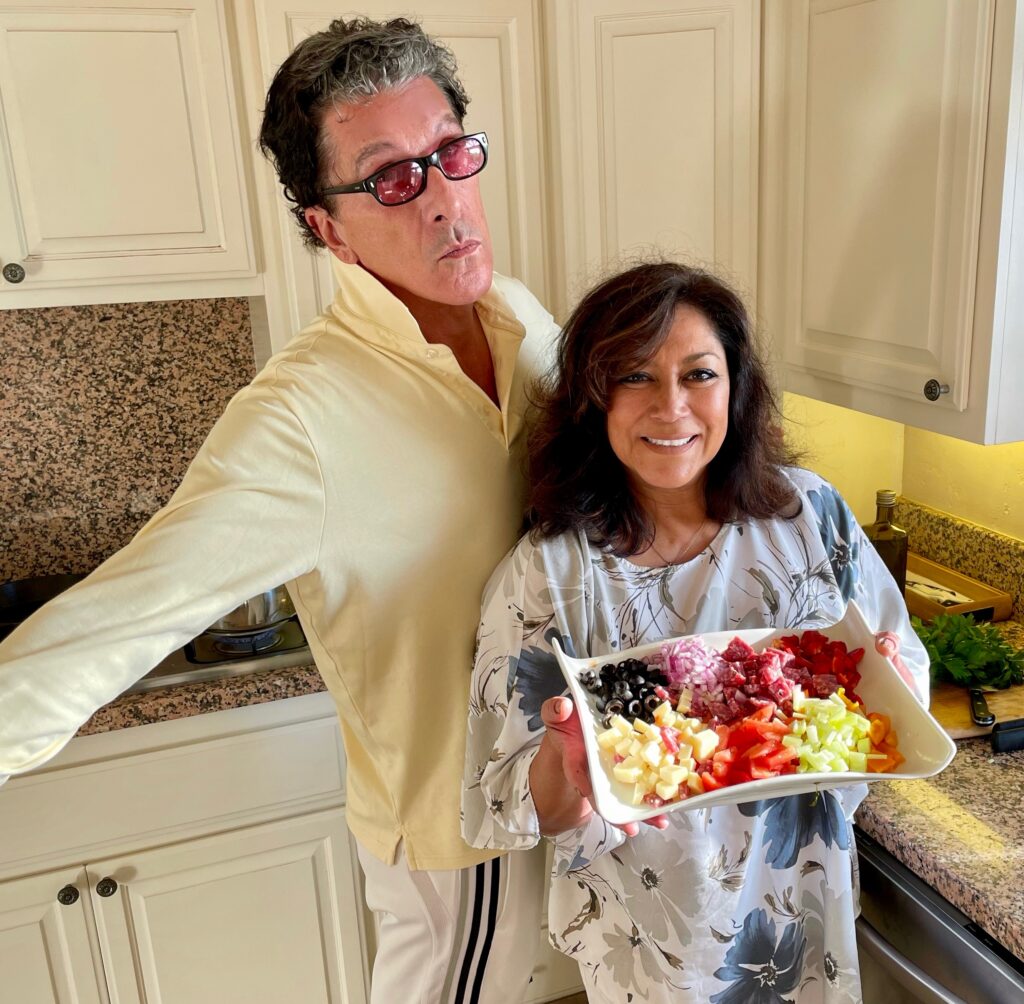 The first time I made this salad I did not add shrimp. It was good, Slim People
But when I made it a second time, I added shrimp.
Why?
I was talking to Hit Man Howie Z, Slim Man Bongo Boy, and we were going over my new pasta salad recipe when Hit Man mentioned the bookmaker's salad we used to get at a restaurant in Baltimore called Sabatino's.
That salad was so good! It had shrimp in it. But it also had hard-boiled eggs and a heavy creamy dressing, which I decided to leave out of my recipe.
I had to Slimmify it! Sorry, Sab's!
So I added shrimp to my pasta salad. I broiled them for four minutes or so and then let them cool.
I added them to the pasta salad, and I tell you Slim People, it was really good.
I would say "GREAT!!!" but I'm laying off the superlatives and the exclamation points these days.
But I loved it, and so did Andy and Mitch. And their kid, Michael. And his girlfriend, Katie.
It was GREAT!!!!!!!!!!!!!
Sorry. Couldn't help myself.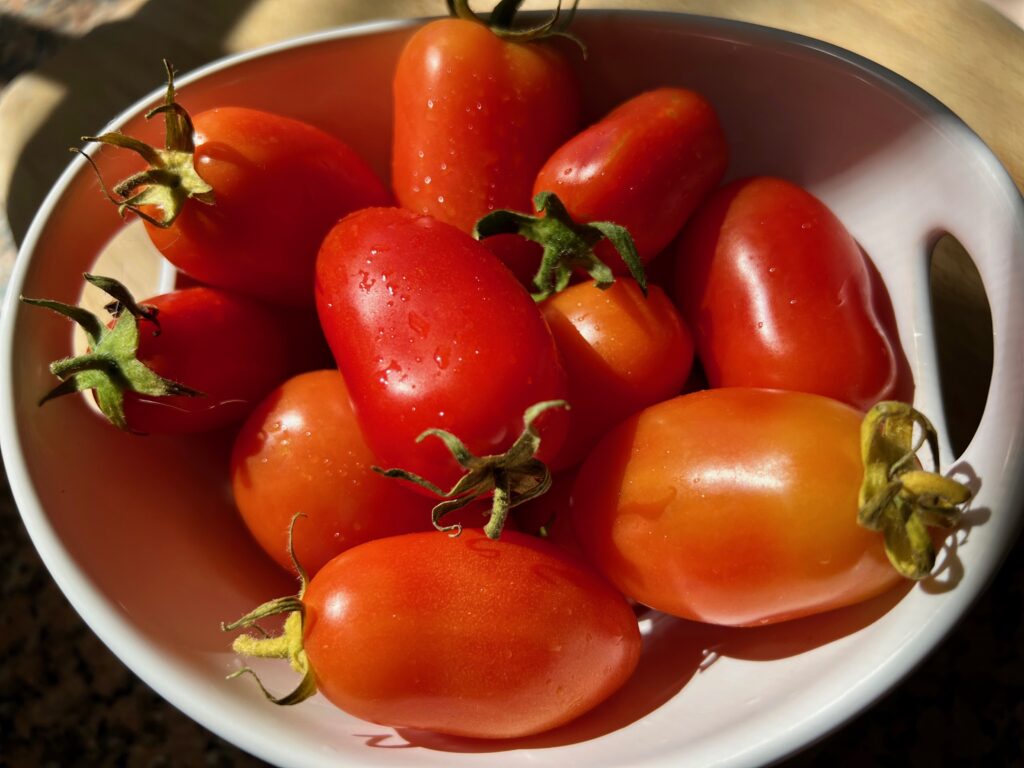 NOTES:
Andy has San Marzano plum tomatoes in his garden. But you can use any kind of tomatoes you want. Grape or cherry tomatoes would work well.
Just cut them in halves or quarters, squeeze the seeds out and remove the yellow core, which can be bitter
I use white balsamic vinegar. Regular balsamic tastes good, too, but it gives the salad a light brown color which I'm not crazy about.
I've also used honey bell orange white balsamic. Hard to find, a bit costly, but she's a-so nice!
DRESSING INGREDIENTS
6 tablespoons olive oil
2 tablespoons white balsamic vinegar
1 tablespoon freshly squeezed lemon juice (no seeds, Meyer lemons are best)
1 teaspoon honey (or agave syrup)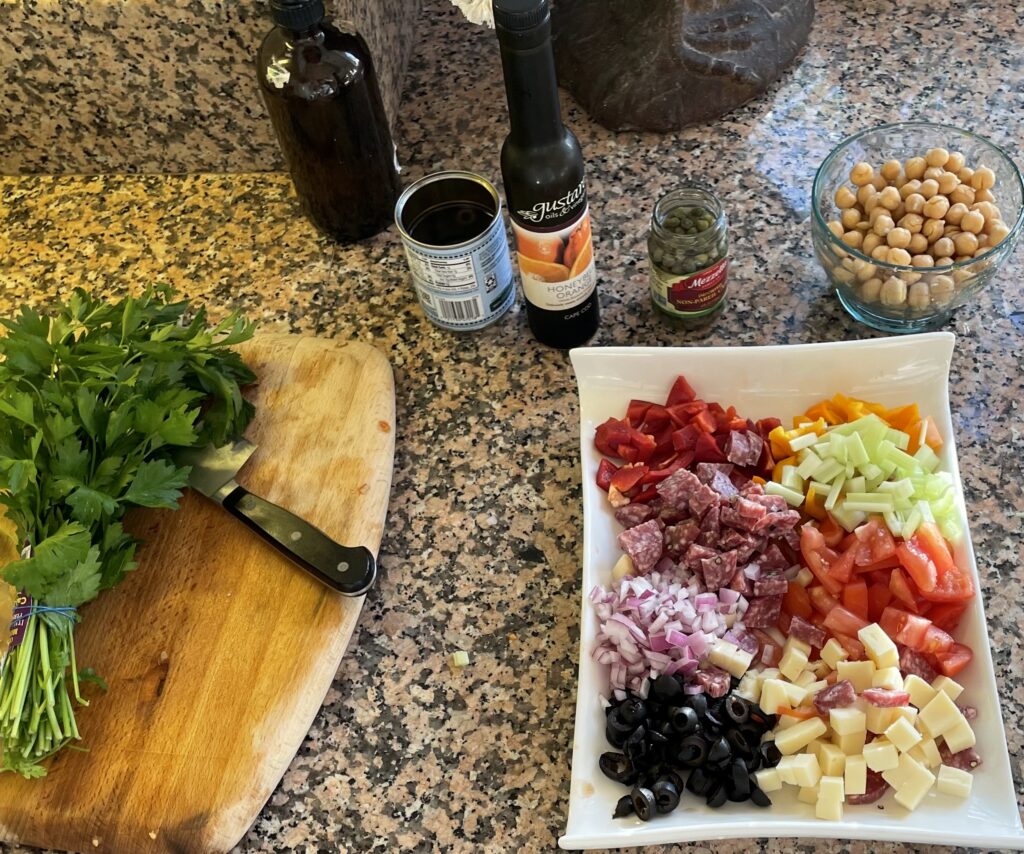 THE OTHER INGREDIENTS
1 cup chopped fresh tomatoes (cut in bite-size chunks, seeds squeezed out, core removed)
1 cup diced red bell pepper
1 cup diced yellow bell pepper
1 cup Italian salami, cut in cubes
1 cup fontina cheese, cut in cubes
1 small handful of fresh Italian parsley, chopped (1/4 cup)
1 small handful fresh basil, snipped into small ribbons (1/4 cup)
½ cup fresh celery, chopped
1/3 cup seedless black olives, sliced
1/3 cup minced Spanish (purple) onion
¼ cup capers (drained)
1 (16 ounce) can chickpeas drained
Kosher salt to taste
Fresh cracked black pepper to taste
1 pound pasta (I like farfalle, shes a-so nice! Fusilli would be good, too.)
THE SHRIMP INGREDIENTS
1 pound small shrimp, deshelled and deveined
1 tablespoon olive oil
Kosher salt and fresh cracked black pepper to taste
HERE WE GO!
Put all the DRESSING INGREDIENTS in a glass jar and shake it, baby, shake it. Or put it on a bowl and whisk away.
Put all THE OTHER INGREDIENTS (except the pasta!) in a large bowl, big enough to hold the pasta and the vegetables.
Add half the dressing and stir gently. Gently, Slim People!
Put the shrimp in a bowl.
Add the olive oil and mix.
Sprinkle with some kosher salt and fresh cracked black pepper.
Mix.
Put the shrimp on a baking pan and broil for four minutes or until pink.
When done, drain of any excess liquid and put in a bowl.
Get a large pot, fill it with cold water and put it on the highest heat ya got. This be for the pasta.
When the water comes to a full boil, add two tablespoons of kosher salt. It sounds like a lot, but it ain't. The pasta water needs to look like the sea.
Add the pasta and cook at a full boil according to the times on the box. I like mine al dente.
Al Dente…wasn't he a Demolition Derby driver?
When the pasta is al dente—firm to the tooth—drain it and put it in a bowl.
Add the rest of the dressing to the pasta and give it a couple of gentle stirs. Let it sit for a couple minutes.
Add the pasta to the bowl with the vegetables and stir.
Add the shrimp.
Give it a couple gentle stirs.
Taste for salt and pepper and adjust if needed.
DISH IT UP!
Put a couple scoops on one of them there fancy plates you pull out around Thanksgiving.
Most Italians don't add cheese to a dish like this, but I know some wonderful women folk who do.
So if the lovely lady insists, maybe add a little freshly grated Parmigiano-Reggiano or some Locatelli Romano cheese on top, and…
MANGIAMO!!