I saw a tour bus driving north on Route 29. I started following it.
I had just come from the recording studio in Washington, DC. It was the early 1990s. I had written a song for a singer named Brian Jack. Brian was the former lead singer in a Baltimore band named Child's Play. He had a great voice, big charisma, and I took him into the studio to do some songs I'd written. We hit it off.
The two of us lived in a house on Sue Creek, in a town outside Baltimore called Essex. People in Baltimore made fun of Essex–probably because a lot of rednecks lived there. I liked Essex.
The house we shared was incredible — 21 Woody Road. It was right on the water–kinda like a Redneck Riviera. We had windsurfers, Sea-Doos, all these great water toys. None of them were ours – people parked their things at our pier, and they'd let us use them in return.
The previous tenant had been hauled off to jail for insurance fraud. I remember the first time I met him. He was standing in the huge living room. It had cathedral ceilings, a big fireplace, and massive floor-to-ceiling glass doors that overlooked the deck, the pier and the river. I'll never forget what the guy said,
"I laid a lot of pipe in this house."
I thought maybe the guy was a plumber. Then it hit me — he wasn't talking about shower stalls.
Brian and I moved in soon after the guy was taken off to prison. I wrote songs for Brian, he sang 'em. Things were starting to take off, he was getting airplay, and packing the clubs.
Brian and I were heading home from the studio when we saw the tour bus and started following it. I had this intuitive feeling that we should tag along behind the bus. A couple minutes later, it pulled over to the side of the highway, onto the shoulder. I pulled right behind it. The driver got out of the bus, came over and asked me if I knew the way to Merriweather Post Pavilion.
As a matter of fact, I did. I told him to follow me.
I saw the Doors at Merriweather Post Pavilion on their first tour. I saw Led Zeppelin at Merriweather when they opened for the Who back in 1969 — the only time that ever happened. Procol Harum, Paul Simon, and Frank Sinatra; I'd seen them all there. I'd even played on that stage before. I knew where the backstage entrance was. The big-ass tour bus followed me in my little blue Honda station wagon.
We reached the security gate, and I told them what was going on, and they waved us through. They didn't even ask any questions. I'm guessing they were well aware that whoever was on that tour bus was running late.
The tour bus followed me on the small winding road through the woods to the backstage area. When we got there, the bus driver parked, got out, and thanked me a million times.
And then guess who stepped off the bus?
B.B. King. When I was a kid, my Mom had brought home an album of his called Indianola Mississippi Seeds. Man, did I love that record. I must have played it a million times. "Chains and Things", "Nobody Loves Me But My Mother", "Hummingbird" – which was written by Leon Russell—I loved those songs. Joe Walsh played guitar on that album, Carole King played some keyboards. It was one of my favorites.
I loved B.B. King and here he was standing right in front of me.
He thanked me. He asked me and Brian if we'd like to stay and see the show. Then he walked us to the side of the stage, and dropped us off, right behind the curtain. We waited in the wings. I looked out at the crowd. It was buzzing.
A few moments later, B.B. King's band took the stage and played one song. Then B.B. King came out, and played and sang his heart out. All night long. Brian and I watched the whole concert from the side of the stage, a couple yards away. It was an amazing show.
After the show, B.B. King invited us back to his dressing room. He signed autographs for everybody waiting in line. He told stories. He was charming, laid-back and as gracious as could be.
B.B. signed a photo for me.
A crazy coincidence…
The guy who signed me to Motown way back when was Carl Griffin. Carl had produced a CD for B.B. King called Live At The Apollo. It won a Grammy in 1992 for both B.B. and Carl. When I mentioned to B.B. King that night that Carl was one of my best friends, B.B. smiled and said,
"Carl's a good man."
Yes, he is!
Want to hear the rest of the story about the Live at the Apollo CD?
Ray Charles was scheduled to do the concert that night with B.B. King. But right before the show, Ray Charles demanded to be paid an additional 50 grand–in advance–to be included in the live recording. Nobody had that kind of cash lying around on short notice. So Carl decided to go ahead with the show. Ray Charles played, but was not included on the live CD.
The CD went on to win a Grammy for Griff and B.B.
And that's the rest of the story.
Cippolini and Red Bell Pepper Sauce (for fish)
After a night of singing the blues, this is a dish that will make you happy.
The first time I made this sauce, I used maple syrup. Not pancake syrup, maple syrup! Big difference.
My Dad lived on top of a mountain in upstate New York. Maple syrup was everywhere—you could see taps on maple trees with buckets underneath all over the place. Real maple syrup is real good.
Getting to the grocery store at my Dad's house was an ordeal. So if you ran out of something, you had to spend a good hour driving to and from town to get what you needed.
One time I ran out of sugar for my coffee. I put in some maple syrup instead and loved it. It's still my preferred coffee sweetener. Another time, I ran out of honey–I was going to use it in a sauce for grilled salmon. I used maple syrup instead—just a little—and loved it.
I know some real good cooks who look down on this kind of thing. One of them suggested I try a medium sherry instead, and I did. I cooked the sauce both ways, with sherry and with maple syrup.
I did a taste test at Slim's Shady Trailer Park. Everybody loved the sauce with the maple syrup much better than the one with the sherry. But what the hell do those people know?
If you want to substitute sherry for maple syrup, use a cream/sweet sherry.
You can use this sauce over fish. I've used it over seared mahi and it turned out well. Mahi is a strong-tasting fish—so I used a little more sauce than I normally would. If you'd like to use a milder fish, you can use this sauce on seared or baked grouper, halibut, or salmon. Less is more—less sauce is mo' better on mild fish.
I used this sauce on baked salmon recently and it was magnifico. I used just a drizzle of sauce.
This is powerful stuff!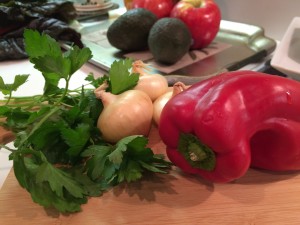 Notes…
Cippolini onions are small onions, a little sweeter and milder than regular onions. You can find them in most grocery stores. If you can't, use shallots instead.
Meyer lemons are my favorites; they're sweeter and milder than regular lemons. I'm into sweet and mild these days, I guess. If you can't find Meyer lemons, use a ripe, soft lemon.
You can use red bell pepper, or a combination of red and yellow bell peppers. Whatever combination you use, you'll only need a tablespoon or so.
To sear a piece of fish…get a medium sauté pan. Put it over medium-high heat. Add a tablespoon of butter, and a tablespoon of olive oil. Salt and pepper your fish, then sprinkle a LITTLE brown sugar (or turbinado sugar, or regular sugar in a pinch) on top. Do both sides, but use just a little salt, pepper and sugar, got it?
When the butter starts to bubble, sear for 2 or 3 minutes, depending on the thickness. Then flip over and sear the other side for a couple minutes.
Thick fish take longer.
To bake a piece of fish, heat your oven to 400 degrees. Rub your fish all over with a little olive oil, and then sprinkle a little salt and pepper on top. Put it in a glass or ceramic baking dish and bake for 10 minutes. Check it with a fork. If it flakes, it's done. If it doesn't put it back in the oven until it does. Then drizzle a little cippolini sauce on top.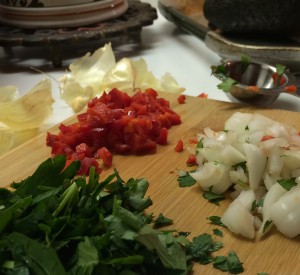 INGREDIENTS
2 tablespoons olive oil
1 tablespoon butter
2 tablespoons chopped cippolini onions
1 tablespoon minced red bell pepper (or half and half red and yellow bell pepper)
1 tablespoon maple syrup
¼ cup dry white wine
1 tablespoon lemon juice
1 tablespoon chopped Italian flat leaf parsley
Kosher salt and fresh cracked black pepper to taste
Here we go…
Put the olive oil and butter in a small sauté pan over medium-high heat for 2 or 3 minutes—don't let the butter burn!
When the butter starts to bubble, add the onions and red bell peppers and cook for 2 minutes while stirring and swirling. This is how you swirl…remove the pan from the heat for about 10 seconds, and swirl everything all around. Put the pan back on the heat for 30 seconds and repeat.
Add the maple syrup and cook for 2 minutes, swirl and stir.
Add the wine and cook for 1 minute. Shall we swirl and stir?
Add the lemon juice. Cook for 2 minutes.
Add the parsley; add kosher salt and some fresh cracked black pepper to taste.
That's the sauce! You are now The Boss of the Sauce—use it over seared mahi, or baked salmon, or whatever fish you like. You're the Boss.
MANGIAMO!!!