Batu and I were hanging out at the Slim Shack. I had a piece of salmon, we were listening to Ella Fitzgerald, and I became inspired. So I created this recipe. I call it…
Salmon Ella.
I love salmon. I love Ella. Put 'em both together and you got Salmon Ella.
One of my top five CDs ever in the history of the world? Ella Fitzgerald and Louis Armstrong. It really is one of my favorites. Louis Armstrong changed my life. When I was five years old, my Dad took me to a movie called The Five Pennies, and I saw Louis sing and play, and I turned to my Dad and said,
"That's what I want to do." I wanted to play and sing like Louis Armstrong. I begged my Dad for a trumpet.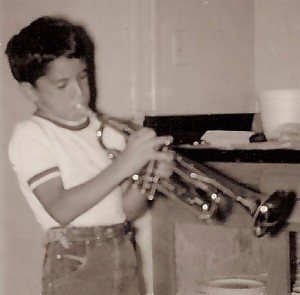 A couple weeks later, for Christmas, my Dad got me a plastic toy trumpet. I broke it. I told him I wanted a real trumpet, not a toy. I was a rotten kid, huh? For my birthday—January 16th, keep those cards and presents coming—my Dad rented me a real trumpet. I could hardly hold it up. I had to dig my elbows into my sides when I played. I loved it. I fell in love with music. We got married soon after. We've been together ever since.
I played trumpet for years. I did Louis Armstrong imitations. I still love Louis Armstrong. And the CD he did with Ella Fitzgerald is great. They did a couple. The first one, released in 1957, is the best of the bunch. It features the Oscar Peterson Trio, Norman Granz produced it (the production is stellar), and not only is it one of the best CDs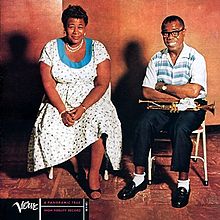 ever, it has one of the best cover photos ever.
My Mom was an incredibly smart woman, and a huge hero of mine. She had a tough go of it, yet forged an incredible life without a whole lot of help. When she and my Dad divorced, she found herself with three young kids, no job skills, a high school education, and not much else. She didn't even know how to drive.
Still, she picked herself up, dusted herself off and did what needed to be done. She learned how to drive. She taught herself the skills she needed. She studied the dictionary, the English language, learned how to type and how to write. She taught herself foreign languages.
She started counseling troubled teens at John Hopkins Hospital, and ended up running the psychology department at Johns Hopkins University. Guys with more degrees than a thermometer were asking my Mom to help them with papers, articles and theses.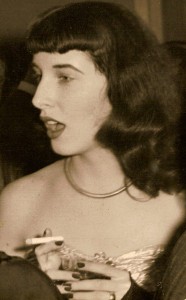 She didn't have a lot of money. She managed to travel, had a chance to see the world – that was important to her. Music was really important to her. She had a nice stereo, and a great collection of music. But she was frugal. She had to be.
When Ella Fitzgerald came to the Lyric Opera House in Baltimore, Maryland, my Mom could only afford one ticket. Which she bought for me. She thought it was important that I see Ella, so I caught the bus, went downtown to the concert and saw Ella Fitzgerald sing with the Billy Taylor Trio.
Wow. What a show. I sat in the balcony, and soaked it all up. It was a thrill. Ella Fitzgerald was a wonderful singer. What a voice. Such a pure tone. Great diction, always in tune. Joyful. Girlish. Swinging like nobody's business. Ella scatted better than anybody. Her scats were as good as any Miles Davis solo.
Ella didn't have an easy life. She was born in Virginia, her dad left when she was an infant. Her Mom died when Ella was fifteen. Her stepdad abused her, so her aunt took her away from Virginia, to New York City. Ella took to the streets of Harlem, was a numbers runner and a lookout for a bordello. She was in and out of reform schools and orphanages.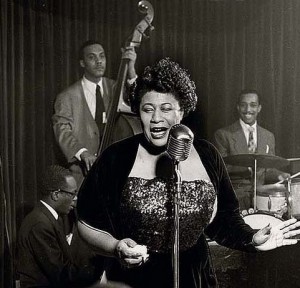 Then she entered a talent contest at the Apollo, and won. The grand prize was $25. She became a regular at the Apollo, and things took off from there. She started singing with Chick Webb, a drummer who led a big band. She started recording, and a song she co-wrote–"A Tisket, A Tasket"–became a hit. Ella started singing at the Jazz at the Philharmonic series, concerts put on by Norman Granz, who became her manager, and produced those incredible recordings with Louis Armstrong.
Ella went on to win 13 Grammys, sell millions of records, and tour the world. She was shy and quiet – but strong and determined. Kind of like my Mom. Except my Mom was never a lookout for a bordello. Not that I know of, anyway.
SALMON ELLA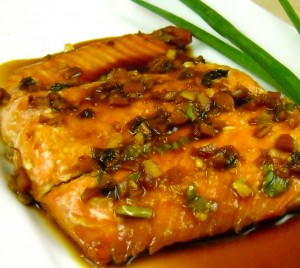 In cooking, just like in music, sometimes you have to improvise.
I was going to use honey in this marinade, but I ran out. I used maple syrup instead. My Dad lived in upstate New York, and he had this homemade maple syrup that was so stinkin' good. So when I ran out of honey, I used a little of my Dad's maple syrup instead and it was really good.
Why do they make soy sauce so salty? The next morning my fingers look like bratwurst and my tongue is stuck to the roof of my mouth. I use low-sodium soy sauce.
I like my salmon the way I like my women – wild and Alaskan. There's a joke in there somewhere, it just hasn't come to me yet.
Salmon are anadromous. It means they are born in fresh water, migrate to salt water, and then return to fresh water to reproduce.
Just thought I'd toss that out there.
INGREDIENTS
1 pound piece of wild salmon filet, skin removed
For the marinade…
½ cup low sodium soy sauce
1 tablespoon chopped scallions/green onions, bottom root and top leaves cut off and discarded
1 tablespoon grated ginger
1 tablespoon minced garlic
2 tablespoons maple syrup
1 teaspoon hot sauce (use less if you don't like it spicy!)
Here we go…
Rinse off your salmon and pat dry with paper towels.
Preheat your oven to 400 degrees.
Mix all the marinade ingredients together. Set aside.
Put the salmon in a baking dish.
Pour half of the marinade over the salmon. Set the other half aside.
When the oven comes to temperature, put the salmon, uncovered, in the oven on the middle rack.
Cook for 10 minutes.
While the fish cooks, put the remaining marinade in a small saucepan over low heat and reduce for 5 minutes. Remove from heat.
After 10 minutes, the fish should be done. Thinner pieces take less time, thicker pieces take more. Ovens are crazy, too. Some run hot, some run cold.
Test the fish with a fork. If it flakes it's done. Some folks like it rare, some like it cooked well. I like it medium. If I want raw fish, I'll go out for sushi.
Dish it up! Put the fish on a nice platter. Drizzle with a little of the reduced marinade, dress it up with a scallion. My broccoli and peppers would go well with this.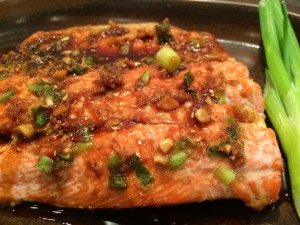 MANGIAMO!!!!!