I was walking down the streets of Paris with Hit Man Howie Z when I heard a woman's voice calling my name. This was weird, because it was my first time in Paris. I didn't know anybody there. Who the hell could it be?
I turned around and was staring at two of the most beautiful women I'd ever seen. One I knew.
Her name was Barbie, and she used to be a cocktail waitress at a club that Howie and I used to play in Baltimore, Maryland, a place called Girard's. The other gal I didn't know. Barbie introduced us to her friend. When I asked Barbie what she was doing in Paris, she told me she was doing some modeling for Vogue magazine. She told me her friend had just been on the cover of the Italian Vogue.
I invited them to dinner that night. It would probably cost every penny I had, but how many times are you gonna have an opportunity like this? Paris? Supermodels?
When Barbie asked me what Howie and I were doing in Paris, I told to her that we were in London, trying to get something going with our band, BootCamp. Howie and I had come over to Paris to meet my cousin, Mindy, who was having her art exhibited at a gallery.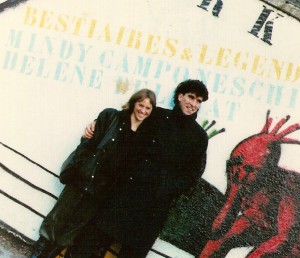 That's what I told them, which was all true, but not the whole truth. The whole truth?
We had rented a cheap flat in London for a week or so. It was me, Howie (drums), Bob (guitar) and a friend of ours named Mac. We were struggling musicians, except for Mac. He didn't look like he was struggling–he was wearing custom silk suits and buying expensive antiques.
The rest of us were on a real tight budget.
One evening we went to a pub and had some drinks. We were having a good ol' time in LondonTown. I noticed Mac in the corner, talking to some Rastafarian. He gave Mac a little package, and then RastaMan screamed, "RUN!" All hell broke loose.
A couple of British policemen started running towards the pub, blowing their whistles. We took off running. We exploded out of that pub. We ran through yards, gardens. We sprinted down alleys, leaping over cars. We jumped fences. It's amazing how fast you move when cops are chasing you. Not that it happens to me very often.
We made it back to the flat. How, I don't know. Turns out Mac had bought some hashish from the Jamaican. It seemed to me like a good time to get out of London.
So Howie and I took off for Paris. We got on a Hovercraft to cross the English Channel. A Hovercraft is a huge boat. Massive. It sits on what looks like an immense flat tire. You board the boat, and they inflate the tire. So you start rising and rising, way up in the air.
They turn on these gigantic fans on the back of the boat, and it blows you across the water, like you're on a huge inner tube. The English Channel was choppy that day. It was a real rough ride. And Howie was really hungover from the night before.
He laid down on a row of seats behind me. Every few minutes, he'd poke his head up, and each time he did, he was a different shade of green. He looked like he was gonna die. We finally made it across the Channel, and caught a train to Paris.
My cousin picked us up. She's quite an artist. Her paintings are intriguing and original and worthy of an exhibition. She gave us a ride to the apartment where she was staying with a friend.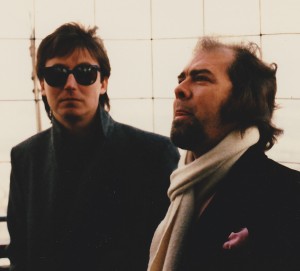 Her friend's name was Jaime, and he was quite a character. He was an artist, and did surreal paintings, similar in style to Salvador Dali. He had a goatee and long brown hair, and wore scarves and black crushed velvet smoking jackets with colored silk pocket squares. I dug his style.
His apartment was cozy, comfy, and cool.
A few days later, Howie and I were walking down the street when we met the Vogue supermodels.
A few hours later, we were in a swanky restaurant in Paris called Chez Georges and it was intoxicating. The Russian chef guy came over to the table. If I were the chef, I would have come over to our table, too. The girls were that gorgeous.
Chef dude started talking to us. He spoke into a microphone that was hooked up to a small speaker that hung around his neck. I didn't understand a word he said; the speaker was distorted, and I couldn't even tell what language it was. I thought it was some kind of comedy routine until I realized the guy had some serious vocal issues.
We ordered dinner, and it was lovely. One of the many wonderful things about Europe is the way they take their time when they eat out.
At the end of the dinner, Russian chef guy came back with a bottle of vodka. No label, just an old, clear bottle. It had all sorts of stuff in the bottom — black peppercorns, red peppers, green pepperoncini. It looked like birdseed soaking in grain alcohol.
He placed a big metal shot glass in front of Howie and poured it full. He shouted something in Russian and motioned for Howie to drink. The table got real quiet. Russian chef barked out another order. We looked at Howie. He looked at us. He drank.
After he swallowed, his eyes started to tear up. His face turned red. He started sweating. I thought his head was gonna explode. Then the mad Russian turned to me. He poured me a shot in the same metal glass. I looked around the table. He barked something in Russian and I picked up the glass and drank it all down.
It was like swallowing a red-hot piece of charcoal. My throat was on fire. My eyes watered. I felt like I was gonna projectile vomit. But I didn't.
After dinner, we invited the girls back to Jaime's apartment.
That's when the circus began. We walked in the front door and Jaime had a certain look in his eye. He looked at those girls like the Big Bad Wolf looking at Little Red Riding Hood.
My grandmother had a dog named Pepe that tried to hump everyone who walked through the front door.
Jaime wasn't quite that bad. But Howie and I were hoping that maybe he would be going off to bed. No such luck. I think Jaime had other things in mind. We poured some drinks, and then Jaime turned on the French charm, full blast. Those poor girls. I think Jaime's libidinous lip-smacking might have scared them.
The supermodels ran out of that place like it was on fire. If they had leapt from the balcony I wouldn't have blamed them.
We never saw them again. Just as well, I guess. Supermodels must be expensive girlfriends. Should I pay the mortgage? Or buy her a new handbag?
Potato Leek Soup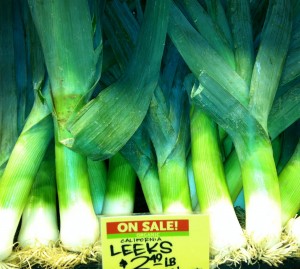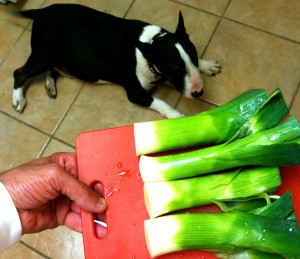 If you're looking for a French dish to cook after two supermodels have just walked out of your life, have I got a dish for you. The French call this vichyssoise.
This soup is so quick, so easy, so inexpensive to make, I can't believe I don't make it more often.
You can serve it hot. You can serve it chilled. You can serve it at room temperature. You can serve it chunky. Or you can put it in a blender and serve it smooth. It's delicious. Which is the most important thing.
The last time I made this soup, I thought it needed a little crunch on top. So I cut a leek into matchstick-size pieces, dusted them with flour that I had salted and peppered, and fried them for about a minute.
When I served the soup, I stuck the slivers into the soup so it looked like a little teepee in the center of the bowl. My Dad would have smacked me on the back of the head and given me grief over that, but they tasted great, and it looked cool.
You'll need 4 leeks for the soup.
Cut off about an inch of the white root at the bottom, and cut off most of the green upper part of the stalks. You'll have about 6 or 7 inches or so of stalk left. RINSE WELL, especially in between the leaves.
Peel off the outer leaf of each leek. You'll use these for the garnish. You'll also see just how dirty leeks can be. You gotta clean 'em well!
Chop up 4 of the stalks, into chunky pieces, which should give you 4 cups for the soup. Slice the leek leaves you pulled off into matchstick size slivers—you'll fry these for the garnish.
INGREDIENTS
For the soup…
4 tablespoons butter
4 cups chopped potatoes
4 cups chopped leeks
4 cups chicken broth (or vegetable)
Salt and pepper
For the fried leeks:
4 tablespoons of olive oil
1/4 cup of flour
4 whole leek leaves, cut into matchstick-size slivers
Salt and pepper
Let's do the soup first…
Put the butter in the bottom of a large pan over medium-low heat. Add the 4 cups of chopped potatoes, and the 4 cups of chopped leeks.
Cook for 10 minutes, stir often.
Add the broth–I used chicken—and put the heat on high. When the soup comes to a boil, reduce the heat to medium-low, add salt and fresh cracked black pepper, and cook for 30 minutes. Stir often.
While the soup cooks, let's sauté our leeks.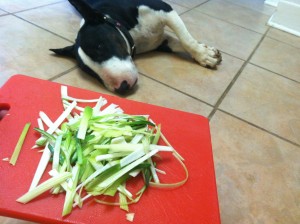 Get a sauté pan, put the olive oil in the bottom, and turn the heat to medium-high.
Put the flour on a plate and add salt and pepper.
Put the leek slivers in the flour, roll 'em around, shake off the excess, and place in the sauté pan.
Cook for about 30 seconds to 1 minute–until golden brown, then turn them over and cook for another 30 seconds to 1 minute on the other side until golden brown.
Remove them from the pan and place them on paper towels.
Now back to the soup…
When the soup has cooked for 30 minutes, it should be done. Stick a fork in a piece of potato to make sure.
At this point, you've got a decision to make – smooth or chunky. In cold weather, I like it chunky and hot — just like my women. In hot weather, I like it smooth and cool, like a supermodel.
If you want it chunky, take a slotted spoon, or a masher, and mash the potatoes and leeks, right there in the pot.
If you want it smooth, put the soup in a blender and give it a couple of pulses. If you want it chilled, stick it in the fridge for a little while.
Put some soup in a bowl. Garnish with the fried leeks–make a little teepee in the center. Serve it with some hot and crusty bread and…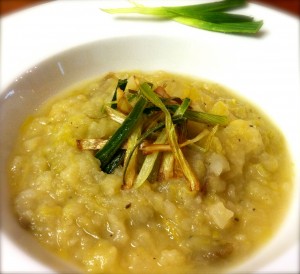 MANGIAMO!!!!!!!!!!