The first time I saw Mombo was when he pulled up in an old VW bus in a cloud of exhaust smoke and dust. He got out holding two large paper bags and said, "Anybody hungry?"
Two of my favorite words.
The night before, the Slim Men had played at the State Theater in Modesto, California. I had never been to Modesto before.
The radio station there was playing a lot of songs from the first Slim Man CD – End of the Rainbow. I called up the radio station to see if there were any places to play in Modesto. They told me about John Griswold.
John was, and still is, a valiant promoter of the arts. I called up John and he booked me – sight unseen – at the State Theater, a timeless Art-Deco movie theater that had been renovated. It was beautiful, with red velvet seats, a big wooden stage, and a balcony overlooking everything. The first Slim Man show there was a blast.
After the show, a young lady came up to me and said,
"My husband plays percussion. He's really good. You should have him play with you sometime."
I looked at the sparkle in her eye and said,
"Tell him to show up in Sacramento tomorrow. We've got a show there."
The next afternoon, at the Cal-Expo State Fair in Sacramento, a VW bus pulled up. A large Mexican-American man got out, introduced himself, and asked us if we were hungry. We went into the dressing room, which was a small trailer to the side of the stage.
Mombo pulled out some burritos the size of footballs. John E Coale, the faithful Slim Man drummer, and Rick O'Rick, loyal Slim Man keyboard player, looked at the huge burritos.
We ate. Mombo had made the burritos himself. They were delicious. Turns out Mombo owned a small restaurant in a nearby town called Lodi. After we finished the burritos, we went out to do our sound check. Mombo set up his congas and bongos, and we, the Slim Men, did our sound check. Mombo sounded good. Really good.
The year was 1996. Those first few Slim Man Tours were pretty crazy–we were on a real tight budget. It was basically Johnny, Rick and I traveling around the USA in an Isuzu Rodeo, packed to the max with all our gear. We'd add a sax player, a trumpet player or a percussionist wherever we went.
It's always an adventure when you go on stage with someone you've never played with before, but from the first note, Mombo played his heart out. He fit in like he'd been playing with us from day one. Mombo has played just about every gig the Slim Men have done in California since then.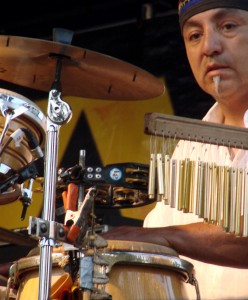 I learned two things that night. One was to keep an open mind – you never know who you might meet.
The other thing I learned was – don't eat a burrito the size of a football before a big show. Wow! There was enough gas on stage to get us halfway across the country. Mamma mia!
Mombo and I became great friends. A man who loves music and cooking? What's not to love? His wife, Kim (I call her Kimbo) and their two daughters have a special place in the Slim Heart. To this day, we all keep in touch on a regular basis.
This great friendship happened because Kimbo had the guts to ask me if Mombo could play with us. I took a chance on an unknown guy and it paid off big. John Griswold took a chance on an unknown band named Slim Man, and John and I have become true blue amigos. It all worked out magnificently. Better than I ever could have asked for.
Mombo and Kimbo have a great relationship. They met when they were teenagers. They have a wonderful marriage. How wonderful, you ask?
One time Mombo and I were in an outdoor hot tub at a swanky resort after a Slim Man show. Two young, pretty girls walked over to the hot tub and asked if they could join us. I had never met them before, had never seen them before. Mombo said, "Sure."
They took off all their clothes and got in. Naked babes in a hot tub! Mombo started chatting it up with these girls like they were in line at a Starbucks. I felt guilty and I wasn't even doing anything wrong; but then I feel guilty all day everyday even when I don't do anything wrong.
Mombo and I had our swimsuits on. They stayed on. But still, I felt pangs of guilt. All we did was chat and relax. Afterwards, they toweled off, got dressed and left. The next day, I saw Mombo and asked him what he wanted me to say if Kimbo asked me about last night.
"I already told her."
What?!?
"Yeah. Why not? Nothing happened."
Why shouldn't he tell her? Mombo hadn't done anything wrong. Kimbo trusted Mombo.
Then I remembered a song, the lyrics went something like, "It's all about love, it's all about trust."
I think it was a song called "Faith in Us."
ASPARAGUS AND PORTOBELLO MUSHROOM SAUCE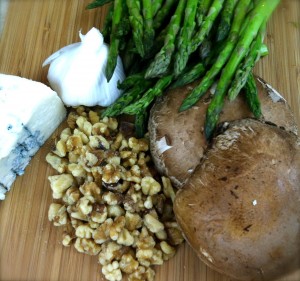 This sauce would be great in a burrito. An Italian burrito!
Why does asparagus make your pee smell funny? I don't know. It's weird.
When the first Slim Man CD–End of the Rainbow–was released, we got invited to dinner at this very cool and stylish restaurant in San Francisco. The single "Faith in Us" was in the Top Ten. We had just done a really successful show at the prestigious American Music Hall. And now the boys in the band were having dinner with Kent and Keith Zimmerman.
Keith and Kent are twins. They were editors at a music magazine called Gavin Report, a magazine that tagged me as "A male Sade" a quote that I love because Sade is one of my favorite artists. Kent and Keith are very talented big-time writers. I read their book about Sonny Barger, the guy who started the Hell's Angels motorcycle club. It's really good. They just finished a book about Earth, Wind and Fire.
At this restaurant in San Francisco, I had a dish of pasta with asparagus and portobello mushrooms, but it was missing something. Know what it was missing? Me! I had to Slimmify it. So when I got back to the Slim Shack I created this dish – now one of my favorites. It took me a while to get it just right.
I added some Gorgonzola cheese, which is a blue cheese from Italy. If you don't like Gorgonzola, you can substitute another creamy cheese, like goat cheese. If you don't like cheese, leave it out!
I also use toasted chopped walnuts, which go well with the asparagus and portobello mushrooms. Chop up your nuts, put them in a dry pan over medium-high heat, and shake and toast until brown.
To prepare the mushrooms, rinse thoroughly. Remove the stems. Peel the skin from the top of the caps and discard. Slice into bite-sized pieces.
To prepare the asparagus, grab the bottom of a spear with the thumb and forefinger of one hand. Grab the top of the spear with the thumb and forefinger of your other hand. Bend in an arc until it breaks, Discard the lower stalk. Chop the remaining stalk into small pieces, about an inch long. Leave the asparagus head whole. Do this with the entire bunch of asparagus. Rinse well, pat dry with paper towels.
INGREDIENTS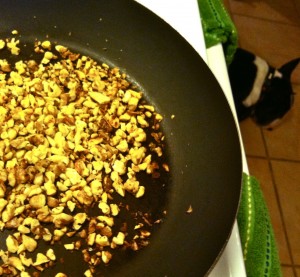 3 tablespoons extra virgin olive oil, plus a tablespoon for the pasta
5 cloves garlic, peeled and chopped (about 2 tablespoons)
Crushed red pepper (I start with ¼ teaspoon)
3 cups portobello mushrooms, prepared as instructed above
3 cups asparagus, prepared as instructed above
½ cup vegetable broth (or chicken)
½ cup dry white wine
1 pound farfalle pasta (penne rigate would also work well)
½ cup crumbled Gorgonzola cheese (¼ for the pasta, and ¼ cup for topping off each dish)
½ cup walnuts, toasted in a dry pan over medium-high heat
Kosher salt
For the pasta
Get a large pot; fill it with the coldest water you got, put it on your highest heat. Why cold water? Hot water tastes weird, maybe because it's been sitting in the hot water heater.
As the water comes to a boil –
Make your sauce
In a large saucepan, add the olive oil over medium-low heat.
Add the garlic and the crushed red pepper.
Cook for 5 minutes until the garlic is pale gold.
Add the portobello mushrooms.
Cook for 5 minutes, stir every so often.
Add the asparagus.
Add the broth and the wine. Turn the heat to high.
When it comes to a boil, reduce the heat to medium-low.
Cook until the asparagus and mushrooms are tender, about 5 to 7 minutes or so.
NOTE! The thinner the asparagus, the less time it will take to cook.
Taste for salt and pepper and adjust.
Remove from heat.
Back to the Pasta
When the water comes to a boil add 2 tablespoons of kosher salt. Add your pound of pasta.
Follow the instructions on the box. Two minutes before it's supposed to be done, taste a piece of pasta. If it is chalky in the center, it is not done. Cook until it is not chalky or chewy. Check every 2 minutes. it might take longer than the instructions. When the pasta is al dente, firm to the bite, drain it in a colander.
Put the pasta in a large bowl, add a tablespoon of olive oil, and mick 'em up.
Take about 2/3 of the asparagus portobello sauce and add it to the pasta, and mix.
Add ¼ cup of the Gorgonzola (or whatever cheese you choose) to the pasta, mick' em up.
Dish it up! Put some pasta on a dish. Add a dollop of sauce on top, add a sprinkle of Gorgonzola (or whatever cheese you want) and a sprinkle of toasted walnuts and…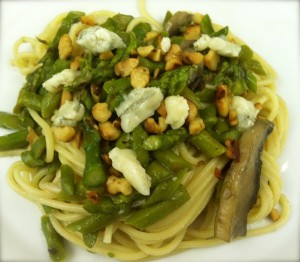 MANGIAMO!!!!!!!!