Wow. That's a long title. But when I tried to trim it down, I felt bad about whoever I was leaving out!
I've been on a scallop kick lately. One of the reasons is…they are delizioso. I do love the flavor, texture, smell…I guess what I'm saying is…I'm a big scallop fan.
But the main reason for the recent consummation of scallops is…
They're on sale at a local grocery called Sprouts. Eight bucks for a one-pound bag of frozen, wild-caught bay scallops from the Gulf of Mexico. Eight bucks! And they really are stinkin' good.
So I've been buying a couple bags at a time, I keep them in the freezer for emergencies, in case there's an earthquake or if I bang my head on the goat shed and need an ice-pack.
Bay scallops are the small ones. Sea scallops are the big ones, the ridiculously expensive ones. I don't know why sea scallops have almost doubled in price lately. Maybe there's a scallop divers strike that I'm not aware of. Maybe scallops just aren't having as many children as before.
Regardless, sea scallops are costly. But bay scallops ain't. And I'm really digging the bay scallops, I love the way they taste, they're wild-caught, they don't cost a ton of dough, and they're easy and quick.
What's not to love?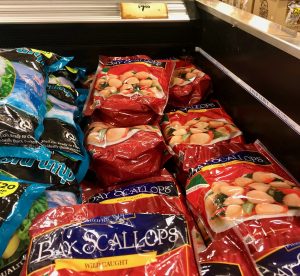 The other night here at the Slim Shack I wanted some pasta. I've been getting these cravings. Maybe I'm pregnant. But I've been craving pasta lately, so I pulled out a bag of scallops.
I had a basil plant in back of the Shack, it's been doing pretty well despite it being 189 degrees outside. Palm Springs gets hot in the summer. It was so hot the other day here at the Slim Shack that when I milked the goats all that came out was evaporated milk.
I usually keep garlic and lemons and white wine handy. And I had some spaghetti, too. And I had some butter, some real good Irish butter that I had splurged on last week.
So I thought I'd whip up a quick little something. I put it all together, and it was good, Slim Folks.
It was so good I made it again just a few nights later. Just to be sure.
And?
It's well-worthy of Slim People.
NOTES:
The scallops threw off a bit of liquid. It didn't bother me, it actually made the sauce taste better. It reduced quite nicely! And the flavor, she was a-so nice!
Bay scallops are small and don't take much time at all. Try and get them to sear on each side. It's tough, but you can do it, Slim People!
I put this over pasta. Call me crazy, but I'm a glutton for gluten!
But you can serve it as is with some crusty bread to your crusty friends and family. Or you can serve it over rice. Put it on bruschetta, or a pizza, or your pancakes in the morning!
INGREDIENTS
1 pound bay scallops
Fresh cracked black pepper, brown or Turbinado sugar, and salt, a sprinkling of each
3 tablespoons butter
1 tablespoon olive oil
5 garlic cloves, smashed and peeled
½ cup dry white wine
Juice from one lemon (2 tablespoons, NO SEEDS!)
Small handful fresh basil leaves
HERE WE GO!
Put a sauté pan over medium-high heat.
Add 1 tablespoon of butter, and 1 tablespoon of olive oil.
When the butter has melted and starts to brown, add the scallops.
Cook for 90 seconds or until the bottoms are golden.
Stir/flip as best you can!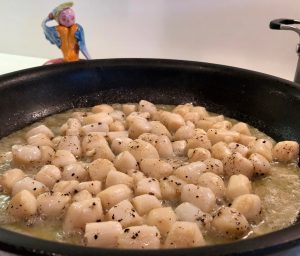 Cook on the other side for 90 seconds or until golden.
Remove with a slotted spoon to a platter.
Reduce the heat to medium.
Add the garlic, cook for a minute or two, until golden.
Flip, cook for another minute or two, until golden.
Add the wine and the lemon juice.
Turn the heat to high, scrape and stir for a minute or so as the sauce reduces.
Turn heat down to medium.
Add 2 tablespoons of butter.
When it melts, add the scallops.
Take the basil, snip it with scissors on top of the scallops.
Stir gently for a minute.
Turn off the heat.
She's a-done!
I put my scallop sauce over pasta, I cooked a half-pound of spaghetti in salted boiling water, drained it, and added it right to the sauce and gave it a toss.
She's a-so nice!

MANGIAMO!!!