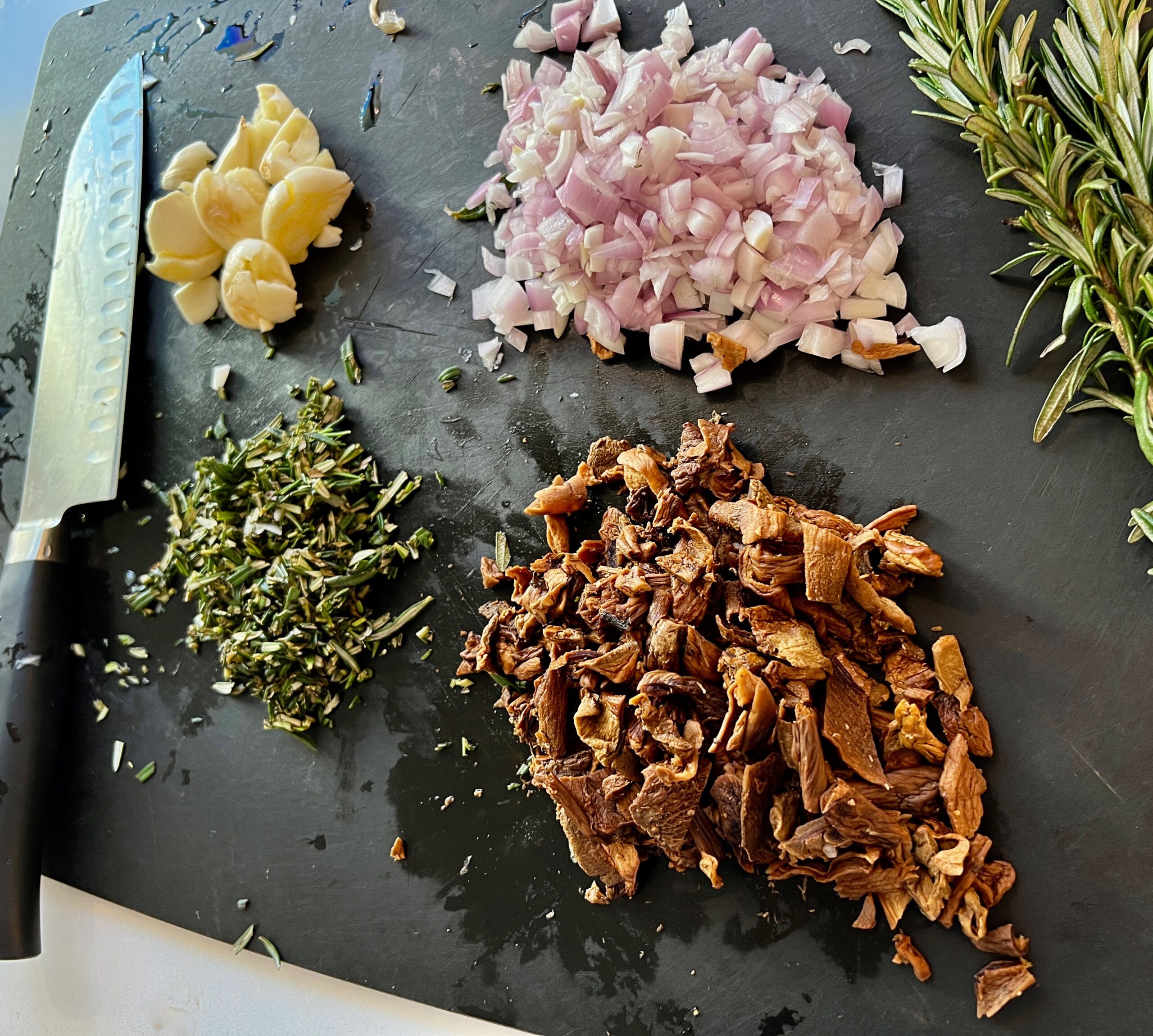 Marsala is a fortified wine from Sicily. There are two types…sweet and dry. Use sweet! Molto importante!
When you add the Marsala to the sauce, be careful. There might be some sizzling and flare-ups, so you might want to have someone you don't like add it. 
JFK. Just Effing Kidding!
Be cautious, Slim People. I need every one of ya!
INGREDIENTS
1 cup dried porcini mushrooms
2 cups water
2 tablespoons butter
2 tablespoons extra virgin olive oil
¼ cup chopped shallots
5 garlic cloves, smashed and peeled
2 tablespoons chopped fresh rosemary
1 cup sweet Marsala
2 pounds shrimp, peeled and deveined
2 tablespoons olive oil
1 pound of pasta (I use spaghetti)
1 tablespoon of olive oil, 1 tablespoon of butter…for the cooked pasta!
Salt and fresh-cracked black pepper
HERE WE GO!
 Put the porcini mushrooms in the water and let them soak for 30 minutes to an hour.
Take the mushrooms out of the water with a slotted spoon and put them in a bowl.
 Strain the water (I use a colander lined with a paper towel) into a bowl.
 Save that water!
 Chop the poricinis into small pieces.
 Give 'em a quick rinse.
 Put a medium sauté pan over medium-high heat for 2 minutes.
 Add two tablespoons of butter.
Add two tablespoons olive oil.
 Swirl and stir.
 When the butter starts to bubble, add the shallots.
 Cook until the edges start to turn golden brown.
 Add the garlic and cook on each side for a minute or two.
 Add the Marsala. BE CAREFUL! There's gonna be some sizzlin'!
 Cook and swirl for a minute or two.
 Add 1 cup of the porcini water.
 Turn the heat to high until it starts to boil.
 Add the rosemary and stir.
 Reduce the heat to a simmer and let it cook down.
 Put the shrimp in a large bowl.
 Add a tablespoon or so of olive oil.
 Add salt and pepper. Fresh-cracked is best!
 Mix 'em up!
 Line a baking sheet with foil.
 Lay the shrimp in a single layer on the baking sheet.
 Put a large pot of fresh cold water on the highest heat ya got. This be for the pasta.
 When it comes to a full boil, add a couple tablespoons of salt.
 Add the pasta and cook according to the directions.
 When the pasta is five minutes from being done, turn your broiler to high and put in the shrimp.
 Cook for 5 minutes, no need to turn 'em!
 Pull out the shrimp and put them in the porcini/Marsala sauce and give a couple stirs.
 Add salt and pepper if desired.
 Drain the pasta and put it in a bowl.
 Drizzle with a tablespoon of olive oil and add a tablespoon of butter.
 Stir.
 Take some of the Marsala sauce and add it to the pasta.
 Stir it a couple times.
 DISH IT UP!
 Put some pasta on a plate.
 Spoon some sauce over top.
 Make sure to add some shrimp!
 And maybe garnish with a sprig of fresh rosemary.
 Make sure it looks good.
 Because the most important thing in life is to look good.
 And eat good! And write good!
 Add some freshly-grated Parmigiano-Reggiano cheese if you like and…
 MANGIAMO!