I spent a week at my brother's house outside of Sedona, Arizona. He lives on a mesa with an incredible view of the red rocks in the distance.
I like to test out new recipes on my brother and his wife. They have good health and life insurance, so I feel a bit more comfortable coming up with new recipes to try out on them.
One night I tried a recipe for ciambotta, an Italian ratatouille with eggplant, tomatoes, bell peppers and zucchini. It didn't turn out so good. It tasted like something dug up from a compost heap and was about as colorful as a puddle of mud.
I was gonna put it on some toasted Italian bread. Except my brother doesn't eat bread. Well, he eats that Ezekiel bread which tastes like a piece of drywall.
When he and his wife got home from work, they tasted the ciambotta.
After I saw the look on their faces, I offered to buy Chinese carryout.
But that would have required going into town, and they were tired, so I made some chicken saltimbocca, a recipe I had come up with a couple months ago.
Since the ciambotta was off the menu, I wanted a vegetable to go along with the saltimbocca. I had some asparagus and some prosciutto, so I decided to make a little side dish.
I snapped off the ends of the asparagus and put them in a baking dish. I added some olive oil and some fresh cracked black pepper.
I baked the asparagus for about 10 minutes and pulled them out of the oven. I let them cool for a minute and then wrapped 5 or 6 stalks in a thin slice of prosciutto. I did this with all the asparagus and put the bundles underneath the broiler for 2 minutes or so until the prosciutto got crisp.
Wow, she was a-so nice!
NOTES:
Here's the thick and thin…
Thinner asparagus tastes better. Thick asparagus is tough! If you can only find thick asparagus, use a vegetable peeler to peel the outer skin off the stalks.
Thicker asparagus takes longer to bake.
The thinner the prosciutto, the better. You only need to wrap the prosciutto around the asparagus once.
And don't salt the asparagus! There's enough salt already in the prosciutto.
And finally, don't bake the asparagus all the way. When you broil them with the prosciutto, they'll finish cooking.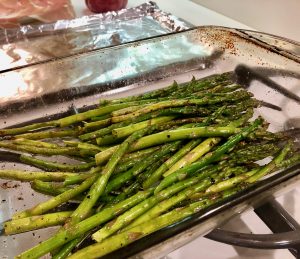 INGREDIENTS
1 pound of asparagus, bottom stalks snapped off
1 tablespoon olive oil
Fresh cracked black pepper
½ pound prosciutto, sliced thin
HERE WE GO!
Preheat the oven to 400 degrees.
Put the asparagus in a baking dish.
Add the olive oil and mix 'em up.
Add some fresh cracked black pepper, mix 'em up again.
Put the asparagus in the oven for about 10 minutes until almost done.
Take them out of the oven and let them cool for a minute.
Set the oven to broil.
Take 5 or 6 stalks, place them on the edge of a piece of prosciutto and roll 'em up.
Do this with all the asparagus.
Place the asparagus on a baking sheet and place them under the broiler for two minutes or so.
Keep your eyes on these guys! Don't burn your meat!
When the prosciutto starts to brown, remove and put the asparagus bundles on a plate and…
MANGIAMO!