Yesterday I did a 5@5 show, one where I sang nine Nat King Cole songs. When I finished, I was stinkin' starvin'. I was on the phone with Hit Man Howie Z; he was giving me feedback on the show.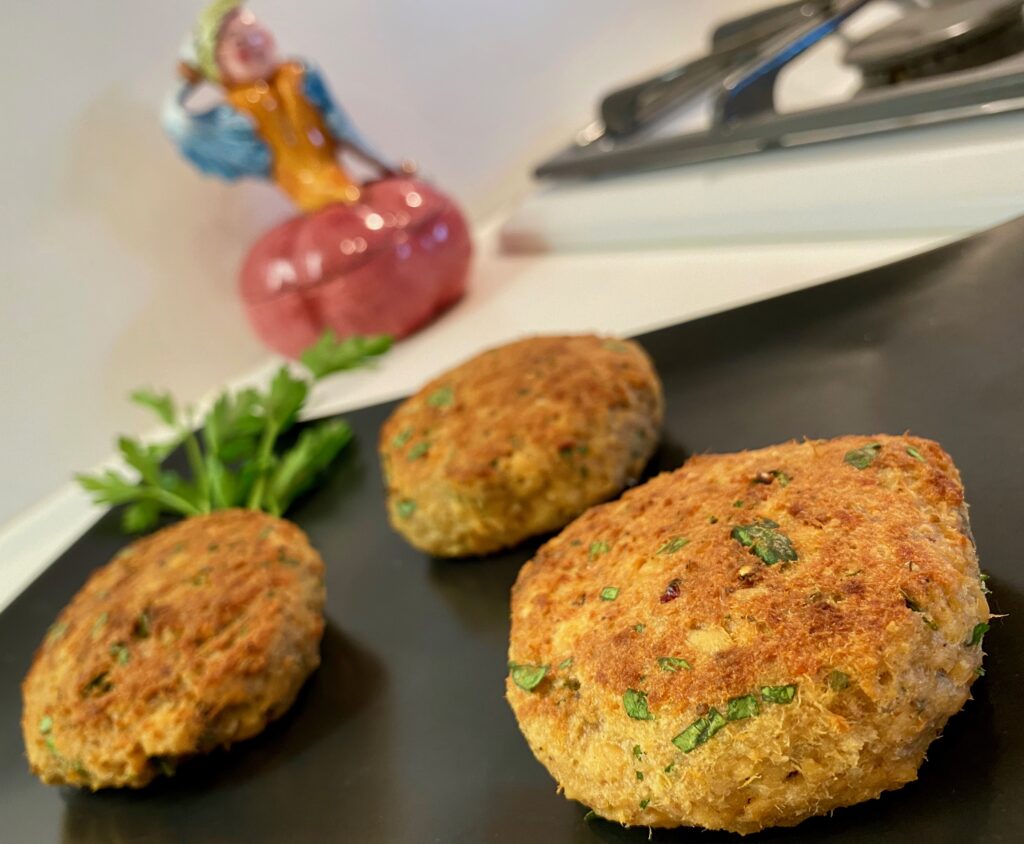 He was back east in B-Mo (Baltimore, Maryland), I was in Palm Springs, Californee.
As we were talking, I was looking in the cupboard for something to cook because everything else I had was frozen and I didn't feel like waiting for things to defrost.
The only thing I could find was a can of wild Alaskan salmon
I looked at that can of salmon as I was talking to Hit Man Howie, and then it Hit me…
Make fish cakes! Make them like you make crab cakes, but with salmon instead.
Jumbo lump crabmeat is about $900 a pound these days.
Well, maybe not that much. But when I went online the other day, it was $70 a pound. Seriously. And that did not include the $35 bucks for overnight shipping.
So…I told Howie I was thinking of making salmon cakes. And then Howie started telling me I should make them like he makes his crab cakes. A little Old Bay. An egg. Mayonnaise. Mustard…
I had most of the ingredients. I hung up with Hit Man and started organizing. And improvising…
I added some fresh Italian parsley, some panko breadcrumbs, and a dash of Worcestershire sauce to the mix…
I made small cakes, broiled them, and…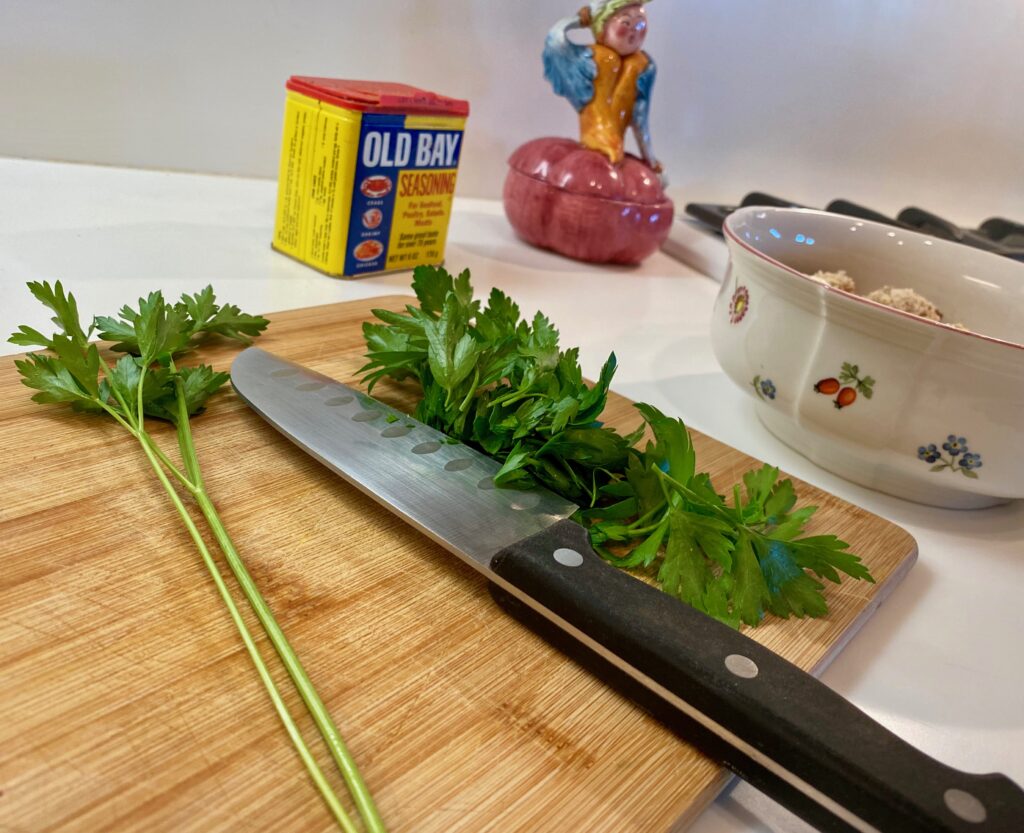 They were was Wowza. Howza Wowza!
I broiled them for about 5 minutes, and I'm telling you Slim People, they were pretty good.
You can serve them as they are or make a sandwich.
NOTES:
When you open the can of salmon, drain it. Then put the salmon on a plate. Pick through it. It might have some soft bones, some skin. Get rid of all that stuff and anything else that looks funky. I also remove the dark areas of the salmon.
When you mix all the ingredients together, make sure the mixture is not too soggy. If it is, add a little more breadcrumbs. If it's too dry, add a touch more mayo.
The can of salmon I used was actually about 14 ounces, not the usual 16 ounce can.
That can of salmon made five medium salmon cakes.
INGREDIENTS
One 16 ounce can wild Alaskan salmon (drained, bones, skin, and dark areas removed)
2 tablespoons mayonnaise
1 egg
½ cup panko breadcrumbs (Howie sometimes uses crumbled Saltines instead)
1 teaspoon Old Bay seasoning
2 tablespoons chopped fresh Italian parsley
A dash of Worcestershire sauce
Salt and fresh cracked black pepper to taste
Put all the ingredients in a bowl.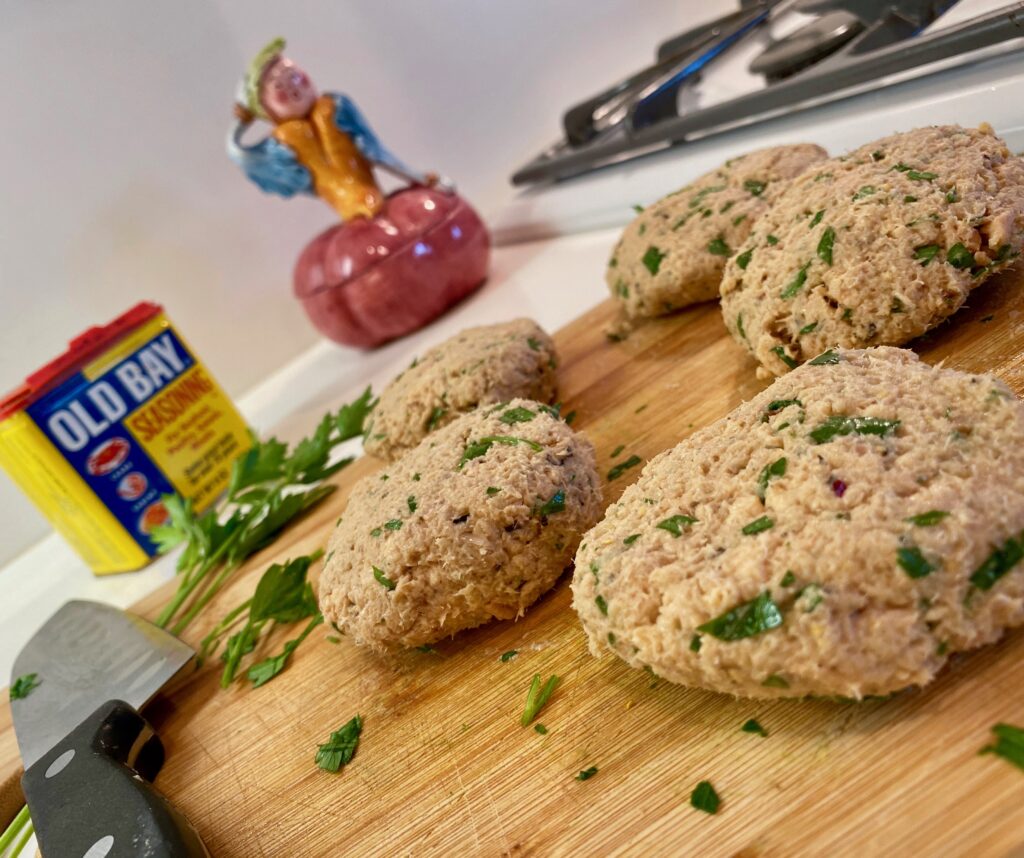 Mix them by hand. If it's too soggy, add some breadcrumbs. If it's too dry, add a little mayo.
When she's a so nice, make small cakes, about the size of a tin of chewing tabacky.
Turn on your broiler.
Get a baking pan or dish, put a little olive oil in the bottom. Wipe with excess with a paper towel. You just want a light coating on the bottom of the pan so the salmon cakes won't stick to the pan.
Put the salmon cakes in the pan, stick under the broiler. Keep your eyes on these guys! From start to finish.
Broil for 3 minutes and then check them. You want the tops to be golden brown. If they ain't put 'em back in until they are.
When they are goldenly delicious, take the salmon cakes out of the oven.
Dish 'em up!
You can serve them with cocktail sauce, mustard, mayo, or just eat 'em plain like I do!
MANGIAMO!