Any recipe that has the words "Hot Italian" in its title has to be good!
I love risotto. I do. But it's a pain in the ass. It needs constant attention. It's not like sticking a turkey in the oven. You can't set it and forget it. No. Risotto needs to be mollycoddled!
A few things…I used hot Italian turkey sausage. Why? Because lots of women folk are staying away from red meat these days. Diets are becoming so restrictive that pretty soon we'll be eating a piece of organic lettuce and a carrot for dinner.
I don't eat a lot of red meat, anyway. When I do, I eat the worst kind, like prosciutto, pancetta, salami, or sausage. How do you say "nitrites" in Italian?
For this risotto, I used a package of Jennie-Os hot Italian turkey sausage, 1 ¼ pounds. I don't get any money from Jennie O, but if she offers, I'm taking.
The key to risotto is the stir. You need to add a ladle of broth, and stir it often until the broth gets absorbed. And then you add another ladle and stir. You keep it up until the risotto is al dente, firm, but not too!
Legend has it that it takes 18 minutes from the first ladle until doneness. But it usually takes a little longer for me.
NOTES:
You need to monitor the heat under the risotto. It needs to be low enough so that the risotto doesn't burn, but not too low that the broth doesn't get absorbed. It usually takes about 5 minutes for a ladle to be absorbed. Medium-low is a good place to start.
You might not use all the broth. And then again, you might need more. If you need more, add a little warm water, or extra broth if you have it. I always keep stock in the fridg.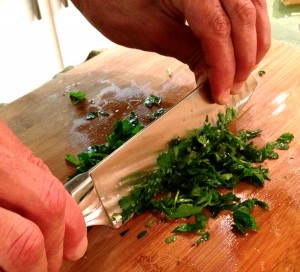 INGREDIENTS
1 ¼ pounds hot turkey sausage
2 tablespoons olive oil
½ teaspoon Kosher salt
4 cups chicken broth
2 tablespoon butter
1 cup minced onion
1 ½ cups Arborio rice
½ cup dry white wine
½ cup fresh chopped Italian parsley
¾ cup fresh grated Parmigiano-Reggiano cheese (½ cup for the risotto, ¼ cup for shprinkling)
½ lemon (I used a Meyer lemon, or you can use a soft, ripe lemon)
HERE WE GO…
Take the sausage out of the casings.
Put a 12" sauté pan over medium heat.
Add 2 tablespoons olive oil, let it heat for a minute or two.
Add the sausage meat, break up with a wood spoon.
Sauté for 10 minutes, keep breaking up the sausage meat. Breaking up is hard to do!
Make sure the sausage is crumbled into small pieces, and make sure it's done!
When it's done, remove from heat.
Pour the stock into a small saucepan over low heat.
Put a large sauce pan with a heavy bottom over medium-low heat.
Add butter.
When the butter melts, add the onion, stir often with wood spoon for about 6 minutes.
Add rice, and stir.
Cook for 7 minutes, stir, stir, stir!
Add the wine.
Stir for a minute or two.
Add a ladle of broth, stir often until absorbed, about 5 minutes.
Add another ladle, stir until absorbed.
Keep adding a ladle and stirring until absorbed, until the rice is firm.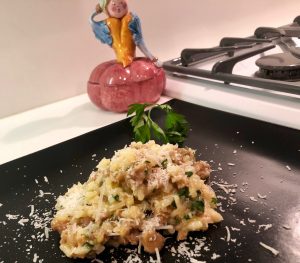 Add salt every so often until it tastes right!
This might take 20 minutes or so of ladling and stirring.
You might not need all the broth.
If you run out of broth and the rice is still not done, add a ladle of warm water, or more broth if you have it.
When the rice is done, turn off the heat.
Add the cooked sausage and stir gently.
Add the parsley and stir.
Add a ½ cup of the Parmigiano and stir.
Squeeze a half lemon (no seeds!) into the rice and stir.
Dish it up!
Add a little Parmigiano on top, if you like.
Italians usually don't add grated cheese on top, but if the Little Woman wants cheese, shut up and grate! Don't create more problems than necessary!
Garnish with a sprig of parsley, and…
MANGIAMO!