Once again, I was faced with the dilemma…how can I prepare salmon in a new way?
Lady Peoples, they love salmon. I once went out with a girl who ate salmon so often, grizzly bears tried to attack her when we went to the zoo.
Trying to find a new way of cooking salmon can be a challenge. I've baked it, seared it, broiled it, grilled it, poached it…I was running out of ways to cook it! So I thought maybe I'd sear it, just the top, and then steam it.
I saw a recipe that included Dijon mustard. I like Dijon mustard. I mean, I don't eat spoonfuls out of the jar, but as far as condiments go, I like it.
But on a piece of fish? I had my doubts. But I thought I'd try it, and see what it was like.
It was good! There's just a teaspoon, so it's not overwhelming. And it was really subtle. If you didn't know there was Dijon in the sauce, you might not have detected it.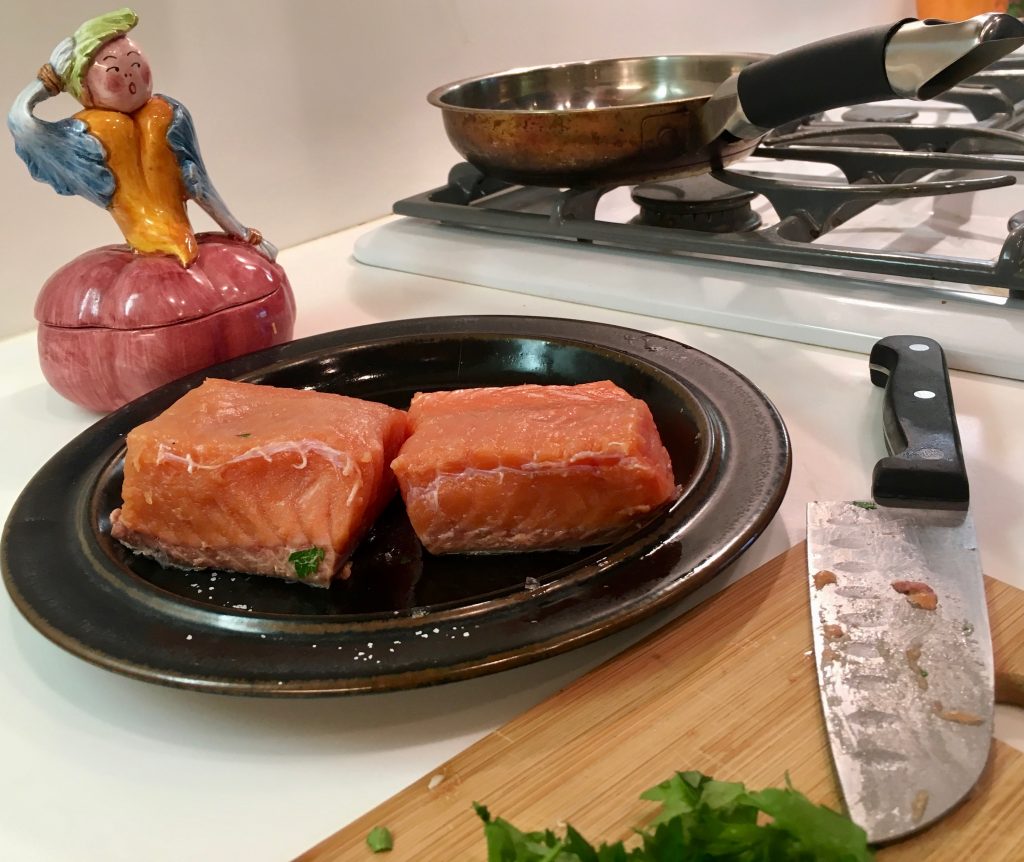 I used Wild Alaskan King salmon. It was thick and fresh and about $11 a pound, which is about half of what you normally pay. The filets I got were about an inch thick.
You can use halibut, or any firm-fleshed thick fish. Thinner fish won't work.
I really like this dish. When you cook/sear/braise the top of the salmon first, it gets a nice crispness. Then when you steam it over the leeks, it stays really moist inside. It's a nice contrast, the crispness of the top, and the steaminess of the rest.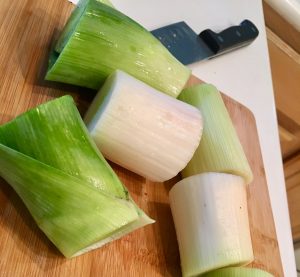 I've always liked the french-fried onions that come in a can that you use over string beans at Thanksgiving. I thought they might go well on top of the salmon. But I wanted to make them myself. So I took some slivered leeks, and fried them in some butter and olive oil until golden.
Wow. They were good. They tasted great, just a few on top of the salmon at the very end. I made a little teepee, and it looked cool, and tasted great.
Leeks…they're dirty! Make sure you clean them real good. And cut off the root at the end, and cut off the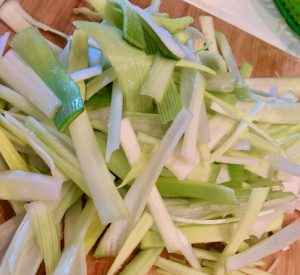 dark green parts/leaves on top. The dark green leaves are tough like shoe leather! So just use the pale green and white parts of the leeks.
INGREDIENTS
1 cup leeks, white and pale green parts only, cleaned thoroughly and cut into matchstick slivers
½ cup leeks, the same way (these are for garnish)
¼ cup of flour
4 tablespoons butter
3 tablespoons olive oil
Salt and pepper
Two 8-ounce Wild Alaskan King Salmon filets, about an inch thick each
1 teaspoon Dijon mustard
¾ cup dry white wine
1 tablespoon lemon juice, fresh squeezed
2 tablespoons fresh Italian parsley, chopped
HERE WE GO!
Let's fry some leeks first. We will use these on top of the salmon, at the very end.
Put a small sauté pan over medium-high heat.
Add 1 tablespoon of butter and 1 tablespoon of olive oil, and let them heat up!
Put the flour on a plate.
Take the ½ cup of leeks, and add them to the flour and mix.
Pick up the leeks, let the excess flour shake off, and put them in the pan.
When the edges of the leeks turn pale gold, a minute or two, turn them over.
Cook them on the other side until pale gold.
Remove to a plate lined with a paper towel, and add salt and pepper.
Don't throw out the flour yet!
And now for the salmon…
Sprinkle the tops of each salmon filet with some Kosher salt. Mazel tov!
Put 2 tablespoons of butter and 2 tablespoons of olive oil in a sauté pan over medium heat.
When the butter melts and bubbles, add the salmon, skin side up.
Cook for 3 or 4 minutes.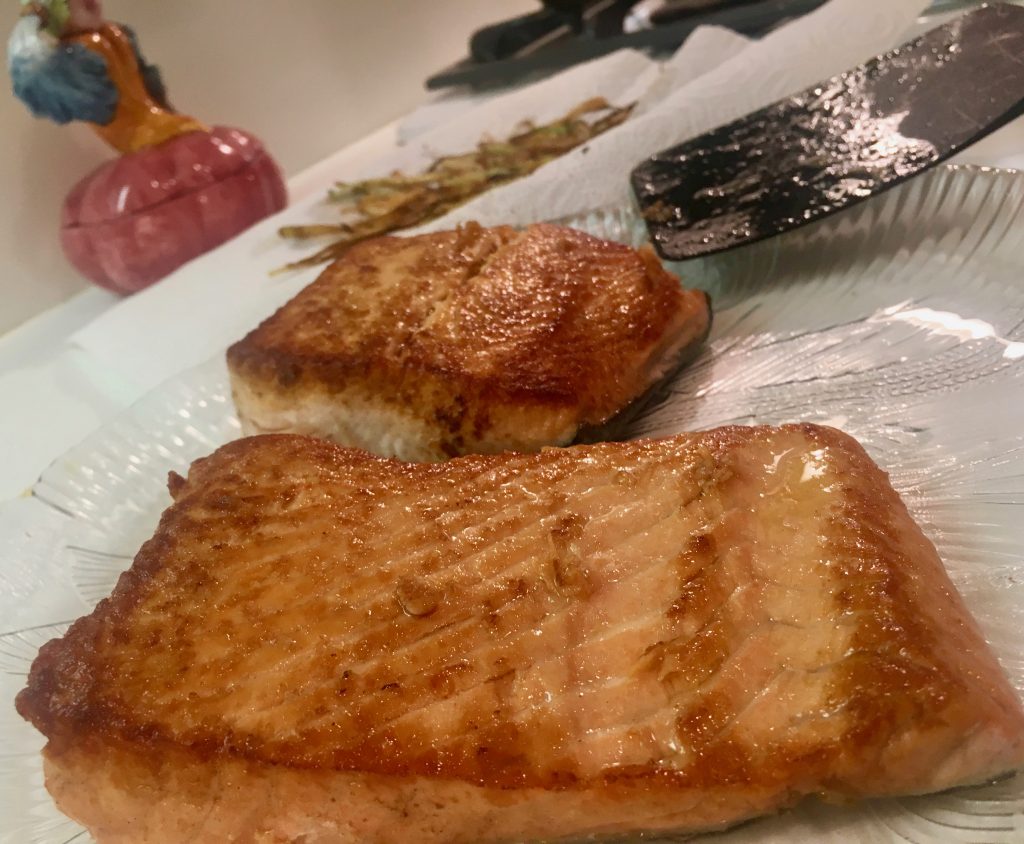 Remove the salmon to a large plate.
To the sauté pan, add the final 1 tablespoon of butter, 1 cup of slivered leeks, the mustard, and some Kosher salt.
Stir gently and cook for 3 minutes, until leeks are soft.
Add wine, and let it cook off for a minute or two.
Add the salmon to the pan, skin/raw side down, right on top of the leeks.
Cover and simmer for 8 minutes, or until done (pale pink in the middle, and slightly flaky).
Remove the salmon to two gorgeous plates.
Add the lemon juice and parsley to the pan.
Add a touch of flour, and stir gently.
Taste for salt and pepper and adjust.
Pour a little sauce over each salmon filet. Add some crispy leeks on top, like a teepee.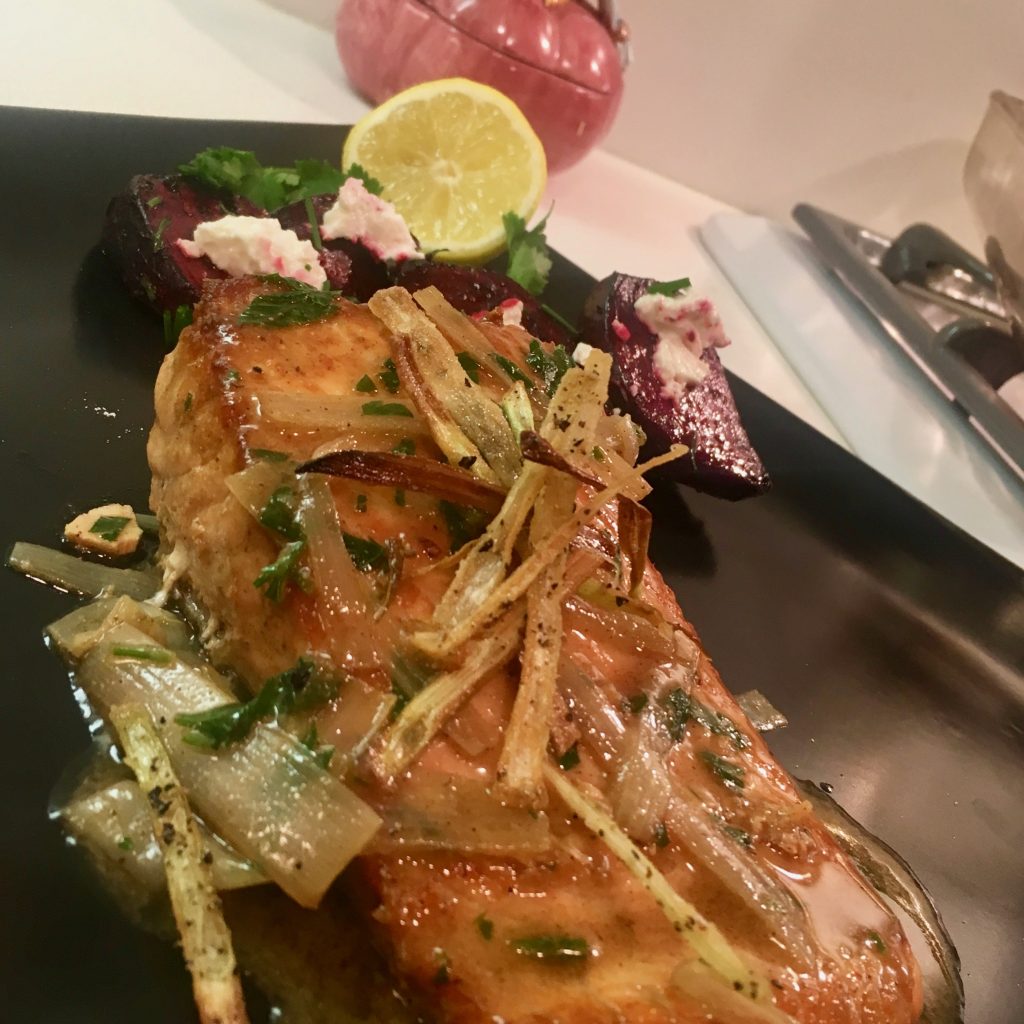 MANGIAMO!