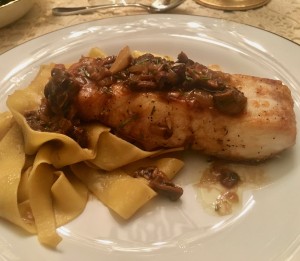 Slim Man Cooks Halibut Marsala
Cooking can be a challenge sometimes. Not necessarily the cooking itself, it's the people you're cooking for! This one doesn't eat dairy, that one doesn't eat chicken, the other one doesn't eat onions, another one doesn't eat anything that had a mother…what's a man to do?
Well, I had some halibut, it was fresh and wild and caught that morning. I got it at the local fish store in Carlsbad, California. So I had that to work with. I was thinking of making a white wine sauce, but I wanted something different. So I figured I'd try a Marsala sauce on a piece of fish. Why fish? Because this one doesn't eat chicken. And that one doesn't eat veal.
And Marsala sauce would be good on fish, especially a fish like halibut, and especially if you're cooking for a Lady People. You see, Lady People like their sauce on the side. And Marsala sauce is cooked separately; you make the fish in one pan, and the sauce in another. So I dusted the halibut with flour that had been salted and peppered, and then sautéed it over medium-high heat in olive oil. Why olive oil, why not my usual combo of olive oil and butter?
Because that one doesn't do dairy. They'll do eggs, but no dairy.
So…I had it all figured out. I made the Marsala sauce first. As soon as it was done, I made the pasta, and drizzled it with olive oil and a little Marsala sauce. As soon as that was done, I cooked the fish, it only took 6 minutes.
Why didn't I do it all at once? Because the "F" factor goes way up when you have three things on the stove at the same time.
So here we go, I'll step you through it.
NOTE!!! Prep your porcini mushrooms first! Put them in a cup of water and let them soak for 20 or 30 minutes. And cook the fish as soon as you flour it; you leave it sitting around and it won't fry right. And you know what Nat King Cole said…straighten up and fry right!
Ingredients
1 ½ pounds halibut filets, cut into rectangles
½ ounce or more of dried porcini mushrooms (soaked in a bowl with 1 cup of water for a minimum of 20 minutes—don't throw out the water!)
1 cup flour
7 tablespoons extra-virgin olive oil
1 shallot, chopped fine, about ¼ cup
4 garlic cloves, sliced thin, about 1 tablespoon
1 cup sweet Marsala
1 tablespoon fresh rosemary, chopped
½ pound of egg noodles—pappardelle work well
Kosher salt and pepper to taste
Here we go!
Let's make the sauce first.
Remove the porcini mushrooms from the cup of water with a slotted spoon.
Take the remaining porcini water and strain through cheesecloth into a bowl. I've used paper towels, coffee filters, whatever you use, save the water!
Rinse off the mushrooms and pat dry. Chop into small pieces.
Put a small sauté pan over medium-high heat.
Add 2 tablespoons or so of olive oil, (or one each of butter and olive oil).
When the oil starts to shimmer, add the shallots.
Cook and stir for 2 minutes, until the shallots just start to brown.
Add the garlic, cook for 2 minutes. Give it a stir.
Add the Marsala.
Add the cup of porcini water.
Turn the heat to high and let it cook for 2 minutes.
Turn the heat to medium-low, and add the porcini mushrooms.
Cook for 2 minutes while stirring.
Add the rosemary. Cook and stir for 2 minutes.
Turn the heat to the lowest, and let the sauce simmer for a few minutes. You can whisk in a sprinkle or three of flour if you want it to be a little thicker, more gravy-like.
Now let's make the pasta…follow the directions on the box, or follow mine…get a large pot, fill it with cold water, put it on the highest heat ya got, when it comes to a boil, add a couple tablespoons of salt (I use Kosher, Mazel Tov!), and then add the pasta. KEEP THE HEAT ON HIGH AT ALL TIMES!
When it's al dente, firm to the bite, drain it and drizzle with a tablespoon of olive oil, and mix gently. Add a couple tablespoons of the Marsala sauce and mix gently. Gently, Slim People!
And Now for the Halibut…
Rinse off your halibut filets and pat them dry with paper towels.
Take the flour and put it on a flat plate. Add salt and pepper and whisk it up.
Take a halibut filet, and press each side into the flour, shake off excess, put on a plate.
Get a large sauté pan. Put it over medium-high heat.
Add 4 tablespoons of olive oil. (Or 2 tablespoons of butter and 2 tablespoons of olive oil).
When the oil starts to shimmer, add the halibut.
Cook for 2 or 3 minutes until golden. Thicker pieces take longer.
Flip 'em over. GENTLY!
Cook for 2 or 3 minutes on the other side until golden.
Put the fish on a platter.
Plate 'em up! Put a piece of fish on a dish, a good-looking dish, not a paper plate, add a little pasta, then drizzle a little sauce over the fish and pasta, garnish with a sprig of rosemary, and…
MANGIAMO!