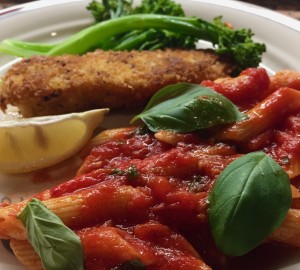 Slim Man Cooks Macadamia and Panko Crusted Halibut
Some friends asked me to dogsit while they were at a wedding in Hawaii. The house was in Carslbad, and there was a fish market nearby, and they had the freshest halibut in the known universe. Every morning, the fishermen would bring it in. She was a-so nice!
The fish was so fresh one of them pinched me on the buttcheek as I passed by.
When my amigos got back from Hawaii, they brought some macadamia nuts. The nuts had honey on them, I mean, they were good, but maybe not good to cook with.
So I got some regular, ridiculously expensive macadamia nuts at the grocery, grabbed a box of panko breadcrumbs, and went back to the house.
Now, I've made halibut fish sticks before, they're in the Slim Man Cooks cookbook; I made them with breadcrumbs and toasted pine nuts and dill.
But I wanted to do something a little different. So I used macadamia nuts instead, and Italian flavored panko breadcrumbs. Lots of recipes call for garlic powder and onion powder, but I thought I'd give those two a break for a change.
So I just added a little dried oregano and dried basil. She was a-so nice! You'll need a total of 1 tablespoon. Instead of oregano and basil, you could use fresh rosemary chopped up, or fresh Italian flat leaf parsley chopped up, or thyme.
In this recipe, THYMING is everything! You gotta dip the halibut in the egg, and then immediately press both sides in the breadcrumb/nut mix, and then sauté right away. You can't do these in advance. Dip and fry, Slim People!
INGREDIENTS
1 pound skinless halibut filet, cut into rectangles, maybe 2 by 4 (inches, not feet)
2 eggs
Salt and pepper
1 ½ cups panko breadcrumbs
½ cup macadamia nuts, chop your nuts fine!
1 teaspoon dried oregano
1 teaspoon dried basil
½ teaspoon salt
½ teaspoon fresh cracked black pepper
¼ cup olive oil
HERE WE GO!
Rinse your fish sticks off in cold water.
Pat them dry with paper towels.
Put 'em on a platter.
Take the eggs, break them in a bowl (I use a glass pie plate), add salt and pepper, and beat the crap out of them.
Take the panko breadcrumbs, put them in a glass pie plate, or a large plate.
Add the minced macadamia nuts, the oregano, the basil and the salt and pepper, and mick 'em up!
Put the olive oil in a large saute pan over medium-high heat. Toss in a couple breadcrumbs. When they start to brown, it's time to get moving!
Dip a fish stick in the egg, get it coated, let the excess drip off.
Press each side into the breadcrumb/nut mix.
Put it in the pan.
Do this with all the fish sticks.
Slim Folks…thick pieces of fish take longer to cook than thinner pieces. The objective here is to have them be golden brown on the outside, and moist and tender on the inside.
Let the fish sticks cook for 2 or 3 minutes, until the underside is golden brown, and flip 'em over!
Well, don't literally flip them over, be gentle, turn them over, let them cook on the other side for 2 or 3 minutes, until golden brown.
Remove them from the pan, put them on a platter lined with a layer or two of paper towels.
Dish it up! Put a piece of fish on a good-looking plate, serve with a wedge of lemon, and maybe a side dish of penne with a simple tomato sauce, and maybe some sautéed broccolini, and…