I love thighs. Let's face it people, thighs are lovely. Whether you're talking about a piece of chicken, or the female anatomy, thighs are the best.
They're soft. Kinda sexy. Juicy.
Chicken breasts? They tend to dry out when you're cooking them. They're really good for some things, like cutlets and Milanese and chicken piccata, but in general, I prefer chicken thighs.
I also love pesto. I got a little sick of it when my dad–we called him Paps–made so much pesto we were using it on our cornflakes in the morning. But after I got over my overdose of pesto, I started really enjoying it.
Pesto is so good for so many things. You can put it on a piece of salmon, you can put a dollop in soup, you can put a tablespoon or two in an omelette. You can use it as a hair gel! Pesto is the best-o.
So, I thought I would combine my two loves, pesto and chicken thighs, so I came up with…
Pesto chicken thighs! I put the "J" back in genius with this recipe.
Some say a thigh is just a thigh, but these pesto chicken thighs are special, delizioso. And quick. And healthy.
So let's dig right in and start cooking. You know, Slim People, sometimes cooking doesn't have to be all complicated and time-consuming.
Sometimes it's easy. Like this recipe…
INGREDIENTS
4 chicken thighs, boneless, about a pound
Olive oil (a couple tablespoons or so)
Salt and fresh-cracked black pepper
4 tablespoons of pesto sauce (I make my own, it's in the Slim Man Cooks cookbook, it's quick!)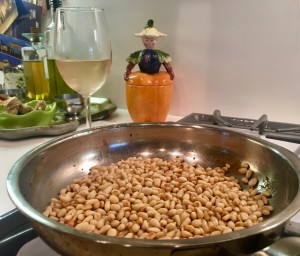 A couple tablespoons of toasted pine nuts (toasted in a dry pan, medium heat, until golden)
Here we go!
OK, pre-heat your oven to 400 degrees.
Take your thighs and rinse them in cold water. Do the same with the chicken thighs. Notice the difference.
Pat the chicken thighs with paper towels.
Trim off any funkiness, any fat, any leftover bone splinters and such.
Put the chicken thighs in a baking dish.
Drizzle with some olive oil.
Make sure they're all coated, rub your thighs!
Add some salt and fresh-cracked black pepper.
Make sure every thigh gets some love.
Put the top side of the thighs on the bottom of the baking dish.
Put the thighs in the oven for 20 minutes.
Take them out, turn them over, and bake for another 10 minutes.
When the thighs have come to about 165 degrees (I use a meat thermometer, not the one I use for the dogs) they are done.
Take them out of the oven, and turn the oven to broil.
Smear about a tablespoon of pesto on top of each chicken thigh. Be smoov!
Put them under the broiler for about a minute or two, until the pesto is golden brown.
Take them out of the oven, sprinkle with some toasted pine nuts.
Put them on a platter, garnish with a sprig of basil, serve with a hunk of crusty bread, or my tomato salad, or both, and…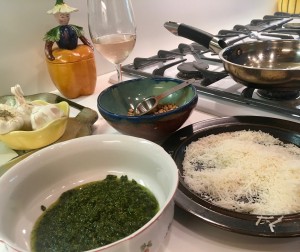 MANGIAMO!