My niece got married in June.
My sister had five kids, all by Cesarean. They're all pretty normal, except every time they leave the house they go out the window.
My sister would be laid up after each birth, so Uncle Slimmy would babysit the newborn until my sister's stomach recovered, a couple weeks. At one point, I had a newborn, a 2-year-old, a 4-year-old, a 6-year-old and an 8-year-old.
It wasn't easy, but it was such a wonderful experience. I loved it, and I loved them. Still do!
The niece who just got married…her husband…I love the guy. He's funny and smart and cool and comes from a great family. They met in high school in Pennsylvania.
The wedding was in Philly, a town I hadn't been to in a while. Man, it has changed. I stayed at a hotel right in the heart of downtown. I took a jog/walk up to the Philadelphia Museum of Art, the one where the statue of Rocky is.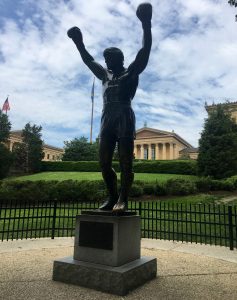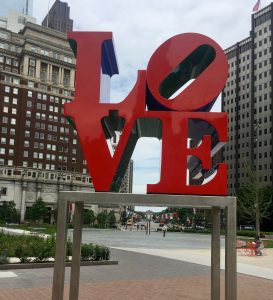 Rocky. Remember that movie? Sylvester Stallone? When he was training for his big fight, he'd end his exercise routine with a jog up the museum steps as the theme song played. "Flying high now!"
I jogged up those steps. And when I got to the top, I played my own theme song. "It's All About Love!" Seemed suitable for the City of Brotherly Love, which is Philly's nickname. I jogged back to the hotel, and right next door was one of the best urban markets I've ever been to.
The Reading Terminal Market. They had everything. Bay scallops, sea scallops, all kinds of fresh fish, meats, produce, Philly cheesesteaks, pastries…they even had pig's feet.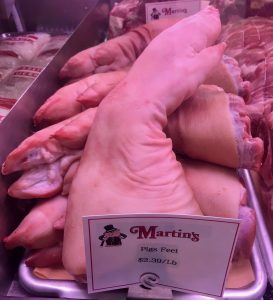 Which were pretty disgusting looking.
My Mom was from down south, and they had big jars of pickled pig's feet in this red liquid, sitting on counters at gas stations. Unrefigerated. You could stick your hand in the jar, grab a pickled pig's foot, and start gnawing.
I never ate any. I couldn't get past the visual.
The night before the wedding, they had a rehearsal dinner. There wasn't any rehearsing, it was just a way for folks from the two families to get to know each other. It was held in an upstairs room at one of those hipster restaurants, the kind where the guys have beards and glasses with big black frames, and boots that look like the kind that soldiers wore in the Civil War.
Except this was modern-day Philly.
I'll admit this, the food was good. They had a couple choices for entrees, chicken or salmon. I've been eating a lot of chicken lately. I've been eating so much chicken I'm starting to sprout wings between my shoulder blades. I'm afraid I might start spitting feathers out of my mouth.
So I ordered the salmon.
When they brought me the plate, the salmon looked beautiful. I took a bite, it was pretty damn good. It was resting on…what was it? It looked like some kind of couscous. I took a bite, and it was delizioso. She was a-so nice!
I could tell it wasn't couscous. I asked the waiter what it was.
Fregola.
What?
Fregola.
Which had me looking it up on my phone. I was trying to stay off the damn phone, especially at a gathering where you're supposed to get to know people. But I had to know what fregola was.
Well, Slim People…it's a pasta from Sardinia. Sometimes it's spelled "fregola" and sometimes "fregula." It was about the size and shape of BBs, and that night in Philly it was done in a simple sauce, as a side dish.
Sardinia is a place I've always wanted to visit; it's an Italian island in the Mediterranean, off the East coast of Italy. I read an article in National Geographic a few years ago; the people of Sardinia live exceptionally long lives. The National Geographic folks were trying to figure out why.
Maybe it's the fregola!
It's usually served in a simple sauce, like a tomato sauce with some pecorino-Romano cheese. It's usually a side dish, except when they make it with clams, tiny clams from the Mediterranean.
When I got back to Palm Springs, I decided to find some fregola.
I couldn't. I went to all kinds of food stores, and when I asked for fregola, people looked at me like I had two heads.
What to do?
I went online. I found some on Amazon, and ordered it. It was expensive, about $8 bucks a pound. Normally pasta costs a couple bucks, but this was imported from Sardinia. Shipping was $6 bucks. I decided to splurge.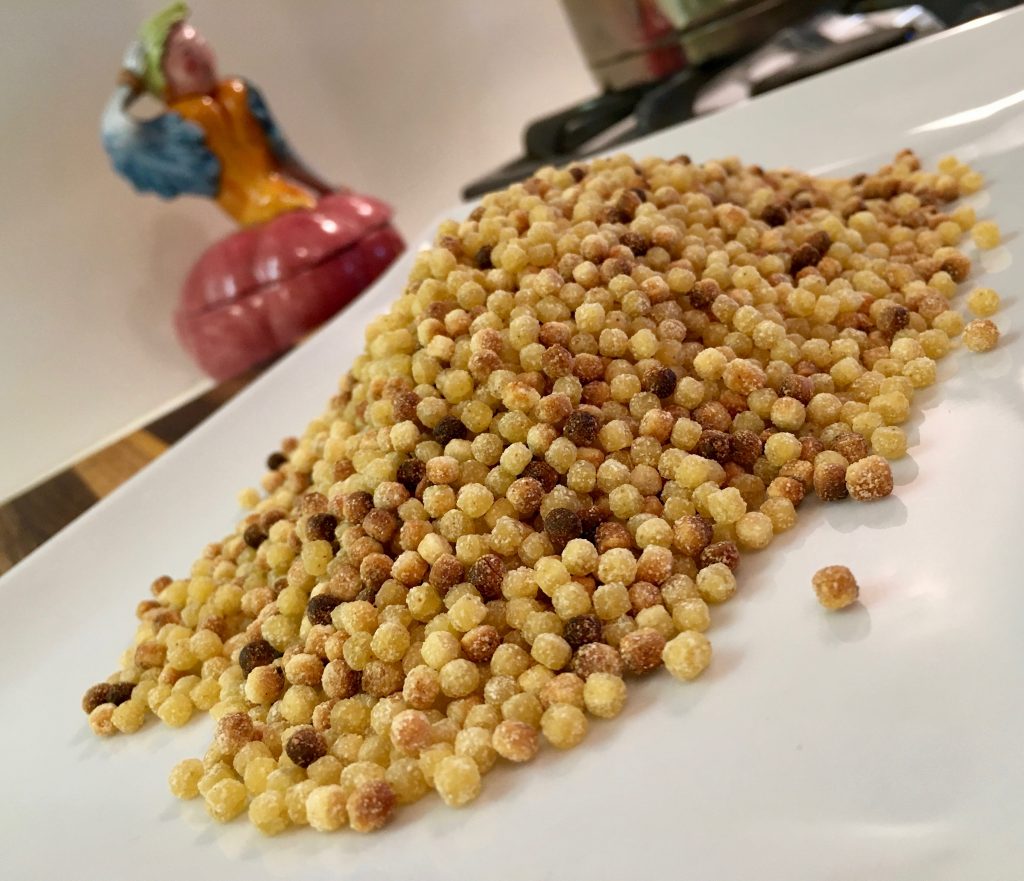 It's a durum wheat semolina pasta, which is what most Italian pastas are made from. But fregola is toasted in an oven at the end of the pasta-making process. The pasta was many shades of brown. Each little pellet was a different color…beige, tan, burnt Sienna.
What the hell is burnt Sienna anyway?
So I followed the instructions on the package, cooked it in salted water for about 12 minutes. Then I drained it, and added a little olive oil and butter. I made one batch with some Slim pesto and another batch with Slim's tomato sauce.
It was so good. It had a slightly nutty flavor, and I thought I tasted a mild saffron-type spice. I like trying new foods, especially Italian foods. And this was one of the best new dishes I've cooked in quite a while. And it was so simple.
How was the wedding the next day? It was great. Yes, it rained…torrential downpours and thunder and lightning. At least it was inside. Sometimes when the weather is really crazy, it somehow makes an event seem more memorable.
"Remember the wedding? It was raining cats and dogs!"
Now, I'm not sure where that expression came from. But it was raining really hard.
Fregola. It sounds like an Italian curse word. "Slim Man! Che fregola!"
This is gonna be quick, Slim People. And easy! And delizioso.
INGREDIENTS
A couple tablespoons of Kosher salt
1 pound fregola
A couple tablespoons of olive oil
A couple tablespoons of butter, room temperature
1 cup simple tomato sauce
½ cup of pesto sauce
Freshly grated pecorino-Romano cheese
Freshly grated Parmigiano-Reggiano cheese
HERE WE GO!
Get a large pot, fill it with fresh, cold water, and put it on the highest heat you gots.
When it comes to a boil, add the Kosher salt (I use 2 generous tablespoons).
Add the fregola pasta.
Keep the heat up during the whole process!
Stir and cook for about 12 minutes or so, until al dente—firm to the bite.
Drain the fregola.
Put half in one bowl, and half in another bowl.
Add a tablespoon of olive oil and a tablespoon of butter to each bowl.
Mix gently, make sure the butter has melted.
Add the pesto sauce to one bowl, and the tomato sauce to the other.
Mix gently.
Dish it up!
Put a serving of each on a plate. Add a little grated pecorino cheese to the tomato sauce fregola, and some Parmigiano to the pesto sauce fregola.