So there I was. Staring at two very ripe tomatoes.
I don't normally stare at produce, but these things needed to be eaten. And soon.
I didn't want to eat the same old shit, Caprese salad, or my Mom's tomato salad, no disrespect to my Mom or Capri!
I just wanted something different. Then I thought of making baked tomatoes, but they seemed so…
Antiquated. Out of style. Not in vogue.
Which is why they appealed to me. I looked up recipes, but nothing was clicking; they were all missing something.
Know what they were missing?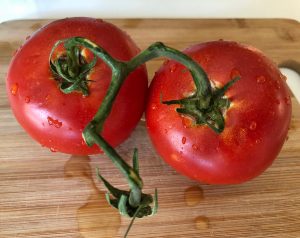 Slimness.
I wanted to make a stuffing with stuff I like. So I made a mixture of panko and Parmigiano and parsley and garlic, along with some dried oregano. Why dried oregano?
I like the taste better. Especially in Italian-American dishes, although I'm pretty sure this dish is more American than Italian.
Until now!
I added a little olive oil to keep it together and moist.
I scooped the seeds out of the tomatoes. I'm not a big fan of tomato seeds, especially in fresh tomatoes. I cut out the top tab/button of both tomatoes first. Then I cut them in half, horizontally. Then I scooped seeds.
I mixed up the stuffing, stuffed it in the tomatoes, and baked them for 20 minutes at 450 degrees.
Wow. They were real good. I mean…real good. I'm staying away from the hyperbole these days. Leaving myself a little headroom. But these were…delizioso. And quick. And easy.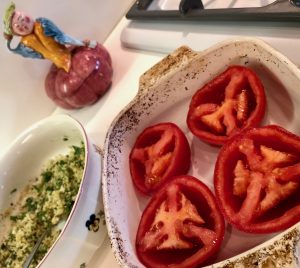 INGREDIENTS
¼ cup panko breadcrumbs
¼ cup fresh grated Parmigiano-Reggiano cheese
1 teaspoon minced garlic
1 teaspoon dried oregano
1 tablespoon chopped fresh Italian parsley
Kosher salt and fresh cracked black pepper
1 generous tablespoon olive oil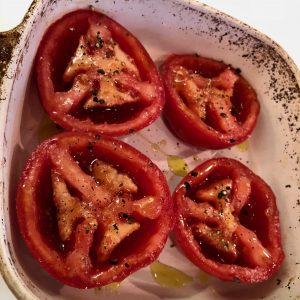 2 ripe tomatoes, top buttons cut out, cut in half horizontally, seeds scooped out
HERE WE GO…
Preheat the oven to 450 degrees.
Put all the ingredients except the tomatoes in a small bowl.
Mix with a fork.
Put the 4 tomato halves in a small baking dish.
Drizzle a little olive oil over each, add a little Kosher salt and fresh cracked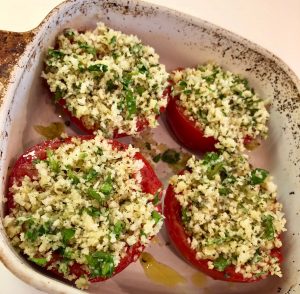 black pepper to each.
Add equal amounts of the panko mixture to each tomato. Fill the tomato holes. Put the extra on top. Be judicious. Be equitable.
Put the dish in the oven for 20 minutes. Keep an eye on these maters.
When the tops are golden brown, take the dish out of the oven.
Let it sit for 5 minutes.
Dish 'em up! Make 'em look nice, add a sprig of fresh parsley, and…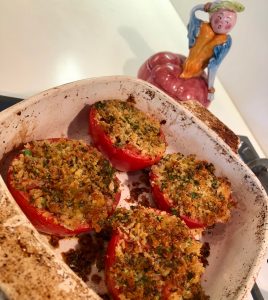 MANGIAMO!!!!