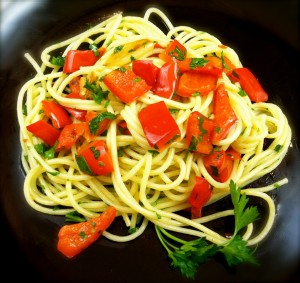 A couple years ago, they shot a Hugh Grant/Drew Barrymore movie in Manhattan. It was called Music and Lyrics.
I heard about the movie from an online casting agency. I was hoping for a small part, maybe Hugh's dog trainer, or Drew's bikini waxer. I was already in Manhattan doing some cooking shows at my cousin's apartment for the Italian American Network. I figured – why not? I signed on. I ended up being an extra.
The movie is what is known as a Rom-Com, a romantic comedy, except nobody was laughing while we were filming. Everyone from Hugh to the crew looked miserable and tense.
Hugh Grant's character had been a pop star back in the 80s – a Wham!-type band – and he was trying to stage a comeback by writing a hit song for a famous young girl singer.
Drew Barrymore was the woman who watered Hugh's house plants. One day she started blurting out lyrics to the song Hugh was writing on the piano. Hugh didn't want any help. Especially from the plant-watering girl. He was pissed off. They start off hating each other, and then – surprise! They end up writing songs together and falling in love.
Washed-up Hugh is still doing a few Oldies gigs here and there to make ends meet — state fairs, amusement parks – and he gets booked to play a high-end high school reunion. They filmed the reunion in a swanky hotel ballroom in Manhattan, and that's where my scene was shot.
They shot the reunion scene in one ballroom, and they had all us extras corralled into another ballroom across the hall.
I saw Hugh Grant quite a bit. They shot the scene dozens of times. They kept playing this song — it sounded just like "Careless Whisper" by George Michael — over and over again. And they kept shooting the same scene for 12 hours. No exaggeration. No wonder everybody looked so miserable and tense.
Hugh looked like he was in pain, like he was passing a kidney stone or something. On one hand, I felt for Hugh. Doing the same scene 25 times in a row is enough to drive you crazy. On the other hand, you're getting paid a couple million bucks to make love to Drew Barrymore.
I wore a white suit. And a white shirt. I looked like the ice cream man. Or a Colombian drug dealer. For 12 hours, I stood around in that stinkin' suit, listening to the same song, over and over and over again. Towards the end of the day, I found a big empty room and sat by myself at one of the tables. I was beat, dead-tired from doing nothing.
Drew Barrymore walked in with her assistant. Or manager, or reflexologist. Both gals sat at my table. There were dozens of other empty tables in the room. But they sat at mine.
We sat there for a few minutes. I looked over every once in a while to wave or say hi, but neither of the women would even look at me. They'd look away. It was weird. The film folks told us not to approach Hugh or Drew. But this was different — they had approached me. I felt like saying,
"Do you come here often?"
"Haven't I seen you before?"
"I'm not wearing any pants."
But I didn't. After about a half-hour they both got up and walked away. They didn't say goodbye. They never even said hello. They just walked out.
I rented the movie after it came out. The scene we spent 12 hours shooting took up about five minutes of the movie. I guess my big film debut got left on the cutting room floor, because I never saw myself. Not once. I did make $84. For 12 hours work. Which comes to – roughly $7 an hour. Isn't that illegal?
I thought the movie was pretty good. But I swore I'd never do it again. But a couple years later…
I got a call from a casting agent named Joyce. I was living in Nashville, Tennessee. Music City, USA. Joyce asked me if I could be an extra on the TV show Nashville. She told me they had seen my photos online and liked them. I declined.
Joyce kept calling me. She called and told me the director liked my look. She called and told me the shoot wasn't far from the Slim Shack. She called me so often, I felt like I was married. I didn't have much going on in Nashville. I was pitching some songs to publishers, making some demos, shopping stuff around.
I had a few poles in the water but nothing was biting.
So, I thought, why not? Maybe the director would discover me, love me, and cast me to play Dean Martin in the new biopic he was planning to do for Universal.
I told Joyce I would do it. She told me where to go and what to wear–I needed to dress like I was going to the Grammys.
A couple days later, early in the morning, I was driving from the Slim Shack to Titans stadium, where the Tennessee Titans play football. There was a holding area for the extras. There were about a hundred people inside. I signed in, and then we all got on old school buses that drove us to the General Jackson, an old steamboat docked on the Cumberland River, next to the stadium.
We boarded the steamboat, and went into the concert area – a ballroom on the first level that was decked out with a big raised stage. Tall cocktail tables were scattered around, and there was a second-floor balcony overlooking the whole scene.
The assistant director stood up, got everybody's attention, and then described the scene we were about to shoot. An older female country singer, Rayna James, and her young rival, Juliette, are nominated for the same country music award — Female Vocalist of the Year. Juliette — played by Hayden Panettiere — shows up on the steamboat drunk and does her new song on stage, all liquored up.
That was the scene. We extras were the audience members, and we were directed to be puzzled by Hayden's drunken stumblings. The cameras started rolling – Action!
Hayden/Juliette came out and sang her song. I'll admit this — it was a really good song. I liked it.
I didn't like it so much after hearing it for five hours straight. They shot the scene over and over again. Every time they changed a camera angle, they'd have to re-position the lights. Re-position the cameras. Re-position the actors. Then it was time to break for lunch. We all went to the third floor of the boat. There were a couple tables laid out with…
Two big tubs of Costco peanut butter and jelly, loaves of bread, Tootsie Pops, and Goldfish crackers.
It was a nice lunch – if you were in kindergarten. After about an hour, we went back down to the concert area and shot the same scene over and over again. After about five more hours – at around 10 PM – we broke for dinner, a buffet that wasn't so bad.
After dinner, we sat around an empty banquet hall and waited. And waited and waited. An assistant director walked in, and started looking us over. He looked at me and crooked his finger. I went over to where he was standing. He whispered,
"We need a guy to play a slick record executive type, an older guy. Are you interested?"
When he said "older guy" I felt like boxing his ears in. But I just said "yes."
He walked me upstairs to where they were shooting the scene. It was being shot on the top deck, which was open-air with a lovely view of downtown Nashville. It was freezing. I stood in a small group of people, around a small table all decked out with flowers and ribbons, and the prop guy handed me a glass of champagne.
Joy. Except it wasn't champagne, it was ginger ale. The director came over and explained the scene – one of the stars of the show, Scarlett, was coming over to talk to this small group of four folks, and I was supposed to have a fake conversation with this girl standing in front of me.
Fake conversation? The director wanted me to move my lips, but not make any sound. I found out later that they have to pay you extra if you talk. So I had a fake conversation with my fake glass of champagne with this really good-looking girl.
We finally wrapped up around 2:30 AM. I had been on the set for seventeen hours. I drove home, let Batu out, made some aglio e olio and went to sleep.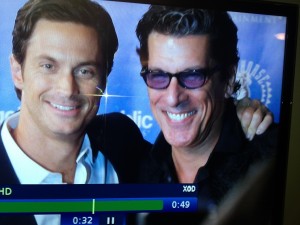 My scenes actually made it into the show. When I appeared on TV, a friend took a photo of their TV set and sent it to me. There were no reports of people firing handguns at their TV sets during my scenes. I only had a couple minutes of screen time, but I got a lot of messages, phone calls and texts. Mostly from my family, making fun of me.
"Hey, Mr. Big Shot, Mr. TV Star! Too good for us now, huh, Donkey Face?"
AGLIO E OLIO
What do Romans fix to eat as a late night snack? Aglio e olio. Pasta with garlic and olive oil.
This is a great dish to fix after a long hot day of doing nothing on the set.
When I make this dish, I add a little chopped red bell pepper, or yellow bell pepper. Or both. Why? I like the color it gives to this dish. After the sauce is mixed in with the pasta, I add a little chopped fresh Italian parsley. Serves three, maybe two if you're in my family.
INGREDIENTS: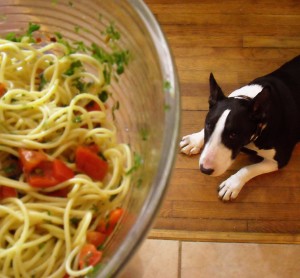 3 tablespoons extra virgin olive oil
6 cloves garlic sliced thin (2 tablespoons)
Crushed red pepper (I start with ¼ teaspoon)
1 red bell pepper (cored, de-seeded, and chopped) about ¾ cup
½ pound pasta (I use spaghetti, penne rigate works well, too)
2 tablespoons fresh, clean Italian flat leaf parsley – coarsely chopped
Kosher salt
Here we go
Fill a large pot with cold water and put it on the highest heat you got. This is for your pasta.
As the water heats up, start your sauce.
Put the olive oil in a small saucepan on medium-low heat.
Add the garlic, the crushed red pepper, and the bell peppers.
Add a little kosher salt.
Let the sauce simmer.
When the pasta water comes to a raging boil, toss in 2 tablespoons of kosher salt.
Add the pasta.
Stir every few minutes.
Follow the directions on the box of pasta. Two minutes before it's supposed to be done, take a bite of a piece of pasta. If it's chalky in the center, it is not done. Check every 2 minutes. It might take longer than the instructions say. When the pasta is al dente, (firm to the bite), and not chalky, drain and transfer to a bowl.
Add the sauce, the fresh chopped parsley, and toss again.
Dish it up. The Romans don't put cheese on this dish.
But if your lady friend wants freshly grated Parmigiano-Reggiano cheese, save yourself some trouble, just shut up and grate.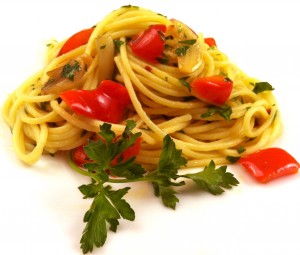 MANGIAMO!!!!!!!!!!!!!!!