Batu was born in Argentina on Cinco de Mayo – the 5th of May – 2004. Batu's grandfather was a famous bull terrier from Germany named Rock. Batu's owner paid $15,000 for Rock. He could've bought a car for fifteen grand. I'm glad he didn't. But that's still a lot of money for a dog.
Batu's owner had high hopes for the young pup. Batu was entered in a few South American dog shows, but there was some technical defect in his bone structure–he was bow-legged, just like me–which prevented him from advancing any further in his show dog career.
Their loss. Batu was a neglected champion, much like Yours Truly. He was kept in a crate, not like Yours Truly. No one knew what to do with him. He just sat in his crate.
I had wanted a bull terrier ever since I saw the movie Patton. Patton had a bull terrier named Willie. When my cousin – a true dog lover who knew I wanted a bull terrier – found out about Batu, she decided to get him for me for Christmas.
She has a house in Chile. She's well-connected in the dog world down there. She left Baltimore, Maryland, flew down, rescued Batu, and brought him to me on Christmas Eve, 2005. I was at my uncle Oscar's house on the river. Cat Tail Creek, outside Baltimore, Maryland.
Batu came out of the bedroom that Christmas Eve, walked up to me, and stuck to me like Velcro that night–and almost every day since. Batu came with that name. I don't know how he got it. I Googled "Batu" and all that came up was the grandson of Genghis Khan, Batu Khan.
Batu Khan. So that's the story I'm going with.
At the time, I was living in an apartment in Roland Park, an incredible place in an old mansion that used to be a country club.
I loved the place. When I brought Batu home, he would not leave my side. If I walked into the kitchen, he'd follow me. If I walked into the living room, he'd be right behind me. If I went into the bathroom, there he was.
The first few nights I had Batu, he slept in bed with me. When I found a tick on the sheets one morning, I decided to get him his own bed. I put it on the floor by my bed, and that's where he slept. If I woke up in the middle of the night, I would reach down and pet him.
I think Batu had separation anxiety. Or maybe it was me. Whenever I'd leave, he'd howl.
Truth was, I missed him, too.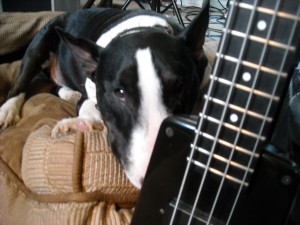 So I took him just about everywhere I went. If I went to a recording studio, I'd call in advance and make sure it was OK. DC, Philly, New York — if I had a session, Batu went with me. If I went on vacation, Batu went with me. If I went to visit my Dad in upstate New York, Batu went with me.
Whenever I'd sit down and play piano or guitar, Batu was there. Almost every song I wrote for the past eight years, Batu was at my feet, eyes closed halfway. He was probably dozing off. My music has that effect on people.
The apartment in Roland Park had a crazy little kitchen with a small four-burner stove. I got a video camera and started shooting cooking videos; short, goofy little five-minute home movies which featured Batu.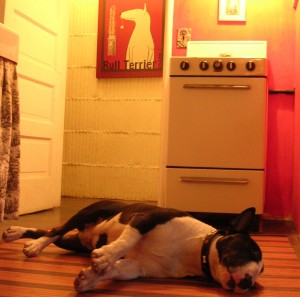 I had heard about this new website called YouTube that had just started. I started posting the cooking videos on YouTube. One of my five or six fans saw the cooking videos, and brought them to the attention of their friend who was involved in a new network, the Italian American Network.
They liked the videos. They loved Batu. The Italian American Network started posting the videos on their channel. They encouraged me to do more. Batu and I started making more cooking videos in that little kitchen. And I started writing those recipes down, so the Italian American Network could post them along with the videos. Batu and I kept on making videos and posting recipes.
A few years later, Batu and I were at my Dad's house in upstate New York on the Fourth of July, 2009. We were cooking and making videos. It had just rained, and there was a double rainbow reaching across the mountains. I took a photo. I walked inside my Dad's house. The phone rang. My Dad lives on top of a mountain, a place called Rat Tail Ridge, and there aren't too many neighbors. The phone doesn't ring too often.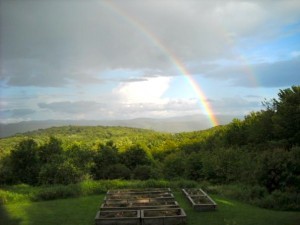 I picked up the phone. I got the news that Oscar—my Dad's only brother– had died. I told my Dad.
My Dad said "Fuck!" about a hundred times in a row. Then he cried. I've only seen my Dad cry twice. When his best friend died, and when Oscar died.
Unc — that's what I called him – had fallen down the basement steps at Cat Tail Creek. He was going to the cellar to get a bottle of wine for the osso buco he was cooking. Unc died immediately. He was extremely wealthy, in good health, had a beautiful young wife. He was 88 years old. Unc and I were really close. He was like a second father to me, I had lived with him for a couple years. Unc taught me a lot about cooking. And wine. And life.
I packed up Batu and my Dad, and we drove for six hours from Rat Tail Ridge down to Cat Tail Creek. We didn't talk much. I was heartbroken. I felt so bad for my Dad; Oscar was his only brother, they had grown up poor on the mean streets of New York, and Oscar was always looking out for his younger brother – throughout their whole lives. Unc was like the Godfather — our world seemed to revolve around him.
After the funeral, there was a wake at Unc's house. The next day, I took off for a show in San Antonio, Texas. I had no idea how I was gonna get through it. I left Batu with the family. They knew him, loved him, and I knew he would get more than enough attention. Everybody loved Batu.
When I landed in Texas, I got a frantic phone call.
My sister started shrieking. They were crabbing off the pier. They put a chicken neck on the end of a string and threw it in the river. Batu jumped in after it. Batu can't swim. Bull terriers can't swim. They sink.
Batu sank to the bottom. Everyone started jumping off the pier, right into the river–clothes on, wallets and cell phones in pockets. They were following the trail of bubbles, trying to find Batu. Finally they dug down, found him and fished him out. Mouth to snout resuscitation was not needed. Batu survived.
Right after the concert in San Antonio, I flew back. Batu was fine.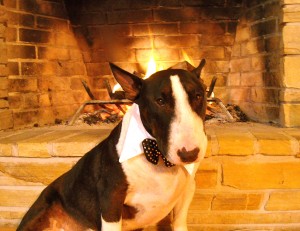 I've had dogs all my life, but I never had a connection like I had with Batu. I never thought of him as a dog. To me, he was more like a funny little man in a dog suit.
Batu had a bark that would make you jump five feet straight up in the air — it was loud and sharp and startling. He didn't bark much. He was a very calm, laid-back mutt. Not much bothered him. When we would walk the streets of Manhattan, there was so much noise – trucks, sirens, car horns, brakes screeching. Batu never flinched. I could have fired a gun next to his head and he wouldn't have blinked an eye.
Batu had a sense of humor, he liked to play. He was funny. He was photogenic. When I pulled out the camera he'd look right at it.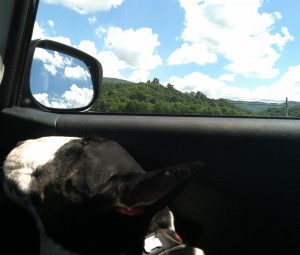 Batu loved to ride in the car. To the post office, to New York City, or across the country, he was all-in. I'd throw his bed in the back of the car, and I'd have to lift all 70 pounds of him into the back. Then we'd take off. It's funny; I guess he never knew if we were going a mile away, or a thousand miles away. He was just happy to be along for the ride. He would lie there for hours and hours and not make a sound.
I'd have to reach back and shake him just to make sure he was alive.
In 2011, Batu and I packed up the Slimousine and moved to Nashville. I wanted to re-pot the plant. Wipe the slate clean. So we drove to Tennessee. Eleven hours. Seven hundred miles. We did it in one day.
I love Nashville. I found an apartment in a neighborhood called The Gulch. But after we moved in, Batu's skin problems started getting worse. He'd always had skin problems, really bad sores between his toes. No one could solve the problem. I took Batu to more vets in more states than any one dog known to man. We tried soaks, meds, diets, boots, salves, and nothing worked. His feet were always pretty bad. In Nashville, Batu's skin got much worse.
How bad? At one point, I took Batu to his vet in Nashville and asked him if we should put him down. I told the vet that if we had to put Batu down, he might as well put me down, too. Maybe we could get two for the price of one.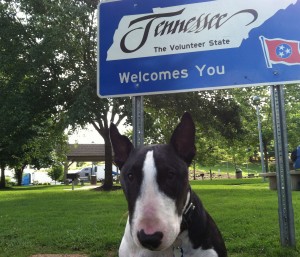 The sores on his feet were so bad he couldn't walk. He had sores on his elbows, his back, his chest, even his face. It looked hopeless. Batu was so miserable. So was I. The vet then suggested we put Batu on every dog medication known to man, and if it didn't kill him, maybe he'd get better.
We put poor ol' Batu on antifungals, antibiotics, prednisone – I changed his diet to an incredibly expensive hypoallergenic dog food. I gave him baths a couple times a week with ridiculously expensive medicated shampoo that I had to leave on for 15 minutes at a time. Eventually Batu got better. We started eliminating drugs, and after a few weeks, Batu was almost back to normal. It was miraculous.
Once a month, Batu and I would drive from Nashville back to Baltimore to see my Dad. He had moved nearby to Annapolis–Rat Tail Ridge was too isolated, and hard to maintain, with all the snow in the winter. Stacking firewood alone was a full-time job.
Soon after my Dad moved to Annapolis, he fell and broke his hip. The doctors placed him in a hospice. I explained to the people in the hospice how much my Dad loved Batu. To my surprise, they let me take Batu up to my Dad's room. My Dad would always brighten up when Batu and I arrived. When I got there, I'd lean in close to my Dad's ear (he was hard-of-hearing), as he lay there on the bed with his eyes closed and I'd yell,
"WHERE DID YOU HIDE THE MONEY? IS IT BURIED IN THE FRONT YARD?"
My Dad would smile, frail, cheeks drawn, and squeeze my hand.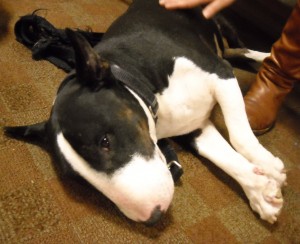 A few days later, my Dad passed away. Batu and I were just about to walk into his room when the nurse walked out and gave me the news. I sat down on a bench in the hall. I took a photo of Batu on the floor.
Funerals aren't funny, in general.
My Dad's was. The service was serious, it was at a Quaker Meeting House in Baltimore, the same one where my cousin Johnny had his service years ago; my Mom and uncle Oscar had their services there.
I gave the eulogy at my Dad's service. Afterwards, people got up and told stories, funny anecdotes, and crazy quotes. It was touching, all the remembrances and memories. I played "Summer Days" after the service. It was a song I wrote for Angela Bofill; she recorded it on her debut CD. It was one of the first songs I wrote while I was at Motown. The first time my Dad heard it, he asked me to play it at his funeral. Thirty-five years later, I did.
My Dad had been cremated. He wanted the urn of his ashes buried next to his mother, Angela. I had been to that cemetery many, many times. I remembered one February 14th years ago, roses in hand, Batu and I walking through a foot of snow, trying to find her grave, which was a plaque set in the ground. It was her birthday. Valentine's Day. I stopped, reached down and scooped out some snow, and as crazy as it seems, there was her gravestone.
After my Dad's service, we went to the gravesite. It was freezing cold. There was a small hole next to Angela's grave. It looked like it had been dug by a five year-old with a Fischer Price shovel. Some spray paint lined the circumference. Pieces of sod sat nearby. Next to the hole was a small plastic orange sign, stuck on a piece of wire, like a flag, that read,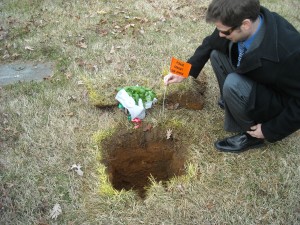 "Please contact our office."
My Dad would have seen the humor. We left a basil plant at his gravesite, to honor his pesto prowess. His wife took his ashes. Batu and I drove back to Nashville soon after.
A few days after we got back to Nashville, my sister called. Her only son had died suddenly and unexpectedly of heart failure. Batu and I got in the car and drove back to Baltimore for the funeral. It was heart-breaking. No parent should ever have to bury a child.
I spoke at the funeral. And then Batu and I drove back to Nashville. It was a long drive.
A year later, in December 2013, I left Nashville with Batu, and we drove to Breckenridge, Colorado. Batu and I needed a change of scenery.
Breckenridge is a charming and lovely ski resort, with a vibe like an old Western mountain town. My brother had rented a place there for Christmas so the family could be together and hang out for a week or so. I took a jar of my Dad's ashes with me, to give to my brother–which we accidentally dropped on the kitchen floor Christmas night. We scooped them up, and went outside, and scattered them at the foot of the Rockies. Batu was there.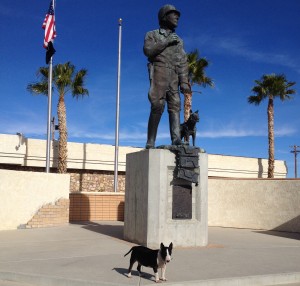 After Christmas, Batu and I drove to Scottsdale, Arizona, stayed for New Year's Eve, and then drove to Palm Springs, California, where I had some concerts lined up. On the way to Palm Springs, we passed the General Patton Museum. We stopped by the statue of Patton and Willie – those two were the reason I got a bull terrier in the first place.
Batu and I got to Palm Springs, and decided to hang out for a while. The weather was wonderful; sunny, warm and dry, with fresh lemons, oranges and grapefruit everywhere. Batu loved it.
The first four months of 2014 were the healthiest and happiest days of Batu's life. All of his skin problems disappeared — it must have been the climate. I put him on a diet. He lost nine pounds. He was in the best shape of his life. Batu seemed to flourish in Palm Springs. He was the King of the Springs.
Batu had only one health problem remaining. He had an enlarged heart. Batu would pass out occasionally, drop to the ground like a ton of bricks. It was always very scary. But he always came back.
Batu turned 10 on the Cinco de Mayo, 2014. He never looked better. On Mother's Day, I left for a concert in San Diego. When I left Batu with the dog-sitter, all was great.
I did the show that night at Humphrey's, a cool little club on the bay. That night was one of the happier ones in a long time. I had just done a really good show, my California band was sounding really good, Batu was doing great, we were both digging California – all was good in SlimLand.
The next morning I got a text from the dog sitter. I called her, and she told me Batu had fallen asleep the night before – Mother's Day, May 11th – and never woke up.
I couldn't believe it. When I left he was healthier than ever. There was no way he could be dead. I drove from San Diego to Palm Springs. Three of the longest hours of my life. I could hardly see the road from the tears streaming down my face.
I walked in to the house. Batu was lying on the kitchen floor. I scooped his lifeless body up, and put him in the car, as I'd done so many thousands of times before. And I drove him to the vet to be cremated. When they took him out of the car and walked away, you would have thought that everybody I had ever loved had just gone down on the Titanic. I broke.
Three thousand fifty-nine days. That's how long I had Batu.
Seems like a long time. It wasn't nearly long enough. I miss my sidekick. He had been by my side for the past nine years, through the good times and the bad.
I started this cookbook when Batu and I started making cooking videos for the Italian American Network. It was early 2006.
This recipe was the last recipe I did with Batu. I took the photos for this dish on May 3, 2014. Batu passed away the following week. After a couple of weeks curled up on the floor in the fetal position, crying my eyes out, I decided to start this cookbook.
CHICKEN STUFFED WITH GOAT CHEESE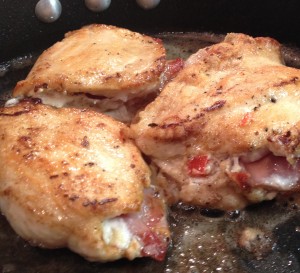 I don't like wasting food. If I've got leftovers in the fridge, as long as they don't have anything growing on them, I'll eat 'em.
I had some goat cheese that was on the cusp, so to speak. I took a sniff, and it smelled OK.
But I knew I needed to use it soon, so I came up with this brilliant idea–mix it with some scallion and red pepper and make a little stuffing for the chicken breasts I was about to cook.
The dinner was actually delizioso.
A couple things –
Before the lawsuits start flying in, always remember to check the expiration dates on your food. Your nose knows. Take a sniff – when in doubt, throw it out.
My brother once made a hot dog late at night, and as he was eating it, I noticed the bottom of the roll was all moldy and green. It was pretty funny – until that night when he threw up in the drawer of the bedside table that we shared.
It's important to check stuff before you stuff your face.
Whenever you handle raw chicken, make sure you clean everything it touches really well.
As with any recipe, if you don't like an ingredient, leave it out, or substitute.
You guys are smart. With incredibly good taste, I might add. You can do this.
INGREDIENTS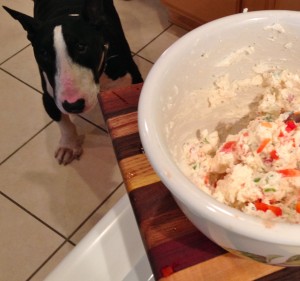 ¾ cup goat cheese
1 tablespoon chopped scallion — the middle part only
1 tablespoon minced red bell pepper
Salt and fresh-cracked black pepper
3 chicken breasts, sliced thin (about ¼ inch thick)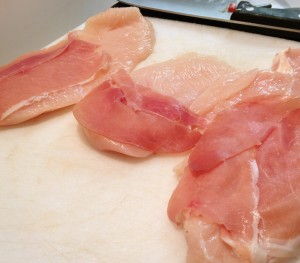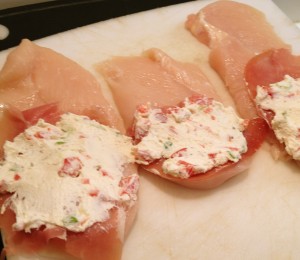 3 slices prosciutto
Flour (1/3 cup should do)
1 tablespoon butter
1 tablespoon olive oil
Here we go
Preheat your oven to 400 degrees. Now let's make our stuffing…
Put the goat cheese in a small bowl.
Add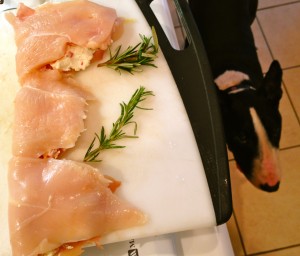 the scallion and red pepper.
Add salt and pepper to taste.
Mick 'em up.
Set aside. Let's make some chicken!
Lay a chicken breast flat on a plate.
Put a slice of prosciutto on half the chicken breast.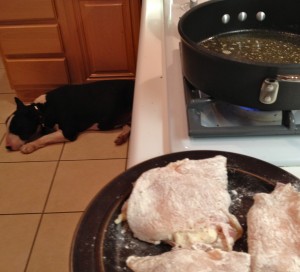 Put a couple tablespoons of the goat cheese mixture on top of the prosciutto, spread it around evenly.
Fold the breast over, in half.
Do this with all 3 of your breasts.
Put some flour on a plate, about 1/3 cup. Add some salt and pepper, mix.
Grab a folded breast.
Place it on the flour.
Turn it over, so both sides have been dusted with flour.
Do this with all the chicken.
Get a sauté pan; put it over medium-high heat.
Add the butter and olive oil.
When the butter starts to bubble, add the 3 chicken breasts.
Cook for 4 minutes.
Turn 'em over, cook on the other side for 4 minutes.
Put them in a baking dish, and place in the oven for 5 minutes.
Pull 'em out, check for doneness.
If they're not done, put 'em back in the oven for a few more minutes.
When the chicken breasts are done, dish 'em up!
I did roasted beets with carrots as a side dish, along with some risotto.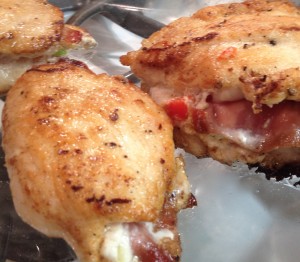 MANGIAMO!!!!!