Arancini and Christmas 2013
For the record, when I die, I want a Viking funeral. They put your body on a small wooden boat, cover you with hay, float you out on the water, and shoot flaming arrows until the hay catches fire. Then the boat burns and sinks.
Is that too much to ask?
In November, 2013, I drove from my home in Nashville to my hometown of Baltimore. Seven hundred miles. Eleven hours. Batu, my bull terrier, drove with me. We did it in one day.
A couple days later, I dropped Batu off with a friend who just loves Batu and loves taking care of him. Then I flew to Madrid to work on the new Bona Fide CD with guitarist Marc Antoine. He had volunteered to produce and mix.
Two weeks later, the CD was almost finished – all it needed was a couple of tweaks. I left Madrid, flew back to Baltimore, and picked up Batu. I was getting ready to drive back to Nashville when I got a phone call.
My Dad's second wife had passed away in Annapolis, Maryland. She was young, and it was so sad. My Dad had passed away two years before — on January 4th. He was cremated.
I went to the memorial service for my stepmom. It was heart-breaking. It had to be tough for her two kids. Right before I left, her son — my half-brother — gave me two jars of my Dad's ashes. One for me and one for my brother.
Batu and I drove from Baltimore to Nashville the next day. I stayed a few days in Music City, and then packed up some things – including the jar of my Dad's ashes for my brother – and Batu and I decided to head west. Destination? Breckenridge, Colorado, a skiing village in the Rocky Mountains. My brother, the Slim Bro, had rented an apartment so the family could spend Christmas together.
My plan was to hang out in Breckenridge for Christmas with la famiglia, go to Scottsdale for New Years, and then head to Palm Springs, California, for a couple months of Slim Gigs. So I packed up the Slimousine, threw Batu in the back and we left Nashville and drove west.
Batu and I got to Breckenridge safe and sound. We drove 1200 miles. It took us two days. We checked in to the apartment. It was pretty nice, on the ground floor, right in downtown Breckenridge.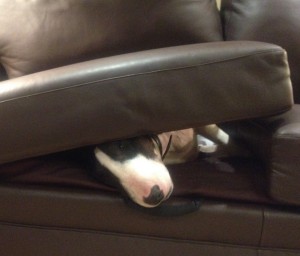 Batu and I sat on the couch. I was reading the brochure for the apartment when I noticed there was a $100 dollar-a-day fine for having a dog. A hundred bucks a day. It was too late to find a new place. So I had to keep Batu on the QT, the Down Low and the Hush-Hush.
My brother walked in. It was so great to see him. I hadn't seen him since our Dad's funeral. I gave him the jar of our Dad's ashes. He put it on top of the refrigerator.
Breckenridge was bitter cold. I woke up one morning and it was one degree outside. We were at 10,000 feet. I went jogging, like a fool. I jogged around the mountain. It was exhilarating – clear and sunny and beautiful and freezing cold.
On Christmas Day, my brother, the family and I went to an absinthe bar on Main Street. I had never had absinthe. I'd heard about it. It's an alcoholic beverage that is supposed to make you really crazy.
How crazy? Well, rumor has it that one time Van Gogh drank way too much of the stuff, then cut off his ear and gave it to a prostitute.
I'm sure she would have preferred to be paid in cash.
So, on Christmas Day, we, the Slim Crew, went into the absinthe bar in Breckenridge, Colorado. We sat down. The waitress came over and started explaining the different kinds of absinthe. I think she must have tried most of them within the past hour, because her eyes had that space alien luminescence about them. And her ear was missing.
The absinthe was expensive. Twenty bucks a shot.
We ordered a couple. Only one of us had tried absinthe before. That person — I won't say who – drank a lot of absinthe the night before a wedding, took a fire extinguisher off the hotel wall and sprayed everybody in sight.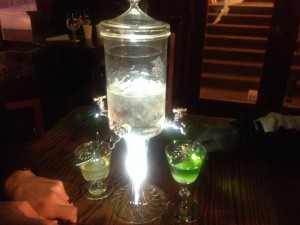 The waitress brought over two glasses of absinthe, one clear and one green. She put a small strainer over top of each glass, and placed a cube of sugar on top of the strainer. She brought over a samovar of ice water, and placed the two glasses under the two faucets. She let the water drip slowly over the sugar cube, through the strainer, and into the absinthe.
When the cube dissolved, we turned off the faucet, and we each took a sip. It tasted like old bathwater, smelled like stinky sweat socks and kicked like a mule. We passed the two glasses around, and drank. When we finished, we walked in the snow through the quaint little village, which was all decked out in lights and wreaths and ribbons.
The town was glowing. We were also glowing – like nuclear waste. I don't know if it was the absinthe or what, but we were definitely feeling merry and bright.
When we got back to the apartment, we had a traditional Christmas dinner — turkey, stuffing, and mashed potatoes. We drank wine. Not that we needed to. After we finished, as we were cleaning up, someone — I won't say who — knocked the jar of my Dad's ashes off the top of the refrigerator. It shattered on the kitchen floor.
We all stood in silence for a moment. Then we started laughing.
Why were we laughing? You'd have to know my Dad. He was a professor of philosophy and literature; a tough and gruff and grouchy curmudgeon who also had an incredible sense of humor. He once taught a course in comedy. He had a great laugh, his eyes would squint, he'd throw back his head, and he'd let it out.
We all looked at his ashes there on the floor. What to do?
We gathered up the ashes in a dustpan, picked out the glass as best we could, and went outside in the cold, dark night. I took the dustpan, and scattered his ashes in a schoolyard behind the apartment. Then we gathered in a circle, held hands, and mumbled something that sounded like a prayer.
That was our Christmas. But that's not the end of the story.
When it came time to check out of the pet-unfriendly apartment, it was just me and Batu, cleaning and packing. My brother and family had checked out earlier. Check out time was 10 AM. At 10:05, there was a loud knocking on the door.
"Time to check out!"
Apparently, they were not only pet-unfriendly, they were people-unfriendly as well. Batu started barking. His bark could make Superman jump.
I tried to get Batu to shut up. As the knocking got louder, so did Batu's bark. All I could think about was paying the $100 a day dog fine. I grabbed Batu, lifted him up, and went out to the balcony of the apartment. I lifted all 70 pounds of him over the four-foot railing and dropped him in a snowdrift (don't call PETA, we were on the first floor).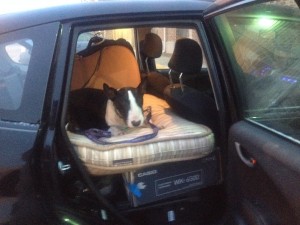 I grabbed his bed and tossed it over. Then I jumped over the railing, into the snow drift. I scooped up Batu, grabbed his bed and ran to the car. I threw the bed in the car, put Batu on top of the bed, and ran back to the balcony.
I jumped the railing, went inside, and went to the front door. I opened it. The guy who was knocking came in and started looking around. There was obviously no dog. He walked around, and then left without saying a word. I packed my car and took off with Batu.
We drove from Breckenridge to Scottsdale, Arizona. It was treacherous — up and down icy, snowy two-lane roads. The car was skidding all over, and there were no guard rails. The drop was precipitous. The drive took forever. I had the death grip on the steering wheel. It was tense. A trip that should have taken 10 hours took 20.
But we made it. That's my Christmas story for 2013. Happy Holidays.
ARANCINI
Want to make people happy around the Holidays? Make some arancini! Arancini are Sicilian rice balls stuffed with mozzarella cheese.
Arancia is the Italian word for oranges. Arancini means "small oranges" which is the size and shape these rice balls should be.
Two cups of leftover risotto should make about seven or eight small rice balls.
In the past, I've used mozzarella for the stuffing. One night, all I had was goat cheese. So I used that, and I loved the way it tasted. If you are using mozzarella, cut it into small cubes, two for each rice ball. If you are using goat cheese, roll it into seven or eight small balls – each about the size of a grape.
Eight ounces of cheese should be more than enough for seven or eight arancini.
INGREDIENTS
2 cups leftover risotto – I used some risotto with shrimp and peas I had cooked the previous night
½ cup of flour
3 eggs
1 and ¼ cups breadcrumbs (I use panko)
½ pound of mozzarella, cut into 16 small cubes, or ½ pound of goat cheese, rolled into 8 small balls
¼ cup olive oil
Here we go…
Take the leftover risotto, put it in a large mixing bowl.
Put the flour on a plate.
Break 2 eggs into a bowl, add some salt and pepper, and mick 'em up.
On another flat plate, add 1 cup of breadcrumbs.
Break an egg into the risotto, and add the remaining ¼ cup of breadcrumbs.
Mix the risotto, the egg, and the breadcrumbs by hand. Mick 'em up.
Take a small amount of risotto. Put it in the palm of your hand, roll it in a ball–about the size of a small orange. Poke a hole in it, add 2 cubes of mozzarella in the center, or one goat cheese ball, and fold the rice over the mozzarella.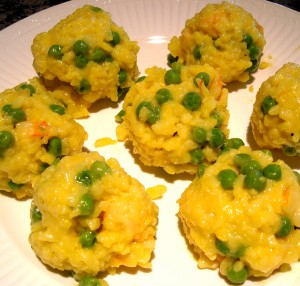 Take the rice ball, roll it in the flour, and then dip it in the egg. Let the excess drip off, and then roll the rice ball around in the breadcrumbs until it's coated. Keep making the rice balls until all the risotto is gone.
Put the olive oil (you can also use canola) in a large sauté pan over medium-high heat. I used a 12" pan.
When the oil is hot, put your rice balls in the pan, and sauté until golden on the bottom, about 3 or 4 minutes. Don't burn your balls.
Turn them over, and sauté on the other side, about 3 or 4 minutes, until golden brown.
When done, put 'em on a platter lined with paper towels.
Dish 'em up!
Eat immediately. Serve with some absinthe and go nuts!
MANGIAMO!!!!