Chicken Marsala with Elvis in Memphis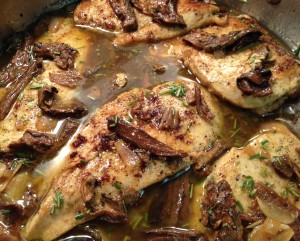 I was in Memphis in the late 1980s organizing a country music talent contest with my friend Michael.
Michael is black. I'm white. Well, Italian.
Marlboro sponsored the contest. Why they picked a black guy and a white guy — two city slickers, no less — to do a country music talent contest, is still puzzling.
It's not puzzling why Michael and I did the contest – they paid us a lot of money and they paid all our expenses. I ended up doing four tours for Marlboro. The one with Michael was my first.
Michael and I traveled around the USA looking for the next big country music star. We went to more honkytonk hellholes than most cowboys. We'd roll into a town like Memphis, find a club, organize the bands, and do the contest. The grand prize was $50,000. Fifty grand.
I was in charge of the bands; I made sure all the musicians knew where to go, what to bring, and what to do. Michael was the MC. He was the Ryan Seacrest of honkytonks. When Michael appeared on stage, and introduced himself to the primarily white, all-country crowd, there was a little apprehension – on both sides of the microphone.
He'd come out and say,
"Ladies and Gentlemen, welcome to the Marlboro Country Music Talent Roundup."
That's when the crowd got a little quiet. Michael was from New York City, and he sounded like it. He'd continue,
"I know I don't look like the Marlboro Man, and I don't sound like the Marlboro Man, but tonight…"
He'd reach down and put on his white ten-gallon Hoss Cartwright cowboy hat on, and continue,
"I am the Marlboro Man."
Michael sounded like Shannon Sharpe — the football player and NFL analyst. He looked like Cleavon Little in Blazing Saddles. Michael always got a laugh when he put the big white hat on. He had a singular charm.
Marlboro tossed a lot of money at this thing. We had all kinds of great merchandise — denim jackets, satin jackets, duffle bags, playing cards, T-shirts, polo shirts, denim shirts, posters. And they gave away free cigarettes at every show. All you could smoke.
They should have given away a Marlboro coffin. Or maybe a Marlboro iron lung.
Here's how we ran the contest – we had ten bands a night, three nights in a row. Each band got 15 minutes on stage. We had three minutes in between bands, that's all.
Judges picked the winners–not the audience. We'd find judges —usually three — from the local talent pool; DJs, producers, managers, agents. The judges would pick one band to go on to the finals in Nashville, where they would compete with the other finalists from other towns for the grand prize of $50,000.
Before we got to Memphis, we got a call from Marlboro headquarters. They told us to be careful. It was the 20th anniversary of Martin Luther King's assassination in Memphis. And then they told us that the club owner was rumored to have ties to the KKK.
The club was called The Vapors, a country music honky-tonk in the middle of Memphis. Michael and I pulled up to the club in our rental car. We walked inside and met the owner. He was friendly. He was as nice and helpful as could be. He wasn't wearing a white pillowcase over his head.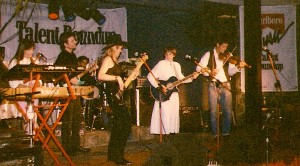 Michael and I got set up for the show that night. We had to hang all the Marlboro Country Music Roundup signs around the club, we had to make sure the sound company was good to go, the bands ready to play, and the judges prepared to judge.
We finished soundcheck and had a few hours before showtime. Michael had a friend who had a limo and tour bus company based in Memphis. She rented these things out to bands and rock stars. She invited us for a limo ride to Graceland and a private tour. She was a friend of Elvis Presley's Mom.
Graceland is the house that Elvis built. It's now a museum.
Michael and I drove over to his friend's house. She had all these limos and tour buses parked all around her property. She got behind the wheel of one of the limos and Michael and I got in back. She put the big black limo in reverse and floored it.
She rammed it into the side of one of her tour buses that was parked right behind her. BANG! We got out, and surveyed the damage. It was substantial — to both the limo and the tour bus.
She left the smashed-up limo right there, and got into another one and drove us over to Graceland. She gave us a private tour. We saw the Graceland that not many people get to see. It was surprisingly small, and had a sixties vibe to it—lots of yellow vinyl and white shag carpets and mirrored walls.
Elvis must have loved TV. There were TVs everywhere. He had quite a collection of cars, all kinds of exotic sports cars. Elvis also had two luxury jets parked right across the street from Graceland.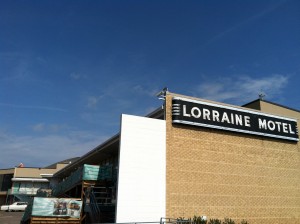 After the Graceland tour, Michael and I went to visit the Lorraine Motel, where Martin Luther King, Jr. was assassinated. There were TV news crews doing interviews about the 20th anniversary, and one of them came up to Michael and interviewed him.
It was eerie.
Michael and I went back to our hotel, a Holiday Inn. We decided to take a jog before the big show that night. We put on our running shoes and started jogging down the streets of Memphis, side-by-side.
On our way back, we heard someone shout from a car – you'll have to excuse the language, but this is the way it went down.
"Hey nigguh boy! Hey hippie fag!"
True story. That's exactly what was said. I couldn't believe my ears. Then I heard it again.
"Hey nigguh boy! Hey hippie fag!"
Oh, shit, I thought. Here we go. A black guy and a long haired white guy, running down the streets of Memphis. I stopped and looked to see where the voice was coming from.
It was the owner of the Vapors. He was laughing, hanging out the window of his car, smacking his hand on the door.
"I got you! I got you goin'! See you fellas at the club later! Have a nice run!"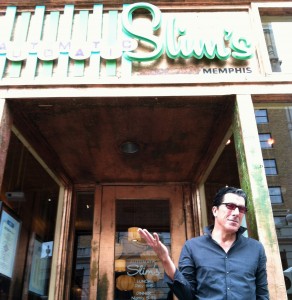 He smiled and waved and drove off, laughing.
He got us, all right.
We did the contest that night at The Vapors. The owner couldn't have been nicer, the crowd was as cool as could be and the show went as smooth as glass.
I love Memphis – Sun Studio, Graceland, Beale Street – and any city with a restaurant named Automatic Slim's is OK in my book.
CHICKEN WITH MARSALA AND PORCINI MUSHROOMS
Automatic Slim's did not have chicken Marsala on the menu. But they should have!
I came up with this dish a few weeks ago. I used porcini mushrooms and the water they soak in. It was amazing, if I may say so myself.
The next night I cooked it for a very beautiful woman of excellent taste, and it was just OK. I overcooked the chicken, and it was a bit tough and dry; so don't overcook your chicken.
I like to serve this sauce over egg noodles – not a lot, just a little bit underneath each serving.
I used three boneless, skinless chicken breasts. They were real thick, so I cut each of them in half. I had six cutlets, each was about ¼ inch thick.
Marsala is a wine from Marsala, Sicily. There are basically two kinds; dry and sweet. I used sweet Marsala.
Be careful when handling raw chicken—clean every surface it touches, wash your hands, and get out the pressure washer and put on the HazMat suit.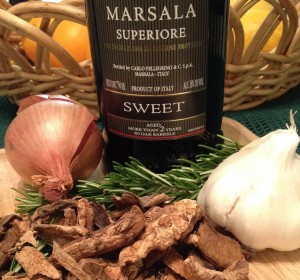 INGREDIENTS
6 chicken breast cutlets, about ¼ inch thick
½ ounce dried porcini mushrooms (soaked in 1 cup of water for a minimum of 20 minutes—don't throw out the water!)
2 tablespoons butter
2 tablespoons olive oil
½ shallot, chopped fine, about 2 tablespoons
3 garlic cloves, sliced thin, about 1 tablespoon
¾ cup sweet Marsala
1 cup of water
1 tablespoon fresh rosemary, chopped
½ pound of egg noodles – pappardelle work well
Kosher salt and pepper to taste
Here we go…
Rinse off your chicken breasts and pat them dry with paper towels.
Remove the porcini mushrooms from the cup of water with a slotted spoon.
Take the remaining porcini water and strain through cheesecloth — I used a coffee filter, by the way. I've even used paper towels as strainers. Whatever you use, save the water – you'll use a half cup for the sauce, and a half cup in the pasta water, if you want to put the sauce over pasta.
Rinse off the mushrooms and pat dry. Chop into small pieces.
Grab your breasts. Then grab your chicken breasts. Notice the difference. Salt and pepper the top of the chicken breasts. Fresh cracked black pepper is the way to go. Salt and pepper just one side of the chicken breasts.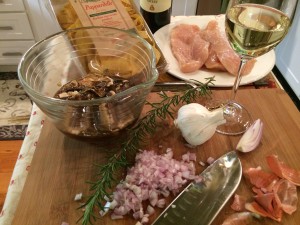 Let's make the sauce first.
Put a small sauté pan over medium heat.
Add one tablespoon of butter, and one tablespoon of olive oil.
When the butter starts to bubble, add the shallots.
Cook and stir for 2 minutes, until the shallots just start to brown.
Add the garlic, cook for 2 minutes. Give it a stir.
Add the Marsala.
Add ½ cup of porcini water.
Turn the heat to high and let it cook for 2 minutes.
Turn the heat to medium-low, and add the porcini mushrooms.
Cook for 2 minutes while stirring.
Add the rosemary. Cook and stir for 2 minutes.
Remove from heat. Sauce is done!
Let's do the chicken.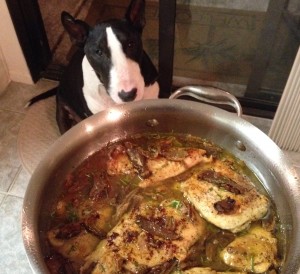 Get a large sauté pan (I used a 12 inch skillet). Put it over medium-high heat.
Add 1 tablespoon of butter and 1 tablespoon of olive oil.
When the butter starts to bubble, add the chicken breasts, salted/peppered side down.
Cook for 2 or 3 minutes until golden.
Flip 'em over.
Cook for 2 or 3 minutes on the other side until golden. Give a cutlet a slice, make sure it's done.
Pour the Marsala/porcini sauce over the breasts.
Remove from heat!
Plate 'em up! You can put this sauce over egg noodles, or rice, or eat it as is.
I like to put this sauce over egg noodles–pappardelle are my favorite. I use a half-pound. Get a large pot, fill it with cold water. Add the remaining ½ cup of porcini water to the pasta water. When it all comes to a boil, add 2 tablespoons of kosher salt.
Add the egg noodles, cook until al dente, drain and drizzle with a tablespoon of olive oil. Stir.
Put A SMALL PORTION of egg noodles on a plate. Put some Marsala sauce over the noodles, put a chicken breast on top, spoon some sauce and juice and mushrooms on top and…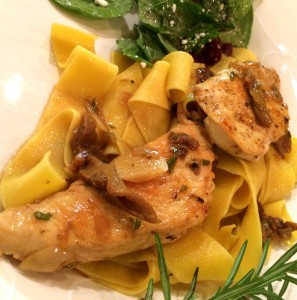 MANGIAMO!!!!!!!!!