Crab Soup and Destiny
The day I turned fourteen, I got my worker's permit. I've been working ever since.
I've worked myself up from nothing to a case of extreme poverty.
Soon after I got my worker's permit, I got a job at my grandmother's office as an office boy. At that time, she was Vice President of the International Ladies' Garment Workers Union.
Angela was an incredible woman, a poor Italian immigrant who worked in a garment sweatshop in New York City. Disgusted with the working conditions, she became an organizer, was assigned to the Delaware, Maryland and Virginia region, and helped start the International Ladies Garment Workers Union – the ILGWU. She went on to become the Vice President, the first woman vice president of a major union in the USA. She had an incredibly positive impact on thousands of lives.
The ILGWU offices were in Baltimore, Maryland, on the corner of Howard and Baltimore Streets – right across the street from the Civic Center, which was where I saw Hendrix, the Doors, Led Zeppelin and a ton of other bands.
My Mom didn't drive. My Dad moved back to New York when they got divorced. This meant when I needed to get around, I took the bus.
In the morning, I'd walk to the bus stop and I'd take the bus to school. Roland Park. After school, I'd take the bus home and have lunch. Then I'd catch a bus downtown, and work at Angela's office until it closed. Then I'd catch the bus back home, have some dinner, do my homework, and go to sleep.
One cold winter day, I was waiting outside the Civic Center to catch the bus home from work. It was downright frosty. I noticed a kid about my age, no coat on, no winter clothes, standing there shivering. I went over and asked him if he was OK.
He told me he had run away from home, had just arrived from Florida; no money, no clothes, no job, no nothin'. I invited him to the house for some dinner.
We got on the bus and rode to my neighborhood. The bus stop was about a half-mile from my house on Rosebank Avenue. When I walked in, I started to introduce this kid to my Mom – but I didn't know his name. When I asked him, he told us his name was –
Destiny.
He had long, blond, scraggly hair. He was short and slight and skinny as could be. He was shaking from the cold. About the only thing he had to his name besides the clothes on his back was his harmonica.
I asked my Mom if he could stay for dinner. She said yes. Destiny ended up staying with us for about a year.
My Mom was the sweetest woman in the world. She was so wonderful in so many ways that it could fill a whole book or two. She brought out the best in people. Everybody shined a little brighter in her presence. And she took Destiny under her wing.
Destiny immediately went to look for a job. About the only thing he could find was a job at a car wash. In the winter. I gave him some of my clothes, but he was a lot shorter than I was, so he looked kinda funny. We went to an Army surplus store, and got him a military coat, and some other things.
Destiny would come home from the car wash, and he would be frozen, his shoes soaked with water. My Mom would feed us dinner, and Destiny and I would go upstairs. I'd do homework. Then, I'd play guitar and Destiny would play his harmonica.
He used to sing this song that he wrote…
"The River of Love is soft and free."
Then he'd play a little harmonica riff.
"The River of Love was meant to be."
Then he'd play another riff.
What he lacked in talent, he made up for with enthusiasm. It was a catchy little tune. We became really good friends. He also became pretty good on harmonica.
My Mom loved him.
Destiny was an incredibly polite and positive kid. I never heard him say a bad word about anybody or anything. I never heard him complain. He had a funny laugh, like he was almost embarrassed for chuckling.
My Mom was a great cook. She cooked all kinds of different stuff — Italian, French, Indian, Mexican.
Destiny had never eaten food like that. He ate a lot of grilled cheese sandwiches and Campbell's tomato soup out of a can. When my Mom would cook some exotic foods, Destiny would get this look of apprehension on his face.
One time my Mom cooked crab soup. Her recipe was amazing. She would not only use crabmeat, she used other parts of the crab as well, mostly the claws. When she served you a bowl, there would be a vicious looking crab claw peeking out at you.
The first time my Mom served Destiny a bowl of crab soup, he saw that crab claw, and had no idea what to do. We showed him how to crack it, and eat it.
Destiny was clearly not used to anything like that. He took one look at that crab claw, and you could see the trepidation in his eyes. He was way too polite to do anything but try to figure out how to eat it. After he finished, I could tell he was trying to say something sweet to my Mom. He looked at her and said,
"Thank you very much, Miss C. It's been a long time since I had a meal like that."
From that point on, that was our go-to line when we ate something we didn't like.
One Friday night, there was a knock at the front door. I opened it up. A young kid asked me if Destiny was around, and I showed him upstairs. The two kids hugged. Destiny introduced the other kid. His name was –
Joker.
I'm not joking.
Joker was Destiny's younger brother. The two of them left Rosebank shortly thereafter and I didn't hear from Destiny for years and years.
Then I got an email about forty years later. It was from Destiny. He told me how he'd moved to Florida, and then to Georgia, and had a kid. He named his son –
Timothy.
Destiny was so incredibly grateful for what we'd done. He told me that he had taken up painting. Not houses, but artwork. He asked me my address and I gave it to him. He sent me one of his paintings. It was really cool. I was flattered.
The painting was called –
LOVE.
It's all about LOVE.
CRAB SOUP
My Mom loved steamed crabs. In Baltimore they use blue crabs; they catch them in the Chesapeake Bay and the surrounding rivers in the summer, and import them from the Gulf of Mexico in the winter. The fine people of B-Mo steam the crabs in beer, vinegar and Old Bay.
Old Bay is a seasoning with salt, pepper, paprika and other spices. It was created in Baltimore; they used to make it at a factory on the water by the Inner Harbor. In the summertime, downtown Bawlmer smelled a bit…spicy.
My Mom would get a couple dozen steamed crabs from a place called Bo Brooks, and bring them home. We'd cover the table in newspapers, grab some wooden mallets, and have a little crab feast. It's a Bawlmer tradition, Hon!
When we were done, my Mom would pick through the leftover crabs, and use the meat and some of the claws to make crab soup. But unless you're in Baltimore in the summertime, you're going to most likely use a pound of crabmeat for crab soup rather than fresh-picked steamed crabs.
Jumbo lump crabmeat comes from the top of the hind leg; it's really good but expensive. You can also get lump crabmeat, which comes from the top of the other legs, and is less expensive but real good. You can also buy claw meat, which is the least expensive, and not as quite as moist or tasty as the others. But still pretty good. You can use a combination of these crabmeats; just make sure you end up with a pound.
If you're using a pound of unseasoned crabmeat, you'll need to add Old Bay seasoning to the soup. I use 2 tablespoons. if you're not into spicy food, start off with 1 tablespoon, give the soup a taste halfway through. If it needs a little more spice, add another tablespoon of Old Bay.
If you're using leftover crabs, they'll have some Old Bay on them, so you might not need any additional seasoning. Give the soup a taste halfway through the process, and if it needs more spice, add some Old Bay, a teaspoon at a time.
You can use fresh corn–cut off the cob–or canned or frozen.
Ingredients
3 tablespoons extra virgin olive oil
½ cup each–chopped celery, carrot, and onion
4 or 5 celery tops (the leaves at the top of the stalks)
2 cups water
2 cups beef broth (you can use vegetable, chicken or seafood – in Maryland we use beef)
1 cup each lima beans, sweet corn, string beans – ends trimmed, broken into bite-size pieces
1 twenty-eight ounce can of Italian tomatoes, smooshed by hand into small pieces
1 pound of jumbo lump crab meat
2 tablespoons Old Bay seasoning
OPTIONAL: 8 steamed crab claws, don't rinse off the Old Bay!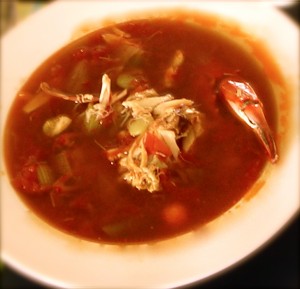 Here we go…
Get a large pot or Dutch oven. Put the olive oil in the bottom over medium heat for 2 minutes.
Add the celery, carrots, and onion. Add the celery leaves. Cook for 5-7 minutes, until soft. Stir, stir, stir.
Add the water, the broth, the lima beans, corn, and string beans.
Add the tomatoes.
Add the Old Bay seasoning.
Cover, turn the heat on high.
When it comes to a boil, reduce to a simmer, and cook until the vegetables are tender, about 10 minutes. Stir every couple of minutes.
As the soup simmers, put the crabmeat in a bowl.
Gently feel for any crab shell or cartilage.
Be careful! You don't want to break up the lumps.
Discard any shell or cartilage.
After the soup has simmered for 10 minutes, and the vegetables are tender, add the crabmeat to the soup, along with any leftover steamed crab claws – if you got'em.
Let the soup simmer–uncovered–for 10 minutes. Keep in mind, the crab claws and the crabmeat are already cooked, you're just heating them up — don't overcook, and don't stir too often. You don't want to break up the lumps of crab.
Taste for Old Bay seasoning, and add another tablespoon if needed.
Taste for salt, and add if needed.
Dish it up! Get a large soup bowl, ladle in some soup, place a claw on the side of the plate to give it that dangerous look, and…
MANGIAMO!!!!!!!