My old apartment had three bowling alleys in it. They were built in the 1930s and were a bit dilapidated. The balls and pins were made of wood, and they weren't in the best of shape. But you could play a game, if you didn't mind setting up the pins after each shot.
There were two grass tennis courts out back, and they, too, were dilapidated. Overgrown. You could play a set if you brought a machete.
The house was huge. It had a fireplace on the first floor that could hold a Volkswagen.
The house belonged to Peggy Waxter. She was outspoken, feisty, cynical, and almost 100 years old. Peggy lived upstairs, and I lived downstairs with my dog, Batu. Peggy was hard-of-hearing. On her 100th birthday, her son gave her a present. They were on the screened-in porch upstairs; I was on the patio beneath them. I could hear the son yelling,
"Mom! I got you a present!"
Silence.
"Mom! Open it up!"
Silence. Then I could hear her opening the wrapping paper.
"Mom! It's a hearing aid!"
Silence.
"Mom! What do you think? IT'S A HEARING AID!"
Silence. And then Peggy spoke softly,
"I'm a hundred years old. I've heard enough."
The house used to be a country club called Stoney Run Club. Peggy and her husband bought it, and did some minor renovations — like adding bedrooms — but it still felt and looked like a small old country club.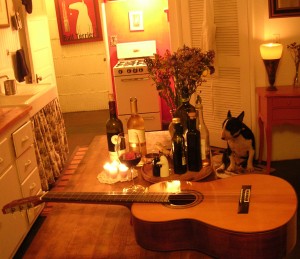 The apartment downstairs must have been an old clubroom. There were the bowling alleys on the side, a large main room with a fireplace, and a huge patio that overlooked the overgrown tennis courts. You entered the apartment through a big screen door in the kitchen. The kitchen was great; lots of large windows, a big antique sink, and old wood countertops. It had a small four-burner stove in the corner that worked like a charm.
Batu and I started making cooking videos in that little kitchen. I'd whip up a dish, shoot video, take photos and write down the recipe. I'd take Peggy a plate once in a while. I'd go up the ancient wooden staircase, past the moldy bookcases, take her a plate, and have a chat and a chew.
Roland Park is wonderful neighborhood. The grocery store, Eddie's, has been there for 70 years. It's an old family store that has a guy who opens the door for you when you walk in and out. The hardware store, Schneider's, has been there for more than a 100 years. The pharmacy (Tuxedo) has been there more than 75 years.
It's that kind of neighborhood. Big old Victorian houses, big old trees, and it's right in the middle of Baltimore City. I went to school in Roland Park. I've always loved the neighborhood. I loved that apartment. So did Batu. It was my favorite place to live. And I adored Peggy.
The Baltimore Sun newspaper called her "peppery." She was not afraid to speak her mind. She was named one of the Top Ten Most Powerful Women In Baltimore by Baltimore Magazine. Not that she was impressed by that. She once said,
"I'm the most-honored person who has never graduated from a school."
Her husband, Thomas, graduated from a couple of schools including Princeton and Yale. Peggy and Thomas came from money and they both dedicated their lives to helping "poor people." That's the way she put it.
"He was the most important man in Maryland," Peggy Waxter once said about Thomas. "He loved the poor people, and he went to Annapolis and fought for them."
When he died in 1962, Peggy harnessed her grief, and focused on community action. She fought for women's rights and civil rights. She once got pissed off that a big department store in downtown Baltimore wouldn't allow black people to try clothes on. So Peggy took a black friend and went shopping there. They tried on clothes. They didn't get arrested, but it brought attention to the situation, and it changed soon after.
At 100 years old, Peggy got around pretty well. She used a walker, but she got around. Whenever she had a problem, she'd bang her cane on the floor, and I'd come up and help.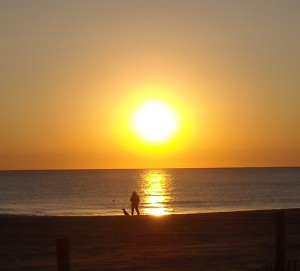 Once a year, in late September, I'd grab Batu, and we'd head to Ocean City, Maryland. My uncle Oscar had a small apartment overlooking the Atlantic Ocean. He'd let the family use it for vacations. September is a great time of year to go – no crowds, no traffic, the weather and the water still warm.
I'd hang out for a week or so; bodysurf, fly my kites, cook, eat, drink, write, play guitar. And then I'd lock up the joint and head back to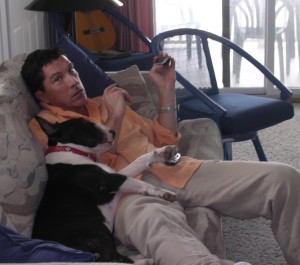 Baltimore.
I was driving home from the beach one early evening, Batu was in the back, I was listening to the Orioles and the Yankees baseball game on the AM radio. I stopped at a roadside stand and picked out two large, ripe and lovely home-grown tomatoes and an eggplant. I drove home, crossing the Bay Bridge as the sun went down. It was late when I got back to Roland Park.
The next morning I heard that Peggy had passed away. She was 103. I was shaken.
That day I was scheduled to mail out the new Slim Man CD single to 175 radio stations around the country. I stuffed 175 CD singles of "Every Time It Rains" into 175 envelopes and went to the post office.
The post office was a little old brick building in the heart of Roland Park. I was friends with all the clerks. They used to let me bring Batu inside. Some of them would even come out to Slim Shows. I dropped off my 175 CDs and they mailed them off.
I got home from the post office and needed to cook. I was really sad. I was gonna miss Peggy. I looked at the tomatoes and eggplant that I had picked up from the produce stand on the way home from Ocean City. What do you do with tomatoes and eggplant?
You make Eggplant Parmigiana.
After Peggy died, her son sold her house for half of what it was worth-he just wanted to get rid of it. Batu and I had to move in a hurry, in the dead of winter, right after Christmas. As I was going through my stuff, I came across a card Peggy had given me for my birthday.
"Eat, drink and be merry, for tomorrow you may die."
Love, Peggy.
EGGPLANT PARMIGIANA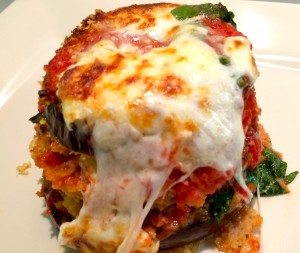 If I have some amazing homegrown tomatoes, I'll use them to make a sauce. I chop 'em up, and remove any stems or blemishes.
But I usually use Italian tomatoes in a can. San Marzano tomatoes are best. Most cans are 28 ounces, which is about 3 or 4 cups. Open the can, put the tomatoes in a bowl, and smoosh 'em up by hand, removing any stems, cores, or blemishes.
Some folks fry the eggplant slices first, some folks bake 'em. I've done it both ways. In the video, I fry the eggplant.
But baking is now by far my favorite; it makes the dish much lighter. Eggplant throws off a lot of liquid. But when you bake it, the liquid evaporates, so you don't have to salt the eggplant and drain it, which is a pain.
Preheat your oven to 375 degrees.
INGREDIENTS
You'll need 3 cups of tomato sauce, you can use bottled sauce—but I make my own, here's how:
2 tablespoons olive oil
6 cloves of garlic, sliced thin (about 2 tablespoons)
Crushed red pepper (I start off with ¼ teaspoon)
4 cups of tomatoes, fresh or canned (I use 1 twenty-eight ounce can of whole, peeled Italian tomatoes)
Fresh basil leaves about 1/2 cup
Kosher Salt
Here we go…
The Sauce
Put a large sauté pan over medium-low heat.
Add the olive oil, the sliced garlic and the crushed red pepper.
Cook until golden, 3 to 5 minutes.
Add the 4 cups of tomatoes – canned or fresh.
Add some salt, and stir.
Put the heat on high.
When the sauce comes to a boil, reduce the heat to a simmer.
Take half the basil leaves, and tear or snip them with scissors into the sauce. Stir.
Cook for 20 minutes, stir often.
Then, taste for salt and red pepper and adjust.
Take the rest of the basil leaves, and snip them into the sauce.
Remove from heat.
You might not use all this sauce for the eggplant parmigiana.
INGREDIENTS
The Eggplant
3 small eggplant
3 eggs
3 cups Panko breadcrumbs, or whatever breadcrumbs you like
OPTIONAL: ¼ cup olive oil (if you're frying, rather than baking)
A handful of fresh basil (3/4 cup)
1 pound of mozzarella, two large balls sliced into ¼ inch circular slices
1 generous cup Parmigiano-Reggiano cheese, freshly grated, plus some for sprinkling
Kosher salt
Fresh cracked pepper
Here we go!
Slice off the ends of the eggplant, and cut the eggplant into circular slices, about ½ inch thick.
Take the eggs, beat 'em in a bowl, add salt and pepper.
Take your breadcrumbs, put 'em on a flat plate.
Dip an eggplant slice in the beaten egg, let the excess drip off.
Dip it in the breadcrumbs. Coat both sides. Do all the eggplant slices like this.
If you're baking, put them in a nonstick baking pan, and stick 'em in the oven at 375 degrees until golden brown, about 12 to 15 minutes or so. Then, flip them over and bake for another 12 to 15 minutes until golden brown.
If you're frying, put the olive oil over medium heat, and fry on both sides until golden, about 4 minutes a side, then put the slices on paper towels when done.
In the bottom of a baking dish (I used a 9"X13" glass baking dish), add a layer of baked/fried eggplant. Then add a cup of tomato sauce, spreading it out evenly. Then add some basil, about ¼ cup — snip the leaves with a scissors or tear them with your fingers.
Then take a 1/3 cup of freshly grated Parmigiano-Reggiano cheese, and spread it on top. And then add a layer of sliced mozzarella, about a third of what you have (1/3 pound).
Go back, Jack, do it again – a layer of eggplant, a layer of sauce, a layer of basil, a layer of Parmigiano, and a layer of mozzarella.
Do three layers. Sprinkle the top of the final layer of mozzarella with grated Parmigiano and a few breadcrumbs.
Put the eggplant Parmigiano in the oven. Let it cook for about 25 minutes.
Then, put the broiler on high, and put the baking dish underneath the broiler for just a quick minute, to brown the top. Keep a close eye on this! When the top browns, take out the dish.
If there is any excess liquid in the bottom of the pan, use a turkey baster to remove it.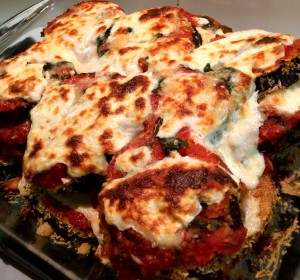 Let the eggplant sit for a couple minutes. Then…
Dish it up! Make it look nice, put some freshly torn basil leaves on top, add some freshly grated Parmigiano, and…
MANGIAMO!!!!