Crab Cakes and My Motown Album
I always wanted to be a songwriter. There was a time when I thought I wanted to be an artist, to be in the spotlight; but the more I thought about it, the more I wanted to be behind the curtain, not in front of it. I wanted to write songs and have other people record them.
I figured if you're a songwriter, you could lose your teeth, lose your hair, gain 100 pounds and nobody would care. Most people know the latest smash hit single. But chances are they don't know who wrote it.
You could be a hit songwriter and walk into the 7-11 in your bathrobe with no drawers on and nobody would even know who you are.
That's who I wanted to be – not the guy in the 7-11 in his bathrobe with no drawers on – the guy who wrote the songs. The behind-the-scenes guy.
So I studied. I learned. My Dad got me the Cole Porter songbook. I bought the Motown songbook. I analyzed all those songs. I learned every hit song I could get my hands on.
Stevie Wonder was one of my favorite songwriters. Talking Book, Innervisions, Songs in the Key of Life – those were the albums that inspired me. I loved that style of songwriting. It was jazz. It was pop. It was soul. I wanted to write songs like those.
I wrote and recorded some of my own songs at a studio in Baltimore, Maryland, named Flite III. I started shopping them around. After a dismal meeting in New York with a big publisher, I knocked on Motown's door on 57th Street in Manhattan, right across the street from Carnegie Hall. The VP of Motown at the time was a guy named Carl Griffin. He liked my songs and signed me as a songwriter.
I had been writing songs for years. And now, all of a sudden, I was writing songs for Motown.
One of the first songs I wrote for Motown was included on Angela Bofill's debut CD, Angie. The CD did much better than expected. It got rave reviews in the New York Times and the LA Times. It was selling like crazy.
That's when Motown offered me a recording contract. I was a little bit conflicted. On the one hand, I was having a blast writing songs. Who needs to be an artist? But, on the other hand – how many times in your life are you going to get offered a recording contract with Motown?
So I signed with Motown as a recording artist. They gave me a small advance. What did this Baltimore Boy spend his first advance on?
Tickets to see the Baltimore Orioles play the Pittsburgh Pirates in the World Series.
It was the only extravagance I afforded myself all year. The rest of the time I was working on my Big Debut CD. I did most of my writing and recording in Baltimore.
I was living at my Mom's. I'd still be living there now if she hadn't kicked me out when I was 40. We were sitting around the dinner table one night, and the phone rang. My sister answered it, and told me it was for me.
I talked for a while, and then came back to the table. My sister asked me who it was.
"Stevie Wonder."
I was working on a song for my Motown album and needed to know the name of a percussion instrument Stevie had used on one of his songs. Stevie called me and told me. It was a "cuica."
My sister freaked out. She couldn't believe it was Stevie. I had asked Carl to see if he could find out what the instrument was, but I wasn't expecting Stevie Wonder to call me. But it was nice of him to do so.
It took me a year to finish the Motown album. I wrote string charts. I wrote horn charts and chord charts. I practiced bass and piano until I couldn't practice anymore. I worked as hard as I've ever worked. I hired some guys from the Baltimore Symphony to play strings. I hired the percussionist from the O'Jays to play bongos. Hit Man Howie Z played drums.
It took me a while, but I finally got the music to the point where it sounded just right. I was finished. Finally!
Carl and I mixed the album in Baltimore. Motown chose two songs to be the first singles, and they flew me out to LA to mix them in their brand new state-of-the-art recording studio. They put me up in Hollywood at the legendary Chateau Marmont in a private bungalow. Not too shabby. It was so big, I could have played Frisbee in the living room.
When we finished mixing the singles, Motown flew me back to the east coast.
I was waiting for a release date for my Big Debut when I got invited to a party in Manhattan at the Bronx Botanical Gardens. Stevie Wonder was having a release party for his Secret Life of Plants album. His label was distributed by Motown and they threw him a lavish fiesta.
The party was amazing. The food, the wine, the flowers, the music, and the decorations – I'd never seen anything like that. I was hanging out at this wonderful party, with Stevie and other Motowners, and having a blast. I was in heaven.
I went to the bathroom, and one of the Motown executives was washing his hands, looking at me in the mirror, and said,
"Sorry to hear about your album."
I asked him what he meant.
That's when he told me that my album had been put on the shelf. The VP in charge of my record had been fired, and all the projects he'd been working on had been put on ice, including mine. That's the way I found out about it.
It wasn't the happiest day of my life.
My album is still sitting in a vault somewhere at Motown. It never saw the light of day. I don't even have a copy.
And here's the thing – Motown didn't want to release the CD, but they also didn't want to release me from my contract. They didn't want anybody else picking me up and possibly making them look bad. I was handcuffed.
I was doing the same kind of music at Motown as I'm doing now, a combination of pop, soul and jazz. It was like early Slim Man. Slim Boy, if you will.
I started writing really loud and angry rock songs, songs with titles like "Gimme a Break" and "I'm a Victim." Instead of singing in my normal range, I was screaming at the top of my lungs. I was trying to do anything to get out of my Motown contract. It worked. Motown eventually released me.
The guy downstairs from the Motown office in New York heard these rock songs I wrote. He loved them. He had a punk rock record company called STIFF Records. Their motto – which was on their T-shirts, merchandise, and their front door – was,
"If It Ain't STIFF, It Ain't Worth A F**K."
They had Ian Dury and the Blockheads, Lena Lovitch, Elvis Costello. I loved the music they put out. Ian Dury is still one of my favorites. Reasons to Be Cheerful, Part Three!
The guy at STIFF Records suggested the name BootCamp. A band was born. One door closes, another one opens.
CRAB CAKES
When you're feeling crabby after getting dropped from your record label, do what I did. Make crab cakes.
Crab cakes are to Baltimore what barbecue is to Kansas City and what gumbo is to New Orleans. Ask a thousand people in Baltimore how they make crab cakes and you'll get a thousand different recipes.
The thing to remember when making crab cakes, is that the crabmeat is the King. You don't want too much other stuff going on in there. Also, keep in mind that the crabmeat has already been cooked. You're just heating it up, basically. So you don't want to cook them too long, they'll dry out.
The most expensive and delicious kind of crabmeat is jumbo lump, which comes from a section of the crab that's right above the back leg. There is also lump crabmeat – from the tops of the other legs – which is less expensive and still pretty good. Then there's the claw meat – which is a lot less expensive, and not nearly as good.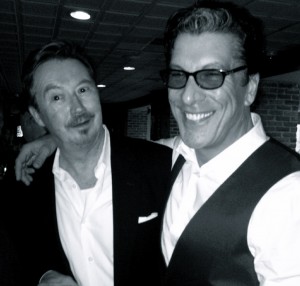 Some people fry their crab cakes. Some people broil them. Broiling is my favorite; it's quick, healthy and delizioso. Hit Man Howie Z is the Crab Cake King. He doesn't always eat crab cakes, but when he does, he prefers them broiled.
Ingredients:
1 pound jumbo lump crabmeat
1 egg
¼ cup plain bread crumbs, or plain panko bread crumbs
2 tablespoons of mayonnaise
1 tablespoon Worcestershire sauce
1 teaspoon Old Bay seasoning (it has a lot of salt and pepper in it, so you don't need to add any)
1 teaspoon dry mustard
1 tablespoon chopped Italian flat leaf parsley
Extra virgin olive oil
1 tablespoon butter (if frying)
Here we go…
Put your crabmeat in a bowl, check it for shells, but be gentle! You don't want to break up the lumps. Add all the ingredients except the olive oil and butter. Moosh gently until it looks and feels right–not too dry and not too soggy. If it's too soggy, add a bit more breadcrumbs. If it's too dry, add a little more mayonnaise.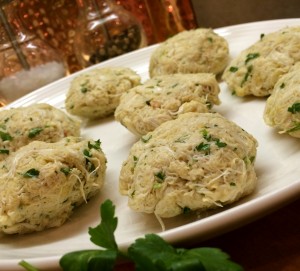 Take some crabmeat mixture in the palm of your hand – about the size of a tangerine–and roll it into a ball. Then flatten it a bit. Repeat the procedure until you have about 6 crab cakes.
Turn on your broiler. Get a baking pan, rub just a little olive oil on the bottom. Put the crab cakes on the pan, make sure they're not all crowded together.
When the broiler gets hot, broil for 3 to 5 minutes until golden brown on top, then flip them over and broil on the other side for 3 to 5 minutes, until the tops are golden.
Keep in mind every oven, every stove is different, cooking times may vary. Wildly!
If you're frying, put a large sauté pan over medium-high heat. Put just enough olive oil in the pan to cover the bottom, about a tablespoon, then add a tablespoon of butter. When the butter melts, fry the crab cakes for 3 to 5 minutes. Flip 'em over. Fry for 3 to 5 minutes on the other side. You want the tops to be golden brown.
However you cook your crab cakes, make 'em look nice! Dish 'em up. Garnish with a sprig of parsley, maybe a slice of lemon. You can eat 'em plain. Or you can serve them with cocktail sauce, tartar sauce, or wet mustard. You can make a sandwich, maybe add a little lettuce, tomato and mayo and…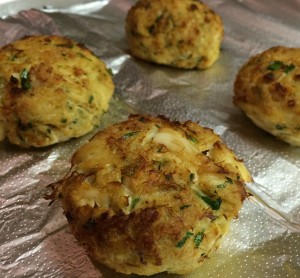 MANGIAMO!!!!!!