Frittata with Jimi Hendrix
I'd heard Hendrix was coming to town, so I bought two tickets. They were $6.50 apiece.
On the day of the Big Show, my friend Jeffe and I — his real name was Jeff, my Mom gave him his nickname — caught the #44 bus from Homeland and headed to downtown Baltimore. We were too young to drive, but old enough to hop a bus downtown.
We lived in Govans. It was a working-class neighborhood right next to Homeland, which was where the wealthy folks lived. There was a fence at the end of our dead-end street — Rosebank Avenue — that separated the two.
I would cross that fence into Homeland and take the #44 bus downtown to see shows at the Civic Center. At that time of day — in the evening — almost everybody on the bus was black, mostly women who cleaned houses in Homeland, all catching the bus back downtown.
The bus stopped right in front of the Civic Center. Jeffe and I got off, and walked to the entrance.
I wanted to be first in line. And I was. Jeffe and I waited until the doors opened, and I told him,
"We're walking right on stage. Act like you own the place. If anybody asks, we're with the light crew."
I walked right up to the stage, strolled up the steps, and five seconds later, I'm backstage, standing next to Mitch Mitchell, Hendrix's drummer. He was trying to fix his bass drum pedal. He asked me if I'd hold the flashlight.
There I was, holding a flashlight in my shaking hands, trying to help Mitch Mitchell fix his drums.
He fixed his pedal, I gave him back the flashlight, and I went to the side of the stage and waited for the opening band to start. I felt like I was in some wonderful dream. It didn't seem real.
The first time I heard Jimi Hendrix was when Rob Grant brought the Are You Experienced? album down to My Mom's house. We both lived on the same street, Rosebank Avenue. Rob played guitar, and he brought down this new album of this incredible guitar player, Jimi Hendrix.
I couldn't believe my ears. It sounded like music from Mars. I kept staring at the album cover. Hendrix looked like – well like nobody I'd ever seen before, not just him but his whole band. I thought they were the coolest-looking, coolest-sounding band I'd ever heard. His guitar playing was unbelievable.
It was one of the reasons I took up the bass. When I heard Hendrix play guitar, I figured maybe I ought to play bass — there are less strings and, after all, how could I ever play like Hendrix?
Now here I was, backstage at the Baltimore Civic Center, waiting for Hendrix to play. A band called Cactus opened. Tim Bogert was on bass — he'd played with Vanilla Fudge. Carmine Appice played drums — he'd been with Jeff Beck. And the guitar player?
It was Jim McCarty, a blues guitarist who'd played with both Mitch Ryder and Buddy Miles.
When Cactus started playing, I was behind the huge red velvet curtain. I was standing on the side of the stage. Jeffe was on the other side of the stage. We could see each other. The sold-out crowd couldn't see us, but we could see them. Cactus started playing.
I felt a tap on my shoulder.
I heard a voice say, "This guy's pretty good."
I turned my head. It was Jimi Hendrix. I was amazed. I was just hiding out on the side of the stage hoping security wouldn't take me away in handcuffs, and here I am, standing next to Hendrix.
We stood shoulder to shoulder for twenty minutes, watching Jim McCarty play guitar with Cactus.
I didn't say a word. I couldn't speak. Jeffe was on the other side of the stage, going nuts. Pointing his finger. Making animated faces.
All I did was stand there, trying to be cool, with Hendrix at my side.
Cactus finished and Hendrix went on stage. Billy Cox was on bass and Mitch Mitchell on drums. There is some footage on YouTube of the concert, and Hendrix's guitar-playing is jaw-dropping, show-stopping, some-kinda-wonderful.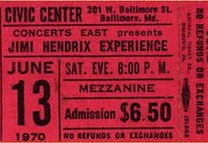 The date was June 13, 1970. Hendrix played his heart out. I saw the whole show from 10 yards away.
It wasn't the first time I'd seen Jimi Hendrix. The first time was also at the Baltimore Civic Center; May, 16, 1969. Noel Redding played bass, Mitch Mitchell played drums. That show was incredible, too. It was an amazing time for music.
How amazing? Nine days later, I went to Merriweather Post Pavilion, an outdoor venue outside of Baltimore. Merriweather was designed by Frank Gehry, it is a natural amphitheater, with a stage and seats at the bottom, and a large lawn up top, where you can lay on a blanket and watch the show down below. I had seen the Doors there. I had seen Frank Sinatra there. But on May 25, 1969, I was there to see Led Zeppelin.
They were opening for The Who. I loved both bands.
It was the only time Led Zeppelin and the Who appeared on stage together. What an incredible evening, sitting on the lawn in late spring, listening to two bands that would make musical history.
Here's the crazy thing. Last year, I was at a funky little grocery store in a funky part of Nashville and I saw Robert Plant, the lead singer for Led Zeppelin, in line. He had a 12-pack of Miller High Life beer behind him — although I'm not sure it was his.
Nobody recognized him. I did. I had to say something.
I walked up to him and said, "I saw you do a concert with the Who in Baltimore back in 1969."
Robert Plant looked at me and said, "I remember that show. I didn't want to do it."
"Why not?"
"I always thought we were better than they were."
"Well, I'm glad you did that show. It changed my life."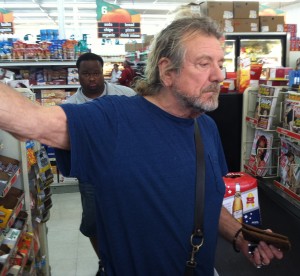 And then I snapped a photo.
Those two shows in 1969 did change my life. Those nine days in May had a monstrous musical impact on a young knucklehead like me.
FRITTATA
If you ever want a wonderful breakfast after a big rock concert, don't ask me to cook. I'm not very good with breakfast. I've messed up simple fried eggs. I've mangled pancakes. I've even screwed up oatmeal. All on a regular basis. So you know what I eat almost every morning?
Fruit.
That's right, fruit. I try to eat nothing but fruit until noon. The key to this plan is to sleep until 12:30.
But really, fruit is what I eat all morning. I like bananas. Old people with no teeth can eat bananas. Little kids with no teeth can eat bananas. They're easy on the stomach. They come with their own wrapper. They're cheap. They're around all year. And they're almost always good. You can spot a bad banana a mile away.
I mean, sometimes with apples you get what you think is a good one, and it ends up tasting like mush. And cantaloupes? A crap shoot. Mangoes? Good luck.
I like kiwi fruit. They're weird, but cool. I like berries. Come to think of it, there's not a fruit I don't like, although pomegranates can be a little difficult. But I love their juice!
I'm really good at making frittatas. A frittata is like an omelette, except it isn't folded. You can stick anything in a frittata, just like an omelette – onion, peppers, cheese – but you know what I like to do?
I take leftovers and beat them in with the eggs. For instance, when I cook my famous fish dish, Salmon Ella (inspired while listening to Ella Fitzgerald), I use the leftovers the next day in my frittata (my recipe is on page XX). I once used leftover asparagus and leftover scalloped potatoes in a frittata. It was incredible.
For this recipe, I used some leftover farfalle pasta with cauliflower and bread crumbs. It was delizioso. The key to frittatas? Cook 'em low and slow on the stovetop, then slip 'em under the broiler for a minute to make the top to golden brown. The toughest part of cooking a frittata? Getting it out of the pan. I'll tell you how.
It is best to use a pan that has an oven-proof handle, so it won't melt when you put the frittata under the broiler. You can also slide the frittata out of the pan onto an oven-proof plate, and broil it that way.
Here goes…
Serves four (unless you're living with teenagers, in which case this serves one)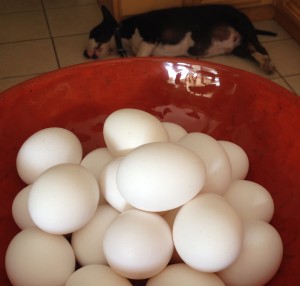 Ingredients
8 eggs
1 cup freshly grated Parmigiano-Reggiano cheese
About 2 cups of leftover pasta (or salmon, or risotto, or…)
2 tablespoons butter
Fresh ground black pepper and kosher salt to taste.
Let's Do It!
Break the eggs in a large bowl. Add the cheese. Mix'em up.
Add the leftover pasta, or leftover whatever, and mix'em up. Add salt and pepper.
Put a large pan on medium heat. Add 2 tablespoons of butter.
When the butter melts, add the eggs/cheese/leftover mixture.
Smooth it out on top; you don't want a lumpy frittata!
Turn the heat to low, and let it cook for about 15 to 18 minutes. The top might be a little jiggly, but the rest should be firm. If it isn't, cook it until it is.
Next, set the broiler on high, and put the frittata under the broiler for a minute or two. We want it to be golden on top. Keep your eyes on it!
Once golden, remove the pan from the broiler and let it cool for a minute or two.
Take a spatula, and loosen the sides of the frittata from the pan. Slide it onto a platter.
If you have a hard time getting the frigate out of the pan, take a large plate/platter, one that fits over the pan like a lid. Place it over top of the pan, and flip the pan over!
The frittata will come out of the pan, and onto the plate.
The only problem is the brown/bottom side is now up, and the pretty side is facedown.
So, take another plate/platter the same size, put it on top of the plate with the frittata.
Flip it over, and there you go! Pretty side up!
Dish it up!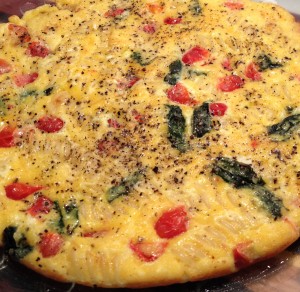 MANGIAMO!