Tomato Sauce and Bonnie Raitt
In the mid-1970s, I was doing sound-alike records in a recording studio in Timonium, Maryland. The studio was Blue Seas. It was owned by Steve Boone, who was the bass player in the Lovin' Spoonful. Steve is from New York. How he ended up in Baltimore, I don't know.
I heard there was a woman involved.
I was in Studio B doing 'sound-alike' songs for K-Tel Records. This is how it worked – K-Tel would keep their eyes on the pop charts. As soon as a song looked like it was gonna be a hit, they rushed you into the studio to do a cover version, which they would release as soon as possible.
The song title would be the same, but where the band name was supposed to appear they would put "Not the Original Artist."
At the time, I was doing a version of "Rock the Boat" by the Hues Corporation. I was trying to make my voice sound like that guy's voice. When he hits that really high note at the very end of the song? I tried to mimic it and almost gave myself a hernia.
So if you ever hear a version of "Rock the Boat" and the band is listed as "Not the Original Artist" – that's me.
Who was in Studio A, the big studio with the grand piano and all the fancy gear?
Little Feat. One of my favorite bands. They were working on Feats Don't Fail Me Now. I would peek in the door every now and then. There was a lot of partying going on, right there in the control room. Don't get me wrong – some great music was being made. But the atmosphere in Studio A was completely different than Studio B. Studio A was definitely more festive. I think the phrase "sex and drugs and rock 'n roll" might have been coined there.
I was in Studio B during the day. At night, I used to play a place called Mother Lode's Wild Cherry. It was a crazy rock and roll joint. It had a curving sliding board that started on the third-floor balcony, crossed the stage – which was on the second floor–and emptied out on to the dance floor.
The drummer in Little Feat, Richie Hayward, used to come and sit in with us at Mother Lode's. He was amazing. The club was open until 2 AM, and the next day I'd go do sound-alikes in Studio B, and Richie would play drums with Little Feat in Studio A.
One day I got to the studio about an hour early. My Mom had just brought home the Rags to Rufus record the day before. Rags to Rufus was the first record by a band called Rufus, Chaka Khan was the singer. My Mom brought home lots of great music. There was a record store up the street from our house. My Mom didn't drive, so she'd walk up to the store. They guy would tell her what was good; she'd buy the record and bring it home.
My Mom brought home a wide variety of incredible music, way before anybody else discovered it. Aretha. Isaac Hayes. Judy Collins. The Beatles. The Band. Donovan. B.B. King. My Mom had Bonnie Raitt records before anybody knew who Bonnie Raitt was.
So, I was sitting in Studio B and I put the Rags to Rufus record on the turntable and turned it up. The first song came on. That's when Bonnie Raitt walked in. I knew who she was, and asked her what she was doing in Baltimore. She told me she was in Studio A, singing back-ups for Little Feat. She listened for a minute and then asked me who the singer was. I told her. Chaka Khan. That first song kicked us both in the head—"You Got the Love." But the song that really knocked us out was a song called "Tell Me Something Good." When that tune came on, we both were floored.
Bonnie Raitt and I sat and listened to the whole Rags to Rufus album together. We didn't talk much. We just listened. Bonnie Raitt. And Yours Truly. The Rufus album ended, we said goodbye, and she walked out of the studio. I never saw her again.
About five years later, I met the guy who placed "Tell Me Something Good" with Rufus.
Carl Griffin discovered that song. He was VP at Motown, and he was going through old Stevie Wonder songs, and he heard this really rough demo that Stevie did of "Tell Me Something Good." Carl loved the song, saw its potential, and placed it with Rufus.
The song won a Grammy.
I met Carl five years later. It was a strange coincidence, how I met him; but Carl ended up signing me as a songwriter to Motown – five years after I sat with Bonnie Raitt listening to "Tell Me Something Good," a song Carl discovered.
One last crazy thing –
Blue Seas eventually moved their studio from Timonium to a barge in the Inner Harbor of Baltimore. Bonnie Raitt recorded an album there. Verdine White from Earth, Wind and Fire recorded there. On Christmas Day, 1977, the barge sank. It was not insured. There were rumors of drug debts, mob vengeance, and loan sharks. But not insurance fraud.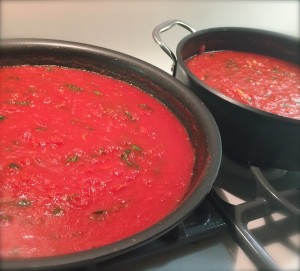 BASIC TOMATO SAUCE
If I ever have to face a firing squad, and they ask me what I want for my last meal, I'd ask for pasta with tomato sauce. Can I get a glass of wine with that? A couple meatballs? Take your time!
This is a simple sauce: tomatoes, basil and garlic. It's quick, easy, healthy and delizioso. It's also versatile—put it over pasta, and it takes on a starring role, like Marlon Brando in The Godfather. Use it in lasagna or eggplant Parmigiana, and it takes on a supporting role, like Robert Duvall in The Godfather. Use it on a pizza, and it takes on a smaller, but important role, like Diane Keaton in…The Godfather.
This recipe uses two 28-ounce cans of whole, peeled, Italian tomatoes. San Marzano are best, but a little pricey. The yield is about 6 or 7 cups. In the video, I use a 6-pound can of tomatoes. I have since come to my senses.
Ingredients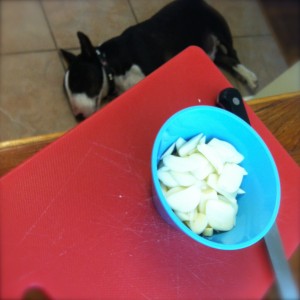 2 twenty-eight ounce cans of whole, peeled Italian tomatoes
3 tablespoons olive oil (extra virgin, or at least one that hasn't been sleeping around)
6 cloves of garlic, sliced thin, about 3 tablespoons
Crushed red pepper to taste (I start off with 1/4 teaspoon)
1 large handful fresh basil, about 1 cup, loosely packed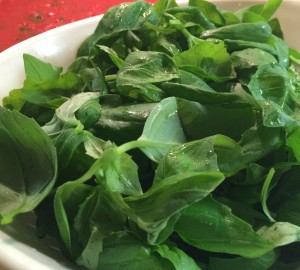 Kosher salt
Here we go…
Put the tomatoes in a large bowl.
Smoosh, yes, smoosh the tomatoes with your hands. Don't be afraid, dig in and squeeze your tomatoes, it's fun. There's a small, bitter yellow core that needs to be removed. Also, get rid of any tomato skins, stems or other funky stuff that doesn't look like it belongs.
Put your olive oil in a large sauté pan over medium heat.
Put in the garlic and the crushed red pepper. Sauté a couple minutes until the garlic is pale gold. Stir occasionally. Don't burn your garlic! It tastes really bitter when burned.
Add your tomatoes. Turn the heat on high.
Grab half the basil leaves, and snip with scissors (or tear into small pieces by hand) right into the sauce.
Add salt to taste.
When the sauce comes to a boil, reduce to medium-low heat, and simmer for about 25 minutes. Stir it every few minutes.
After 25 minutes, take the remaining basil leaves, and snip into the sauce. Stir it up.
Remove from heat. Taste for salt and pepper and adjust, if needed.
MANGIAMO!!