Carrot and Onion Sauce and The Funky Shack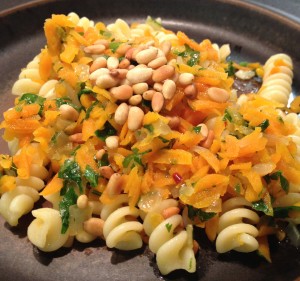 People use the word "literally" in the wrong way. For instance, my niece once said, "I literally puked my guts out" which is so wrong on so many levels.
But way back when, when I was literally a starving musician, this was a sauce I loved to cook. I still do. Why? You can find the ingredients anywhere. It is quick, simple, healthy and delicious.
It is cheap to make. Pine nuts (pignoli) are a lot more expensive now than they were back then in 1492, but still, this dish doesn't cost much to make. This was important back in the early days. We didn't have much do-re-mi.
I was in a band called BootCamp. We started off with a bang, had two of the first 100 videos ever played on MTV, and we were getting a lot of attention from folks in the music biz.
Our manager, Carl Griffin, called and asked if we wanted to spend the summer playing at a beach club in the Hamptons. On the beach. Long Island. New York. The Hamptons! It's where all the rich and famous folk spend their summers.
We took the gig.
We packed up all our stuff, and headed up the New Jersey Turnpike. We were based out of Baltimore, Maryland; it was a five-hour drive to Long Island.
The club had rented a house for us right across the street. We had visions of mansions, and pools, and tennis courts…and as we drove to the club, we saw all of that. Every house we passed was fancier than the one before. Swimming pools. Fancy landscaping. Garages bigger than our houses.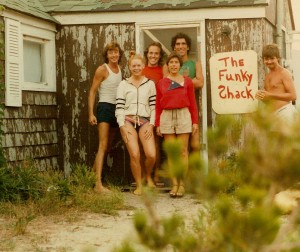 But when we pulled up to the club, and saw the house right across the street, our hearts sank. It was a shack. Literally. We walked in…there were spaces between the boards of the walls that you could see through. We called it – the Funky Shack.
There were mice camping out, who later became our friends. There were a few really small rooms. The ceiling was maybe a little more than six feet high. I'm 6' 2" and my head literally almost touched the sagging fiberboard panels that made up the ceiling.
There was no heat. There was no air-conditioning. The only water that came out of the faucets, including the shower, was saltwater. The one and only bathroom was the size of a coffin.
This would be our home for three months. The glamorous life of show biz.
We went across the street to the club. They were still building it. It looked like a half-finished barn. There were construction materials all around. Workers standing around looking confused. It was a mess. Literally.
There was no way we were gonna play any music in that place anytime soon. We walked to the beach. It was absolutely gorgeous. To the right was the private beach that belonged to the movie stars that lived on the ocean.
To the left was a stretch of public beach, and then a canal. The only commercial zoning they had was this one little stretch of a couple hundred yards, where they had two nightclubs. Ours, the future Neptune Beach Club, was a rock club, and the one next door, Summer's, was a disco. There was a small bar on the other side of the street next to the Funky Shack. It was called Cat Ballou's.
We went over there and had way too much to drink. Then we stumbled back to the Funky Shack.
It got really cold that first night, down to the low thirties. We were freezing. We hadn't brought any heavy blankets, not thinking we'd need them, and we were close to frostbite. There was no heat in the Funky Shack. Being incredibly resourceful musicians, bolstered by booze, we walked across the street to the club, borrowed a bunch of 2 X 4s, and started a fire in the shack's small fireplace.
The next morning some workers came over and asked us if we saw anybody taking any lumber, and we said, "No" as we were kicking the ends of the 2 X 4s we'd pilfered back into the smoldering fireplace.
The Funky Shack was right on the bay. And when I say right on the bay, I mean it was literally on the bay. When the tide was high, the water came onto the back porch. I call it a back porch but it was more like a small rotted wooden raft.
It's not like the shack was on stilts, or had a pier. It sat flat on a marsh, and the bay was right out back. It was not really a bay, more like a big shallow body of swamp water.
Billy Joel stayed in that house. So did Leslie West. We heard more than one story about each of those guys living in the Funky Shack.
We tried to make it habitable. The guitar player, who was also a carpenter, made a screen door. He made a wooden platform for the shower; because it didn't drain, and the water would back up to your knees.
When you took a shower, which was saltwater, you stood on the platform, and the spray literally hit you in the you-know-whats. I had to crouch over like the Hunchback of Notre Dame, because the ceiling was so low. If you wanted to wash your hair, you had to stand on your head.
That was how we showered for a little more than three months.
They eventually finished the club after a few weeks. After they did, we played six nights a week, seven hours a night, until 4 AM, with double shifts on Saturday and Sunday.
And as crazy as it sounds- we were really happy.
And late at night, after the gig, if we wanted a dish of pasta, we'd walk across the street, sneak into the club, and fill our pasta pot with fresh water.
Then we'd come back to the Funky Shack and cook. Are you sure Billy Joel started off this way?
CARROT AND ONION SAUCE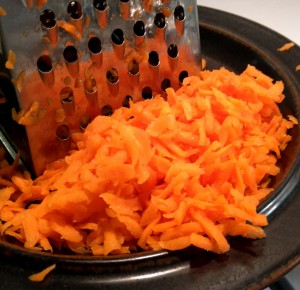 Ingredients
3 tablespoons of extra virgin olive oil
2 cups minced onion
Crushed red pepper (I use about ¼ teaspoon)
3 cups grated carrots
2 cups chicken broth
½ cup dry white wine
A handful of Italian flat leaf parsley, chopped (about 2 to 3 tablespoons)
A handful (1/2 cup) of pine nuts (if you can't find pine nuts, you can use sliced almonds, as a substitute)
1 pound of pasta — fusilli is my favorite, but you can use farfalle, or spaghetti
Kosher salt to taste
Here we go…
Put the olive oil in a large sauté pan over medium-low heat for 2 minutes.
Add the onion. Add some crushed red pepper to taste. Cook for 5 to 7 minutes until the onion is translucent.
Add the carrots, chicken broth and white wine.
Raise the heat to high.
When it comes to a boil, let it cook for 2 minutes.
Reduce the heat to medium-low. Taste for salt, add some if needed.
Simmer for 20 minutes or so, until the broth is nearly absorbed, and the carrots are tender but not mooshy.
Just before the sauce is done, add the chopped parsley to the pan and stir.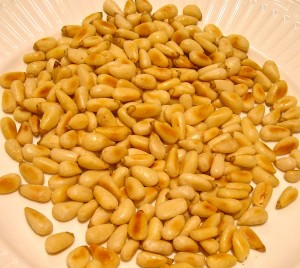 Put the pine nuts in a dry pan over medium heat. Cook and shake for a few minutes until golden brown. Don't burn your nuts!
You can use this sauce over rice or on a bruschetta or flatbread; but I put it over pasta.
Put a large pot of cold water on the highest heat, you got. When it comes to a full boil, add a few tablespoons of kosher salt, and the pound of pasta.
Follow the cooking directions on the pasta box. Two minutes before the time is up, taste the pasta. You want it to be al dente, which means "firm to the bite." Bite through a piece of pasta. If it is chalky in the center it is not done. Cook it until it is not chalky or too chewy.
I cooked some penne rigate pasta the other night. It took 5 minutes longer than the instructions on the box. So keep on tasting the pasta as it cooks. You'll know when it's done.
When it is, drain the pasta in a colander and put it in a bowl. Drizzle with a tablespoon of olive oil and mix. Add most of the sauce to the pasta and mix'em up.
Dish it up! Put some pasta on a plate. Add a little sauce on top, and some toasted pine nuts. You can also add some grated Parmigiano-Reggiano cheese or even some Romano-pecorino, which is a little sharper and saltier.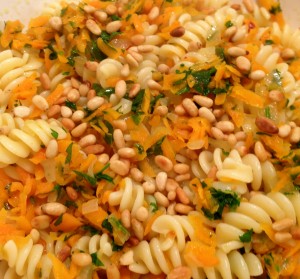 MANGIAMO!