Bolognese with Naked Old People
A few years ago, I did a New Year's Eve gig in Austria. It was organized by Michael van Droff. Michael and his business partner, Christian Chaleat, run a record company in Germany called Wave Music. They've used a lot of my songs on their compilation CDs.

Michael, Christian and I have become great friends over the years.
Michael asked me to do a New Year's Eve gig at a mountaintop resort outside of Salzburg. It's called Hotel Vollererhof, and it is one wonderful place. There is a small hut in the woods behind the hotel where they have parties. I was scheduled to do a New Year's Eve concert in the party hut. I flew in a couple of days before and left a couple days after.
Michael drove from Germany with his very pregnant wife, Daniela. Christian drove in with his French wife, Fleur, and their infant son, Petite Louis. We all stayed in a private villa next to the hotel. The villa was unbelievable – too many bedrooms, each with its own fireplace, bath and balcony, overlooking the Alps. The floors were marble. All the fixtures were brass. The rooms were huge.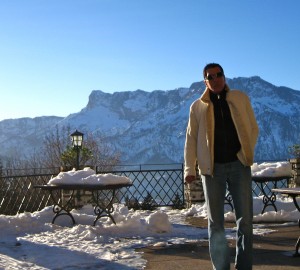 It was luxurious and the views were breath-taking. They treated us like rock stars, brought us special desserts–the kind where they use blow torches and pyrotechnics to create impressive, jaw-dropping, heart-stopping sweets. Incredible.
The hotel was also incredible. They had an indoor-outdoor saltwater pool. You started swimming inside, and you could dive down and swim through a tunnel to the outdoor side. When you surfaced, the pool was steaming, and surrounded by a few feet of snow. I'd get out of the pool, jump in the snow, and jump back into the warm salt water.
The hotel also had a salt cave, a eucalyptus shower room, a steam room, and a sauna. And everybody went in naked. Men and women, naked together – no clothes. When you hear "Men and women, naked together" you get visions of Playboy Bunnies and rock stars, and you think, "Wow. That's sexy."
But in reality, this hotel is what is known as a "Wellness" hotel in Europe. It's a place where people of a certain age go to eat healthy food, and do healthy things, and get lots of sleep and rest and relaxation.
All I can say is this, when you see a 90 year-old woman naked in a sauna, it makes you think. And those thoughts are, well, not sexy thoughts. And when you see a 90 year-old naked man, you want to kill yourself. I have nothing against 90 year-olds. Some of my best friends are nonagenarians. It just disturbed me to see them naked.
They should have a word for people who are afraid of being caught naked in public. Because whatever it's called, that's what I have. Noclothesaphobia. Nuderitis. So whenever I went into the sauna or steamroom, I kept my towel around my waist, and my eyes at my feet.
One day we wanted to go sledding. The hotel had a huge tractor take us all to the top of the mountain, and we went back down the slopes on old wooden sleds. Everybody went – Christian and his wife Fleur, and their infant son, Petite Louis. Michael's wife Daniela, pregnant as could be, even went down the slopes. It was an amazing sleigh ride — it felt like we had stepped back in time. Old wooden sleds going down the ancient Alps.
One frigid afternoon, we took a trip into the town of Salzburg and saw the house where Mozart was born; a small townhouse, painted yellow. Salzburg was freezing cold that day; we walked down narrow cobblestone streets and drank warm booze-spiked cider that we bought from street side stands.
People were having fun — Christmas had just been celebrated and it was the party week that happens right before New Year's Eve. On New Year's Eve, we all had a quiet dinner in the hotel, and then walked through the woods in the snow to the small party hut.
I sang and played piano for the guests — about 50 folks. I'd seen some of these people naked in the spa; and it was a bit unsettling looking at them while I sang and played.
Nobody threw anything at me, and nobody died, so I'm calling it a success.
After I finished my set, Michael van Droff came on, and started spinning records. Most of the old folks had gone to bed.
The only people left were The Villa Crew (Daniela, Christian and Fleur) and the help — waitresses, waiters, and busboys — and we had a blast. The young Germans and Austrians know how to party. We danced until the sun came up.
And then, we all went back to the Killa Villa and I cooked in the incredible kitchen. What did I cook? Well, the Germans and Austrians have a thing for pasta Bolognese. You see it on the menus in all the restaurants. It's everywhere. So the first thing I cooked, on the first day of the New Year? Pasta Bolognese. Happy New Year!
BOLOGNESE SAUCE
My Dad sent me a newspaper interview with a restaurant owner in New York. The guy told the story about his Bolognese sauce; it was an old family recipe, and he served it at his restaurant, but didn't have it on the menu.
He didn't put it on the menu because the recipe was all wrong. There was too much red wine; there were too many tomatoes. He was afraid that critics might beat him up over it. So he left it off the menu. But people LOVED it.
I tried to recreate the recipe from the article. I've cooked this recipe dozens of times. I tried using less red wine, and fewer tomatoes, but it wasn't as good. A couple weeks ago, I made two batches, one with the normal amount of wine and tomatoes, and one with half the amount.
I had my family and friends taste both batches, blind taste-tests. The sauce with more wine and more tomatoes won. Hands down. Even though it's all wrong, according to the experts.
Here is the recipe, with lots of wine and tomatoes. You can cut the wine and tomato amounts in half, if you like.
You'll need to smoosh your tomatoes first. Open the cans of Italian tomatoes and put them in a large bowl. Roll up your shirtsleeves, and start smooshing and squeezing them by hand, one by one. Remove the bitter yellow core in the center. Remove any skin — they should already have the skin removed, but sometimes there is a little left over.
Finally, I used imported Italian pancetta, and it was really good, not a lot of fat, and had beautiful color. You can use Boar's Head, or a similar brand of American pancetta, if you can't find imported pancetta.
In the video, I use a little more butter than I do now. These days, I need to stay…Slim.
INGREDIENTS
½ pound of pancetta, chopped into small cubes, excess fat removed
3 tablespoons butter
3 tablespoons extra virgin olive oil
1 cup each–chopped onions, celery, carrots
3 cloves garlic, minced, about 2 large tablespoons
½ cup dry white wine
1 pound of ground beef
1 pound ground pork or pork sausage meat
1 small can (6 ounces) tomato paste
2 cups dry red wine
2 twenty-eight ounce cans of whole, peeled Italian tomatoes (about 7 cups), San Marzano are best
4 cups stock (I use organic beef stock)
1 pound pasta (I use rigatoni)
Kosher salt and fresh cracked pepper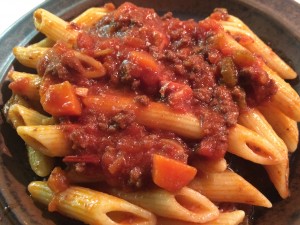 Here we go…
Put a large pot — a Dutch oven or similar — over medium heat for 2 minutes.
Add the pancetta and let it brown for about 4 or 5 minutes.
Give it a stir and cook for another 4 or 5 minutes. Think of pancetta as bacon—you wanna try and cook it one side until it's a little crispy, and then flip it over, and cook it on the other side.
When the pancetta has browned, drain off most of the fat, if there is any.
Add the butter and olive oil, heat until the butter melts.
Add the onions, celery, carrot and garlic.
Cook for about 5 minutes. Stir occasionally.
Add the white wine, and cook for another 5 or 10 minutes until the vegetables are soft. Stir occasionally.
Add the ground beef and ground pork. Break it up with a spoon. Add a little salt and fresh cracked black pepper.
Think of the ground beef and pork as a hamburger. Cook it on one side until it's golden brown, about 5 minutes, then stir it up and cook it for another 5 minutes.
Stir in the tomato paste.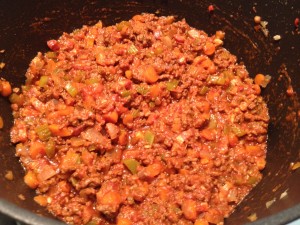 Cook for 5 minutes, stirring occasionally. It should look like Sloppy Joes. Italian Sloppy Joes.
Add the red white wine and let it reduce for about 10 minutes. Stir occasionally.
Add the tomatoes including all their juices.
Add the stock, and turn up the heat to high.
When the tomatoes and stock come to a boil, reduce to a simmer and cook for 2 to 3 HOURS!
Stir occasionally.
When done, skim off the fat, if there is any.
Let's cook our pasta.
Put some cold water in a large pot over high heat.
When it boils, add a couple tablespoons of kosher salt.
Add the pasta and follow the directions on the box. Two minutes before it's supposed to be done, start checking the pasta. Grab a piece and bite through it. If it's chalky in the center, it is not done. Keep checking the pasta every 2 minutes until it is not chalky or chewy. It might take longer than the instructions say.
When the pasta is al dente (firm to the bite), drain it in a colander and transfer to a warm bowl.
Add a tablespoon or so of olive oil, and stir.
Add some sauce, three or four ladles, and mix it up.
Dish it up! Add a dollop of sauce on top of each plate, and then, if you want, add some grated Parmigiano-Reggiano cheese and…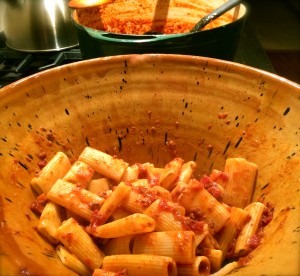 MANGIAMO!!!!!!!