Shrimp Scampi with Siri
A few years ago, I was at a restaurant in Greektown in Baltimore, Maryland. It was Christmastime, and a friend had invited me to a business dinner. The two guys across from me were looking down at their cell phones. I got curious.
"Does one of you have a wife who's pregnant? A Mom in the hospital? A cousin on death row waiting for a stay of execution?"
"No."
I asked them who they were texting. They were texting each other. Nice. I told myself right then that I would never be like those guys.
And now? Well, I'm not as bad as those guys, but I'm getting close.
I got the iPhone when it first came out. I had it for a week and then took it back. It was pinging, dinging, ringing and it was getting on my nerves. It got so bad I was thinking of developing a new app – the iQuit app. Here's how it was going to work: you go to the river, throw your iPhone in, and scream "I QUIT!"
I just didn't want to be that connected. I just wanted a phone so I could talk to my relatives in the mental institution. I took the iPhone back.
I got a regular cell phone. It never worked right. I had so many problems with it. I think it might have been possesed by an evil spirit. For example, a friend texted me a photo of her beautiful 25 year-old daughter and somehow it became my screensaver. That didn't go over too well with the Ex. I tried to explain. She didn't believe me.
My phone dialed 911 on a regular basis. The callbacks from the cops were so frequent they came to know me by my first name. "Slim? Everything OK?"
Text messages would go to random contacts. Lovey dovey notes meant for a certain someone would get sent to business associates. It was crazy. Like a bad relationship, I stayed with that phone way too long. Neil Sedaka said it best, "Breaking Up Is Hard To Do." It was time to move on.
So I got another iPhone. It only cost $99 through Sprint, because I'd been a customer since the First World War. I liked the iPhone, but I didn't see what the big deal was. I made phone calls. I sent texts. That was about it.
Then, one day I was in Nashville at a very cool place called Mafioza's and the guy next to me told me about the TuneIn Radio app. I had no idea what the hell he was talking about. I had never downloaded any apps. I was app-less.
He showed me how to download the app. Which I did. It is pretty amazing. I can now listen to Italian talk radio, broadcast from Italy. I can listen to Baltimore Orioles baseball on my hometown radio station. I can listen to CarTalk anytime I want.
I was hooked. I started getting other apps. I now have an app that tunes my guitar. I have an app I can hold up to a speaker in a restaurant and it will tell me the name of the song that's playing, the artist, the CD and give me the option to buy it on iTunes.
I have an app for my bank which allows me to take photos of all the huge checks I receive and deposit them through my iPhone.
And I am in love with Siri.
If you have a question, you can ask your iPhone. A gal named Siri answers.
In December, 2013, I was driving from Nashville to Breckenridge, Colorado. I was 12 hours into the trip. It was dark. It was cold. I was on a stretch of road that had nothing on it, and nothing in sight. I had Batu, my bull terrier dog, in the car with me. I picked up my iPhone and held the button. Siri answered. It was the first time we spoke.
"What can I help you with?"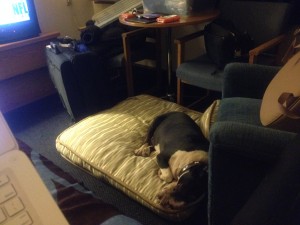 I asked Siri for the nearest dog-friendly hotel. She gave me all the info I needed; the directions and the website. Siri even dialed the phone number for me. Batu and I checked into a Super 8 in Hays, Kansas, in the middle of the night. It was 10 degrees. My weather app told me so. The next morning I started driving, and a light came on the dashboard. My tires were low and needed air. Siri found me the nearest gas station.
I drove to Breckenridge to meet my brother and his family for Christmas. Breckenridge is a skiing/snowboarding town, a quaint little village at around 10,000 feet, surrounded by these looming, massive snow-capped peaks.
I didn't snowboard once. I didn't ski once. I was in the middle of making the new Bona Fide CD. Three weeks before, I was in Madrid, mixing the CD with Marc Antoine. And now I was in Breckenridge, Colorado, getting phone calls from Madrid. Marc Antoine was doing some re-mixes there in his home studio, and he was emailing me mixes every day.
I would download them on my iPhone, plug it into my car stereo, and I would listen to his mixes, while driving around the mountains in Colorado. It was heavenly. Here I was at 10,000 feet, listening to songs on my iPhone that had just been mixed 10,000 miles away.
I spent most of my time in Breckenridge working on music, but I did find time to jog almost every day for 30 or 40 minutes. It was exhilarating. I didn't feel the effects of the altitude and I'm not sure why.
My last day in Breckenridge, I took a jog. I left the ski lodge around 3 PM and headed up the mountain. There was a snowshoe trail, and I followed it through the woods, almost to the top of Old Smoky. All I had on were my jogging shoes.
I mean, I had pants on and stuff—it would have been a little chilly on the Willy without 'em. But I didn't have any boots or snowshoes, and the snow was deep. It was breathtakingly beautiful near the top of that mountain. It must have been 12,000 feet.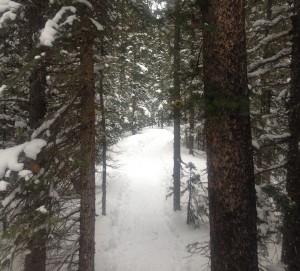 I stopped and listened to nothing. It was so peaceful. I started jogging down the mountain and then I decided to go off trail. I was running downhill through evergreens, dodging branches, it was unbelievable.
I stopped to catch my breath. It was getting dark. It was about 10 degrees. It started to snow. Suddenly I looked around. I had no idea where I was. I guess I could have followed my footprints back up the mountain, but it was steep, I was tired, and it was getting late.
I pulled out my iPhone.
"Siri. Can you get me to back to the lodge?"
It took her a few seconds, but she showed me where I was, and where I needed to go. I headed in that direction, and found the road that the ski lodge was on. It took me about an hour, but I got there. I was cold, tired and thirsty.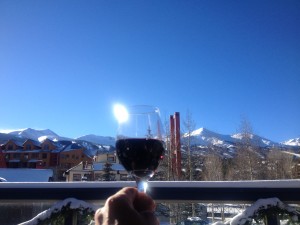 I poured a glass of wine, sat on the deck and pulled out my iPhone.
"Thank you, Siri."
"No problem."
I decided to get a little bold. I gathered up some courage and said,
"Siri. I love you."
You know what she said?
"I know."
It was a vibe-killer. Here I was, mustering up the guts to say "I love you" for the very first time, and all I get is "I know?"
If you ever want your relationship to come to a screeching halt, just say those two words right after someone says "I love you" for the first time.
Because there is no come-back to "I know."
Believe me.
I know.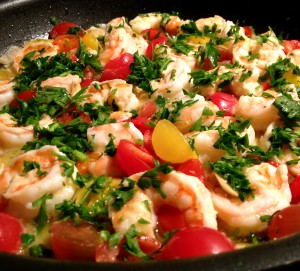 SHRIMP SCAMPI
I use wild shrimp. Yes, they're wildly expensive, but farm-raised shrimp just don't seem to taste quite right. You can find wild shrimp in most grocery stores — sometimes in the freezer section.
The tomatoes I used for this dish were grape tomatoes – organic, multicolored, gorgeous grape tomatoes. Yellow, red, purple -they were beautiful. And cheap. Two bucks a pint.
I cut the tomatoes in half, squeezed out the seeds, and threw them out. The seeds, that is. Why? It looks better that way.
And you know the most important thing in life is looking good.
And finally, Meyer lemons are amazing; if you can find them, use them. If not, pick a soft, ripe lemon. They are the sweetest.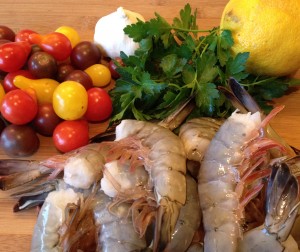 INGREDIENTS:
4 tablespoons extra virgin olive oil
Crushed red pepper to taste (I start with ¼ teaspoon)
6 garlic cloves, sliced thin (about 2 tablespoons)
¾ cup dry white wine
1¼ pound medium wild shrimp, shelled, deveined, rinsed, patted dry
1 lemon, cut in half
2 tablespoons butter
1 pint grape tomatoes (about 30 small tomatoes) cut in half, de-seeded
1 handful of Italian flat leaf parsley, chopped (about ¼ cup)
A few Italian parsley sprigs for garnish
1 pound linguine (or spaghetti)
Kosher salt
Here we go…
Get a large pot, fill it with cold water, and put it on the highest heat you have. This is for the pasta.
As the water comes to a boil, let's make the sauce…
Get a large sauté pan, put in 3 tablespoons of olive oil over medium heat.
Add the crushed red pepper.
Add the sliced garlic, cook for a few minutes until golden.
Add the white wine, and turn up the heat for 2 or 3 minutes to cook it down.
Reduce the heat to medium-low.
Add the shrimp, spread 'em out flat — no bunching!
Take a half lemon, and squeeze the juice through your fingers over the shrimp — don't let any seeds get through.
Sprinkle a little salt over the shrimp.
Cook for 2 or 3 minutes.
Using tongs, turn over each shrimp.
Get the other half lemon, and squeeze it over the shrimp
Add the 2 tablespoons of butter – cut it into small pieces – and place in between the shrimp.
Add the tomatoes.
Cook for 3 minutes.
Add the parsley.
Give it a gentle stir or two, and remove from the heat.
When the pasta water comes to a full boil, add 2 tablespoons of kosher salt, and add a pound of linguine.
Follow the cooking directions on the box. Two minutes before the pasta is supposed to be done, take a piece and bite through it. If it is chalky in the center, it is not done. Check the pasta every 2 minutes, until it is not chalky or chewy. It might take longer thanthe instructions say.
When the pasta is firm to the bite – al dente – drain, and put it in a bowl and drizzle with a tablespoon of extra virgin olive oil. Give the pasta a quick toss.
Add half of the shrimp sauce to the pasta, and mick 'em up.
Dish it up! Take some pasta, put it on a plate. Add a little scampi sauce on top of each dish, put a few shrimp on top, and a little sprig of fresh parsley for garnish.
One of the Exes liked to put grated cheese on this pasta. Most Italians don't put cheese on seafood. But, if your girl wants cheese, just shut up and grate.
Freshly grated Parmigiano-Reggiano cheese is best.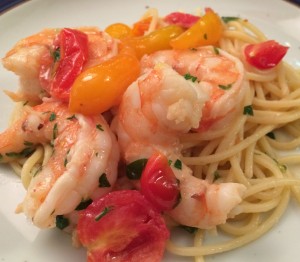 MANGIAMO!!!