Luigi's Chicken and Luigi
Luigi was my grandfather. Luigi Quintiliano. Grandpa Luke is what I called him. He was quite a character, a tough guy, an Italian immigrant. He left Italy, came to New York City, got his start as a tailor in a sweatshop, and then got involved in the labor unions.
Luigi was an anarchist. Just so you don't have to look it up, an anarchist is someone who doesn't believe in government, thinks we might be better off running things on our own.
Luigi was a political activist; he helped edit the anti-Fascist Italian newspaper Il Martello, which was started by labor organizer Carlo Tresca. Tresca survived an assassination attempt by Fascists, but was later gunned down by the Mafia because he insulted a mob boss.
Luigi was also secretary of the Italian Committee for Political Victims, which raised money to defend Italians who had been imprisoned because of their political beliefs. Luigi helped raise funds for Sacco and Vanzetti, two Italian anarchists who had been accused of murder and robbery.
Most folks conclude that they were railroaded. Luigi testified at their trial. Sacco and Vanzetti were convicted of murder in 1921. The case was appealed. For the next six years, the Sacco and Vanzetti case got worldwide attention. Protests were held in most major cities in the world.
Luigi helped raise money for the appeals process to try to get them acquitted. But in 1927, the verdict was upheld, and Sacco and Vanzetti were executed. Most scholars agree that they were convicted because of their anarchist beliefs, not because they were guilty of murder.
Luigi carried a gun, a 32 automatic. He was handsome, well-dressed and elegant. He was also an anarchist, a radical, an activist. But to me, he was Grandpa Luke; the guy who gave me silver dollars and said "donna tella nobody." He was always so sweet to me.
I didn't find out until I was older that Luigi wasn't my real grandfather. My real grandfather died before I was born. Luigi was my grandmother's…boyfriend? That sounds weird. Lover? Even weirder, especially for a grandson. They were in love, Angela and Luigi. That's for sure.
Even though they were never married, a lot of folks knew them as husband and wife. In the US census in 1940, they were listed as Luigi and Angela Quintiliano. Back in those days, two people in love didn't just shack up. They usually got married if they wanted to live together. But Luigi, being an anarchist and all, didn't believe in marriage. Even though Angela and Luigi never got married, I know they loved each other.
Luigi had a sister, Estherina, who was a nun. She was in a convent in Italy, and then later was assigned to a convent in New Jersey. Estherina wasn't too happy about her situation in Jersey. Apparently, the convent in Italy was a lot more respectful of the nuns than the convent in Jersey. I imagine the food in the Italian convent was a little bit better than the one in Jersey.
Estherina was miserable.
Luigi was more than happy to help Estherina leave the convent. Luigi told Estherina that his friend, Joe, had agreed to marry her, so she could stay in this country.
Luigi arranged for my uncle Oscar — Angela's oldest son–to get her out of the convent.
Oscar and a friend drove to the convent in New Jersey, snuck Estherina out of a window, over a wall, and then drove her to Baltimore. Luigi introduced Estherina to his friend Joe, and they got married. Luigi wanted Estherina to get married in order to become a US citizen, but he didn't want her to stay married. But something crazy happened…Estherina and Joe fell in love. They moved up to Flushing, Queens and lived happily ever after in New York.
Luigi continued his anti-marriage crusade. When Oscar was getting ready to get married, Luigi was against it. Oscar's fiancé's family was against it as well. They offered Oscar money not to get married.
Luigi got offended. On one hand, he was against marriage. But on the other hand, Luigi was pissed off that they thought Oscar wasn't good enough to marry their daughter. Harsh words were exchanged.
Oscar's fiancé's family threatened Luigi with a gun. Luigi said, "You better not miss, because I never do."
There was always a lot of animosity between the families, but never any gunfire. Oscar got married anyway.
When my Dad fell in love with my Mom and wanted to get married, he brought her to meet Angela and Luigi. Luigi made a feast. He made antipasti, pasta, cutlets, sauces, meats, and he kept serving my Mom.
My Mom, being ever so gracious, ate what was served. Luigi was amazed that she hung in there like a real Italian. It was like he was testing her, and she passed with flying colors.
Luigi developed a soft spot in his heart for my Mom. You could see he loved her.
Luigi was still against marriage, so I guess that's why my Mom and Dad eloped—they got married in New Orleans.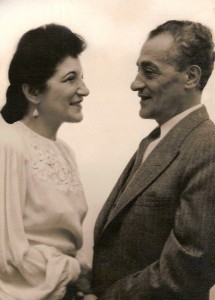 Luigi and Angela eventually broke up. I guess a girl can only take not being married for so long. Angela broke it off, somewhat reluctantly. I have letters from Angela to Luigi, and they are so sad. Angela really loved Luigi, but he couldn't commit, couldn't let himself go.
What a shame.
When Angela died, I was going through her stuff, and found Luigi's gun at the bottom of a trunk. I still have it. It's the only thing of Luigi's I have, besides a few letters and this recipe…
LUIGI'S CHICKEN
Luigi used to make this dish with rabbit. I don't know if it's because I love Bugs Bunny so much, but I'm not crazy about eating rabbit. I don't wake up in the middle of the night and say "Damn! I wish I had me some rabbit to nibble on."
When I cook this dish, I use chicken. Most times, I use organic free-range chicken, although in all the western movies I've seen, and in all my travels, I've never seen herds of wild chickens roaming the free range. I've seen buffalo roaming. I've seen horses. But never chickens.
When I first cooked this dish, I used chicken on the bone. I had my butcher dude chop each breast into three or four pieces, and each thigh into two pieces.
When I cooked this recently for a lady people friend of mine, she mentioned that chicken cut like that would never fly in a restaurant – people might choke on the bones. She told me I should use boneless chicken.
I felt like grabbing Luigi's gun and firing a couple of rounds in the ceiling, but I didn't. I just agreed.
You know what? She's right. You don't want Grandpa Luke choking on a chicken bone!
So the next time I made Luigi's chicken, I used boneless, skinless chicken breasts and thighs. It was real good, but I thought that it could be even a bit mo' better with just chicken thighs. Boneless, skinless chicken breasts don't hold up well in a dish like this; they tend to get a little dry.
So last night I cooked this dish with boneless, skinless chicken thighs. And it tasted really good. Moist and delizioso! I dig the dark meat, it really made this dish sing. Zippity Do Dah!
I used about 2 pounds of chicken thighs. You need to cut them into thick pieces, about the size and shape of a flattened egg. Or a big chicken McNugget.
The chicken needs to brown. That means the oil has to be hot enough so the chicken sears, but not too hot that it burns and sticks to the bottom of the pot. The chicken should sizzle when you first put it in. Don't stir it around, let it sit and brown.. Each piece has to brown on each side. This is important; browning sears in the juices so the chicken doesn't dry out. Browning also gives the stew a nice color.
If the chicken thighs take longer than 5 minutes to brown on one side, your heat ain't high enough.
Dutch ovens are good for searing, and then making a stew like this. I used a 7-quart (12" diameter) Dutch oven. You can use any big, heavy pot.
You'll need to peel the pearl onions. It's easy. Drop them (with the skin on) in boiling water for a few minutes. Remove, and cut off the tip of the root end. Grab the pearl onion by the top, and squeeze the onion out of the skin.
In the video, I cook the pearl onions and the chicken together. I was using a really big Dutch oven, and everything fit easily. If you're using a smaller, 7-quart Dutch oven, brown the chicken first, take it out, and then brown the pearl onions.
And please be careful when you light the Cognac on fire. Stand back! It's explosive. Have the water pistol loaded and ready.
INGREDIENTS
8 boneless, skinless chicken thighs, about 2 pounds, cut into large cubes
Flour (a half cup should do) plus 1 tablespoon
5 tablespoons extra virgin olive oil
3 dozen or so pearl onions peeled (about 2 cups)
2 ounces of Cognac (about ¼ cup)
3 cups sliced white mushrooms
1 ½ cups of chopped celery
5 garlic cloves, chopped fine (about 2 tablespoons)
2 ½ cups chicken stock
1 cup dry red wine
1 tablespoon fresh chopped rosemary
Kosher Salt
Freshly ground black pepper
HERE WE GO!
Rinse your chicken pieces in cold water.
Pat dry with paper towels.
Take some flour, put it on a plate.
Take each piece of chicken, and roll it in the flour, coating all sides lightly.
Do this with all the chicken. Salt and pepper the tops of the floured chicken pieces.
Put some olive oil, a generous 3 tablespoons, in the bottom of a large pan or Dutch oven over medium-high heat.
Let the pan heat for 2 minutes, and then add the chicken; salted/peppered side down.
Add a little salt and pepper to the tops of the chicken pieces. Don't stir; let the chicken brown for 4 or 5 minutes. The chicken needs to be BROWN, Slim People.
Flip the pieces over and brown on the other side – still no stirring – for 4 or 5 minutes.
Remove the chicken from the pan, and put on a plate.
Put the onions in the pan and let them brown for about 3 minutes.
Turn them over, and let them brown on the other side for about 3 minutes..
Add the Cognac to the onions.
Be careful!! Get a lighter with a long handle, and stand back as you light the Cognac on fire—it's gonna explode!
When the flames die down, and your wig has stopped burning, add the mushrooms and celery. Add a tablespoon of olive oil.
Give'em a stir. Scrape the delicious bits off the bottom of the pan.
Let the celery and mushrooms cook for 5 minutes, stir often.
Add the garlic, cook for 3 minutes.
Now, put the chicken back in the pan.
Add 2 cups of the chicken stock.
Add the cup of red wine.
Add the rosemary.
Turn the heat on high.
When it comes to a boil, let it boil for a few minutes, then reduce the heat to medium-low, and cook, uncovered, for 10 minutes.
Take a tablespoon of flour, whisk it in the remaining half-cup of chicken broth, and stir it into the sauce. The sauce needs to be thick, like gravy.
Turn the heat to simmer, and cover and cook for about 30 minutes, until the chicken is tender, and the gravy is gravylicious! Stir every so often.
Taste the sauce for salt and pepper and adjust.
You can serve it as is, with some crusty bread or over egg noodles—I use a half-pound of pappardelle. You might want to cook them first.
Cook the pasta according to the instructions. Drain, put in a bowl and drizzle with the final tablespoon of olive oil.
Pour some of Luigi's chicken over the egg noodles, make it look nice, and…
MANGIAMO!