Meatballs and Motown
When I was a kid, fresh out of school, a friend of a friend got me an appointment in New York City with a pretty big publisher. I had written some songs, which I recorded and produced at a studio in my hometown of Baltimore, Maryland. I had my little demo tape all ready for the Big Time. In the Big Apple. With a Big Publisher.
I got dressed up in my white, three-piece, Saturday Night Fever suit. I had the John Travolta hairdo. I used so much hairspray you could have hit me in the head with a baseball bat and I wouldn't have felt it.
I took the train from Baltimore to Manhattan. I walked uptown from Penn Station, figured I'd save money on a cab.
The building was on 54th Street. I walked in, gave the doorman my name, and took the elevator to one of the top floors. I got off the elevator and gave the receptionist my name. I waited for a while, taking in the views of Manhattan, dreaming about what kind of deal I was gonna be offered. The receptionist led me into the guy's office.
He was probably in his 50s. I shook his hand. He gave me a strange smile and a look-over. He then told me that his friend—the guy who set-up the meeting—mentioned that I was "quite attractive."
Welcome to the music binniz! I was flattered, in an awkward way. But I wasn't there for a beauty contest; I was just a young man trying to pitch some songs. I sat down on the couch. The guy sat on the edge of his desk, and started leering at me like Pepe LePew. I was getting a very strange vibe.
When the guy walked over and started to sit down on my lap, I decided it might be best to just skedaddle out of there. So I stood up, thanked him, and hurdled over the couch. I just wanted someone to listen to my songs, without having to…well, you know. I wasn't pissed off, just disappointed. He hadn't listened to one song. I walked outside, onto the streets of Manhattan.
It was pouring down rain. I had a lump in my throat the size of a basketball. I was supposed to meet my Dad at a French restaurant for a victory lunch. It's hard to catch a cab in NYC in the rain. So I walked the few blocks to the restaurant; Café Brittany, in the upper 50s, on the west side of town.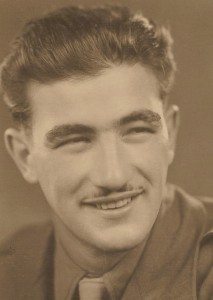 My Dad was a World War II veteran. He followed Patton's army across France. He once rescued a French girl who was behind enemy lines. So the French women who worked at Café Brittany thought he was a hero. And he was. And they treated him like one. He spoke French and was charming. They loved him. No wonder he went there so often.
I walked in, all wet. My white suit was splattered with muddy water that cars had splashed on me as they passed by in the rain. I was a mess. I sat down. I could hardly talk.
When my Dad asked how it went, I told him it went OK. I didn't tell him the whole story. I was kinda embarrassed. I just kept my mouth shut. Like my Dad used to say, "Nobody gets in trouble by keeping their mouth shut." Lunch was quick and quiet. I left my Dad with his admirers, and went back out into the rain. I started cold-calling publishers.
One of the first calls I made was the Motown office in New York. Motown had some of my favorite writers — Stevie Wonder, Marvin Gaye, Smokey Robinson, Holland-Dozier-Holland — and they had some of my favorite songs.
To my surprise a gal named Roxanna Gordy answered the phone. I asked for an appointment. She asked when. I said hesitating as I mustered up my courage, "How about right now?"
About thirty minutes later I was in her office. It was on 57th Street, across from Carnegie Hall. I looked like shit, my suit was soaked and soiled, and my hair at this point looked more like Moe from the Three Stooges than John Travolta in Saturday Night Fever.
Roxanna Gordy took my tape, and started playing it. I sat there in silence as we listened.
Her office door was open a crack. A few minutes into the first song, the door cracked open a little more, and a man's head popped in. The guy asked Roxanna about the music, and she pointed at me. The guy didn't look too impressed with the way I looked.
Can't blame him.
But he liked what he heard. He invited me into his office. His name was Carl Griffin. He was VP of Motown publishing in New York. We hit it off.
Carl signed me to a songwriting deal a few weeks later. I got paid a thousand bucks every month to write a song every two weeks. I was in heaven.
Right after I signed, Carl called and asked me to write a song for a new artist who had a debut CD coming out. I asked Carl when, and he told me, "Yesterday."
That didn't leave much time. I immediately wrote a song, and it sounded pretty good to me — it gave me the tingles, which is always a good omen – but how was I going to record it?
I didn't have time to book a studio. All I had was an old cassette player with two inputs, and two microphones. So I hung one mic inside my upright piano, and sang into the other mic.
It was the worst recording I've ever done. On the playback, the piano came out of one side, and my voice came out of the other. I loved the song, but the recording made me want to hide in a cave in Afghanistan. I sent the tape to Carl.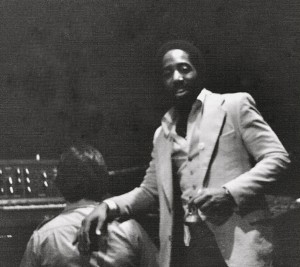 A few weeks later, Carl came down to Baltimore to do a demo session with me. I'd written some new songs, and we needed to get them recorded. We went into the studio, which was pretty fancy. Carl sat me down in front of the speakers, and told me he wanted me to listen to something.
He put on a tape and what came out of those speakers was amazing.
It was my song, the one I had recorded into the cassette player. The new version sounded as good as anything I'd ever heard. Dave Grusin, one of my favorite producers, produced it. Dave wrote the soundtracks for Tootsie, The Graduate, On Golden Pond and lots of other movies.
The players were amazing…all the top session guys. Francisco Centena on bass, Eric Gale on guitar, Ralph McDonald on percussion, and Dave Grusin himself played electric piano.
I was absolutely floored. I could not believe my ears. They took that shitty little recording of my song and made it into this amazing record. With a stunning new singer that had an amazing voice.
The singer was Angela Bofill. Her debut CD was Angie. My song was "Summer Days."
The album went on to get great reviews in the New York Times, and the Los Angeles Times. It was quite an auspicious debut. It sold quite a few copies. It created a big buzz in the Biz.
I played the song for my Dad. He was a rough, tough, and gruff guy that didn't radiate a lot of warmth, and he didn't give out compliments. But I could tell he really liked it. Especially when he said, "I want you to play that at my funeral."
Keep in mind, my Dad wasn't old or sick or close to death or anything. But whenever I'd visit him, he'd remind me to play "Summer Days" at his funeral.
That was my Dad's way of saying he liked it.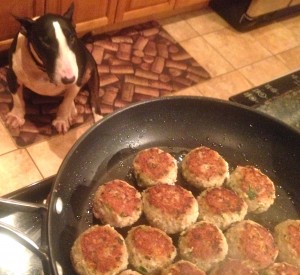 MEATBALLS
To this Italian kid, meatballs are a source of comfort. They remind me of Sunday at my grandmother Angela's house, the smell of the sauce, the warmth of the kitchen, the family drinking and screaming and throwing knives at each other.
Home sweet home.
When I need a little comfort, I make meatballs. A lot of Italians used to put bread soaked in milk in their meatballs. The reason was simple—you could make a lot more meatballs that way. And when you're poor and starving, you do what you can to extend a meal. I've cooked them both ways—with bread and without. And they're just plain better without the bread soaked in milk.
If you're worried about keeping your balls moist, just don't overcook them. About 3 or 4 minutes a side is plenty of time. I don't use lean meats. A lot of that juice makes things…juicy.
Traditional meatballs are made with equal amounts of ground beef, ground pork, and ground veal. If you have any objections to any of these meats, you can substitute.
I've made meatballs from ground turkey, and they were good – I used half dark and half white meat. I've made meatballs with just ground beef and pork, and they were good, too. Just make sure you end up with 3 pounds of meat, which should make about 60 or 70 meatballs. Feeds two, if you're in my family.
Freshly grated Parmigiano-Reggiano cheese is the way to go. The pre-grated stuff in a box is dry and tasteless, and should be avoided if possible.
You can eat meatballs plain, but I put my meatballs in a tomato sauce. You will need about 6 cups of tomato sauce—I make my own, it's quick, simple and easy. My recipe is on page XX.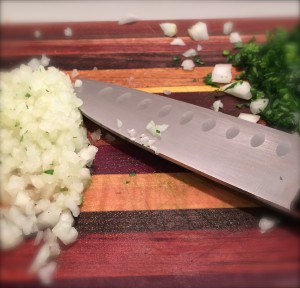 Ingredients
6 cups tomato sauce (bottled is OK, homemade is bestest!)
1 pound ground beef
1 pound ground pork
1 pound ground veal
3 eggs
3 tablespoons onion minced fine
3 tablespoons chopped Italian flat leaf parsley (you can use curly parsley in a pinch)
1 ½ cups bread crumbs — don't use any that are heavily flavored — I use plain panko
¾ cup freshly grated Parmigiano-Reggiano cheese
Salt (I use 1 teaspoon of kosher salt) and pepper
Extra virgin olive oil
Here we go…
Heat your tomato sauce in a large pot over high heat. When it starts to bubble, lower to a simmer.
Get a big bowl. Put the meat in, crack the eggs on top. Add the onion and parsley. Add the breadcrumbs, and the Parmigiano. Add some salt and fresh cracked pepper.
Mix 'em up! I use my hands. Dig in, mix all the ingredients together. When it's all well-mixed, it's time to roll our balls! Grab a small amount of the mix, about the size of a golf ball. Roll it into a ball. Put it on a plate, and flatten it a bit. Do this with all the meat mixture.
Get a large sauté pan. Add a tablespoon of olive oil. Swirl it around the pan, and then wipe out the excess with a paper towel. Put the heat on medium, heat for 2 minutes.
Add as many meatballs as you can without crowding. No bunching! Cook for 4 minutes. Don't move them around! We want the bottoms of our balls to be brown. Pick up a meatball with some tongs. If the bottom is brown, turn all the meatballs over and cook for another 4 minutes until brown on the other side. Slice one open, take a look. If it's done, put the meatballs in the tomato sauce. If not, cook for another minute or two, and then place in the sauce when done.
Do this with all your meatballs! Drain the sauté pan of excess juices after each batch. When they've all cooked, let them simmer in the sauce for 10 minutes.
Dish it up! Put it over pasta, or serve as an appetizer with some crusty bread for your crusty friends, and…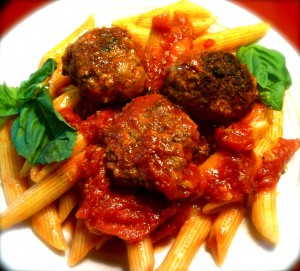 MANGIAMO!!!!!!!