What's anise?
It's your brother's daughter!
I drove from Palm Springs, Californy, to Los Algodones, Mexico, a few days ago.
Why?
Inexpensive dental work. I needed some stuff done; my dentist in Palm Springs, Dr. Yankenpull, gave me an estimate of $4500.
Should I get my teeth fixed, or send the kids to college?
I'd heard about a place called Los Algodones, in Mexico, a town that exists for one purpose…inexpensive dental care.
It's right across the California border, near Arizona, and there are dentist offices everywhere and not much else.
Well, there are pharmacies selling meds without a prescription for about 70% less than in the USA, and some optometrists, but the main function of the pueblo is dental work.
I had checked it out two weeks before, found a few places that looked fine, made an appointment with one, and drove back a few days ago. The drive was beautiful, a lonesome highway slicing through the desert.
The only problem was…it was windy. A sandstorm kicked up, and I felt like Lawrence of Arabia crossing the desert on a camel. Or Bradley Cooper in American Sniper. You could hardly see in front of you. Trucks had their headlights on, and traffic slowed down for a bit.
I got to an Indian casino right on the border, parked the SlimMobile, and walked across. The town started right there, as soon as I set foot in Mexico, there were dozens of dentist offices, up and down the small streets.
The dentist was as good as any I'd ever encountered, the place was clean and professional. When I sat in the chair, he told me he noticed I was from Palm Springs. I told him I lived right near where they have the Coachella Music Festival.
He told me he goes every year. Bang! There was immediate connection. We talked about music, and then about the procedure, and he got started working on my donkey teeth.
It was painless, the guy obviously knew what he was doing. He was a pro.
The price was more then 50% less than Dr. Yankenpull in Palm Springs. Muy bueno!
When I left the office, I walked down the street towards the US border. I saw a guy in a Yankee hat, a Mexican. He asked me if I needed a dentist. I told him I just had work done.
Then he asked, "Do you like shrimp?"
I told him I loved shrimp. He walked over to his friend who had an ice chest full of the biggest and freshest shrimp I'd ever seen, They smelled like the ocean. He told me they had just pulled them from the Gulf of Mexico.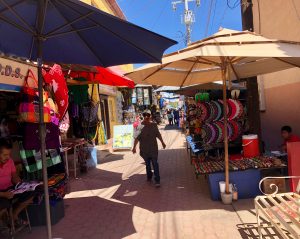 Ten bucks a pound! They were as big as my size 13 feet. I bought a pound, and drove back to the Slim Shack, 2 ½ hours.
I couldn't wait to cook the shrimp. I needed a new recipe for an appetizer. I had created one a few years back, but it had bread crumbs in it, and these shrimp looked so good, I didn't want to goo them up with glop. I wanted to taste the shrimp, and I wanted to add a little twist.
I looked in the Slim Spice Rack, and there were some anise seeds. Anise tastes a little like licorice, but not nearly as strong. I used just a half teaspoon; added it to the usual suspects…garlic, butter, parsley.
I broiled the shrimp on a wire rack, so they wouldn't be sitting in the sauce.
It was one of the best shrimp dishes I've ever made! The anise was so subtle; it gave the shrimp a unique flavor, not overpowering at all.
She's a-so nice!
I'd normally say that a pound of shrimp would be enough for 3 or 4 people, but I ate almost all of them myself! They were so delizioso.
NOTES:
Leave the shells on. Take a scissors, cut down the spine and remove the vein. Soak them in salted water for 15 or 20 minutes, and don't add salt when you cook them!
INGREDIENTS
1 pound jumbo shrimp, the biggest you can find
1 quart water
¼ cup salt
3 tablespoons melted butter
2 tablespoons olive oil
½ teaspoon crushed red pepper flakes
½ teaspoon anise seeds
2 tablespoons chopped fresh Italian parsley
2 tablespoons minced garlic
A lemon for squeezing
HERE WE GO!
Put the shrimp on a platter.
Put the water in a large bowl, add the salt and mix.
Grab a shrimp, use a scissors to cut the shell down the spine, head to tail, about a ¼ inch deep.
Use a small knife, and remove the vein, leave the shell on.
Put the shrimp in the bowl of salted water.
Do this with all the shrimp.
Put them in the fridg for 20 minutes.
Put the melted butter, olive oil, red pepper, anise seeds, parsley and garlic in a bowl.
Mix 'em up!
Take the shrimp out of the fridg, drain them in a colander, and pat dry with paper towels.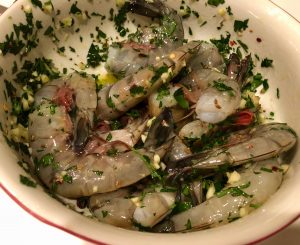 Put the shrimp in the bowl with the butter and stuff.
Mix 'em up. Get the shrimp well-coated.
Put a wire rack on top of a baking sheet.
Put the shrimp on the rack in a single layer.
Put your broiler on high.
Put the shrimp about 4 inches from the broiler flame/heating element.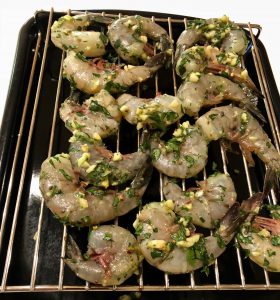 Broil for 3 or 4 minutes, until just starting to brown.
Take them out of the oven, flip the shrimp over.
Put them back under the broiler for 3 or 4 minutes, until golden.
Take 'em out!
Put the shrimp on a nice platter, garnish with a sprig or two of parsley and lemon wedges.
Squeeze a little lemon over the shrimp, and…
She's a-so nice!
MANGIAMO!