My Dad, as he got older, started eating the same thing every day. He was a poet and philosopher, so whatever he did with his life was intentional. He used to implore me to lead an examined life, to be aware of what you're doing with this precious time on the planet.
He ate 5 or 6 biscotti with a cup of tea every morning, he ate a sandwich for lunch, and tomato sauce with pasta for dinner. That was his usual culinary custom.
I'm a big fan of tomato sauce. It's my favorite thing to eat before I sing. Well, not right before. If I eat it right before, a clove of garlic might pop out of my mouth as I'm singing "When the moon hits your eye like a big pizza pie, that's amore."
I eat about 3 hours before a show. Tomato sauce over penne rigate pasta.
I'm also a big fan of most Italian-American dishes. Well, maybe not the pastas stuffed with ricotta cheese, like stuffed shells, or traditional manicotti. That's too cheesey for the Slim Man!
That's why I came up with my Slim Manicotti recipe!
I used shrimp and scallops in a spicy tomato sauce rather than two wheelbarrows full of ricotta. She was a-so nice!
But shrimp marinara? I must admit, I'm a big fan. My Dad would put just about anything in a tomato sauce. True story…we once caught an eel in Ocean City, Maryland, and he chopped it up and put it in a tomato sauce.
It was horrible. He once shot a woodchuck in upstate New York, and put it in a tomato sauce. You could have used that sauce to induce vomiting in case someone ingested poison. Disgusting.
But shrimp in a tomato sauce? She's a-so nice! The problem is, when you just put raw shrimp in a tomato sauce and let them cook in there?
They get that rubbery texture. Like they were steamed. Also, almost all raw shrimp you buy these days are frozen. Even after they're defrosted, they give off water when they cook. Which makes a watery tomato sauce.
I solved these problems, Slim People!
After many attempts, I got it right. I sautéed the shrimp first! Ain't I a genius? Just two minutes per side, and then I removed them from the sauté pan and turned the heat to high to boil off the excess water. Then I put a tomato sauce over them. Delizioso!
I made this last night for Hit Man Howie Z, Slim Man Bongo beater. It was really, really good.
I made it to serve two people.
NOTES: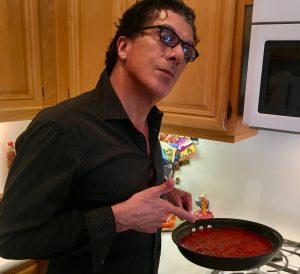 I made my own tomato sauce. You should, too. Unless you're under the age of 18. Then, you're forgiven. You'll need about 4 cups. I use San Marzano tomatoes. They're a little more expensive than regular Italian peeled tomatoes, but you can use either, My Slim Ones.
Last night, the local grocery didn't have parsley. Cazzo!
I used an organic Italian parsley paste that came in a tube. It had the consistency of toothpaste, and I put a generous teaspoon instead of fresh Italian parsley. She was a-so nice!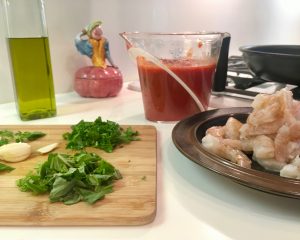 INGREDIENTS
1 can (28 ounces) of San Marzano peeled Italian tomatoes
8 tablespoons of olive oil
1 pound shrimp, raw/uncooked, de-shelled and deveined
9 cloves of garlic, smashed and peeled
Crushed red pepper flakes, about a teaspoon (or more, if you like spicy!)
Fresh basil, a small handful, snipped with scissors
Italian parsley, a generous tablespoon, chopped
Kosher salt to taste
½ pound of spaghetti or linguine
HERE WE GO:
Let's make a quick tomato sauce first.
Put the tomatoes in a large bowl, and smoosh them with your hands. Give them a squeeze and remove the small yellow stringy core in the middle. Remove any other funky-looking stuff, stems, skin, etc.
Put a large sauté pan over medium heat.
Add 4 tablespoons of olive oil, let it heat for 2 minutes.
Add 5 cloves of garlic, sauté for a minute or two until pale gold.
Turn over the garlic cloves and cook for a minute or two on the other side until pale gold.
Add the tomatoes and stir.
Add some salt, I start with a teaspoon of Kosher salt.
Add half the snipped basil and stir.
Turn the heat to high and when it starts to bubble, turn it to a simmer.
Simmer and stir for 20 minutes.
That's it!
And now for the scrimps!
Take another large sauté pan, put it on medium heat.
Add 3 tablespoons of olive oil.
Add 4 cloves of garlic, sauté for a minute or two until pale gold.
Turn over the garlic cloves and cook for a minute or two on the other side until pale gold.
Add the shrimp in a single layer. No bunching!
Sprinkle some Kosher salt on top, and sauté for 2 minutes until pink.
Turn the shrimp over and sauté for another 2 minutes until pink.
Use a slotted spoon to remove the shrimp to a bowl.
Remove the garlic cloves and discard.
Turn the heat to high, let the excess water and liquid reduce FOR A MINUTE!
Put the shrimp back in the sauté pan.
Pour the tomato sauce (about 4 cups) over the shrimp.
Add the parsley and stir.
Add the remaining snipped basil leaves and stir.
Taste for salt and pepper and adjust.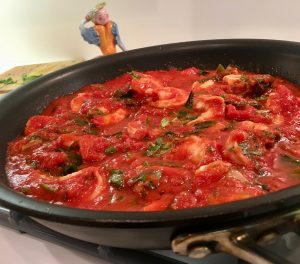 You can eat it as is, or over rice, or as an appetizer, or you can put it over pasta
Cook your pasta according to the instructions. When it's al dente (Italian for "firm to the tooth") drain it and put it in a large bowl.
Add a drizzle of olive oil and mix gently.
Pour half the shrimp sauce over the pasta and mix gently.
DISH IT UP!
Put some pasta on a plate. Add a couple spoonfuls of the shrimp marinara sauce on top.
I have a Lady People friend of mine who puts freshly grated Parmiggiano cheese on top.
You don't usually put cheese on seafood, except maybe the fish sandwich at McDonald's.
But I don't say anything when she grates. There are more important things to fight about!
MANGIAMO!