I love pizza. But who doesn't? Calzone is like a small pizza, but folded over, like a stuffed croissant.
The problem I have with most calzone is that they're stuffed with too much…goo. Ricotta, mozzarella, tomato sauce. She's a-too much! I wanted to make a calzone, but I didn't want it to be so thick and dense and heavy.
So I thought I'd make it with shrimp, but I didn't want to just make a shrimp in tomato sauce. I decided to use fresh grape tomatoes rather than a sauce. But it needed a little something, a little glue to hold the sauce together. And I started thinking…
How about tomato paste? It worked perfectly. I didn't use much, just enough to make it have that lovely flavor and color and texture. And it tied the whole thing together quite nicely and deliciously.
These days I've been using whole garlic cloves, smashed and peeled. Why?
Because it's easy and quick and if folks don't like garlic they can always pick out the whole cloves. This recipe needed some garlic. I wanted that flavor, but biting into a whole clove of garlic might not be appetizing in a calzone, especially for the Lady Peoples.
Those dainty dames! So I used minced garlic.
The first time I made this shrimp sauce, I nailed it. It was so good I had to hold myself back from eating just like it was. But if you want to forget the dough, you can always just eat it as is.
I wasn't sure if this shrimp sauce would work in a calzone. I'd never made calzone before, and I wasn't convinced that it would be any good to begin with. And including cheese in a seafood dish is something that most cooks frown upon.
But…what about the fish sandwich at McDonald's? It has cheese on it and it's delizioso!
I was going to use mozzarella, but I wasn't feeling it. I wanted a cheese with a little more zing, a little more zip, a little more taste. I was going to use taleggio cheese, which is like an Italian brie, but it was too soft. I was sure it would just melt into a drippy mess.
I needed a cheese that was creamy, but not that creamy! So I used fontina.
It worked perfectly! She was a-so nice!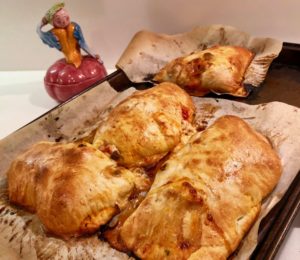 NOTES:
I have made pizza dough before. It's a pain in the ass. I know, it's not difficult or challenging, it's just time consuming, especially when you can buy pre-made pizza dough at places like Trader Joe's that's really good.
There was an Italian deli in Baltimore that made amazing bread. And they sold the pre-made dough in small bags, and it was better than any I ever made myself. So I used pre-made pizza dough, it's not hard to find and will save you a couple months. Well, maybe less…
Also, when you're working with pizza dough, keep some flour close by for dusting to keep the dough from sticking to your hands and the roller.
I used parchment paper to line the bottom of the baking pan. It kept the dough from sticking to the bottom of the pan. Just make sure you use parchment paper and not notebook paper. You don't want to burn down your trailer park!
I used one pound of large shrimp. I cut each shrimp into three pieces, each piece about the size of a small grape.
You don't have to cook the shrimp all the way, because they'll cook some more when they're baking inside the calzone.
I didn't use a lot of olive oil because I didn't want the sauce to be too…saucy.
INGREDIENTS
1 pound shrimp, deshelled, deveined, cut into small pieces
1 tablespoon olive oil
1 tablespoon minced garlic
Crushed red pepper
Salt
1 cup grape tomatoes, cut in half, seeds squeezed out, then chopped in quarters
1 generous tablespoon tomato paste
2 tablespoons Italian flat leaf parsley, chopped
1 egg, cracked, beaten in a bowl
Flour
Pizza dough
Parchment paper
1 cup fontina cheese, cut in small cubes
HERE WE GO!
Preheat oven to 425 degrees.
Take the shrimp, put it in a small bowl.
Get a small sauté pan, put it over medium heat.
Add 1 tablespoon olive oil, heat for a minute.
Add minced garlic and crushed red pepper, cook and stir for 1 to 2 minutes.
Add the shrimp, cook 3 minutes, stir.
Add salt to taste.
Add the tomatoes and the tomato paste, cook for 2 minutes, give it a stir.
Add the parsley, stir and remove the pan from the heat.
Filling is done. That was quick!
Take a sheet of parchment paper and line a large baking pan.
Sprinkle some flour on a large wood block or counter.
Roll the pizza dough into a ball, divide into 4 equal parts.
Take one, roll it into a small circle, flatten it out with a roller.
Place it on a corner of the parchment paper.
Put ¼ of the shrimp mixture on one half of the dough, leave a little space along the edges.
Top with ¼ cup of the fontina cheese.
Fold the dough over top of the shrimp and cheese.
Brush the calzone with the beaten egg.
Take a fork and press along the edges to seal.
Repeat this with the remaining three balls of dough.
Put the baking pan in the oven and cook for 25 minutes.
She's a done! Let them cool for a couple of minutes and…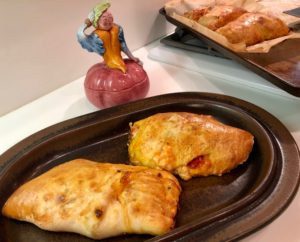 MANGIAMO!