I've never had fresh porcini mushrooms. I get them dried, and they have to be reconstituted. I soak them in water for 30 minutes to an hour.
Porcini mushrooms are sometimes gritty. When you drain the water, pour it through a paper towel to get rid of the grit. Adding the porcini water to the chicken broth is so delizioso, so make sure it ain't gritty. Also, make sure you rinse the mushrooms.
Chicken thighs…I'm a big fan. They're mo' tasty, mo' moist, and mo' cheaper than breasts. Thighs hold up well in a dish like this. Breasts get a lot of attention and love. Some people say a thigh is just a thigh. I say it's time to show some love for the thigh. Thighs matter!
INGREDIENTS
1 cup dried porcini mushrooms
1 cup water
1 cup cremini mushrooms, stems removed, sliced thin,
3 tablespoons butter
3 tablespoons olive oil
3 boneless, skinless chicken thighs, cut into bite-size pieces (2 cups)
4 cups chicken stock
1 cup minced sweet onion
1 ½ cups Arborio rice
½ cup dry white wine
¾ cup fresh grated Parmigiano-Reggiano cheese (½ cup for the rice, ¼ for sprinkling)
1 generous tablespoon chopped fresh rosemary
1 teaspoon of salt
HERE WE GO…
Put the porcini mushrooms in a generous cup of water for 30 minutes to an hour. Line a colander with a paper towel, and drain the water into a bowl and save. This be our porcini water. Rinse the mushrooms, pat dry with paper towels, and chop into smaller pieces. Not too small!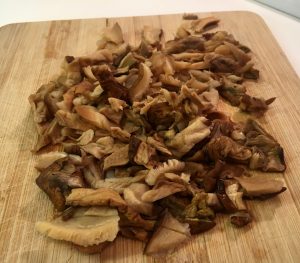 Put a large sauté pan over medium heat. Add 1 tablespoon of butter and 1 tablespoon of olive oil.
When the butter melts, add the cremini mushrooms, cook for 5 minutes, stir often.
Add the chicken, sprinkle with ½ teaspoon of salt and some fresh cracked black pepper
Cook for 4 minutes, then cook on the other side for 4 minutes.
Add the porcini mushrooms and stir for a minute or so.
Put the chicken and mushrooms on a plate.
Take the chicken stock and the cup of porcini water, put them in a medium saucepan over low heat.
Put a heavy-bottomed pot (like a Dutch oven) over medium heat and add 2 tablespoons of butter and 2 tablespoons of olive oil.
After the butter melts, add the onion, stir and cook for 5 minutes.
Add the rice and cook and stir for 3 minutes.
Add the wine and ½ teaspoon of salt, stir until wine is absorbed, 2 minutes.
Adjust the heat to medium-low, and add a ladle of the broth/porcini water (about ¾ cup) to the rice and stir slowly until the broth has absorbed.
Add another ladle and stir gently until the broth/porcini water is absorbed.
Keep adding broth, ladle by ladle, constantly stirring until the rice is al dente, firm to the bite. It should take about 20 minutes. Sometimes it takes a little longer….
Add the chicken and mushrooms and stir gently for a minute or so.
Add the rosemary and stir gently for a minute or so.
Add the Parmigiano cheese, and stir.
Dish it up!
Top with a little freshly grated Parmigiano cheese.
MANGIAMO!