I love bay scallops. They're hard to find out here in Californee. So when I saw them at a Sprouts recently, and they were $8 a pound and wild-caught, I was jumping for joy.
If you can't get excited about bay scallops, what can you get excited about?
Bay scallops are a lot smaller than sea scallops, and a whole lot cheaper. But most important? I love the taste.
I've been cooking a lot of risotto these days. It's gluten-free, and I have some friends and family who have given up gluten. I don't even know what gluten is, or why a whole bunch of people are suddenly allergic to it.
But when folks are coming over for dinner, and they start handing you the list of stuff they can't eat, it's best to just shut up and cook.
I must admit, this anti-gluten movement has made me a better cook. I'm really getting into risottos these days. It's a good dish to cook when you want to hang out in the kitchen for a while. Risotto needs constant attention, it needs to be stirred slowly and frequently.
So if you have a houseful of gluten-hating guests that you want to ignore, cook risotto and stay in the kitchen! Let those whining wimps gnaw on some kale leaves and quinoa while you make your masterpiece.
NOTES…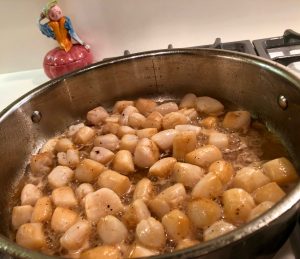 I seared the scallops first. It's hard to get all sides seared, because the scallops are so small, but try, Slim People! Don't cook them for too long, just a minute or two per side.
The frozen scallops threw off some water. Normally I would toss it out, but I cooked the mushrooms in the liquid and wow, they were delizioso.
Then I put the broth in the same pan, it was pretty deep, and could hold all 4 cups. If you don't have a deep saute pan, put the broth and the juice from the mushrooms and scallops in a medium pot, put it over low heat.
Risotto…you need to remember that it needs monitoring. Add a ladle of broth, and stir often. When the broth is absorbed, add another ladle.
It should take about 4 minutes for each ladle of broth to be absorbed. If it takes longer, turn up the heat a touch. If it takes less time, turn down the heat a bit.
You can do this. I can help.
Are you ready?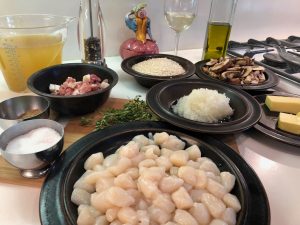 INGREDIENTS
1 pound bay scallops
Salt and pepper
½ teaspoon Turbinado or brown sugar
¼ pound diced pancetta
3 tablespoons butter
1 ½ cups sliced baby Portobello mushrooms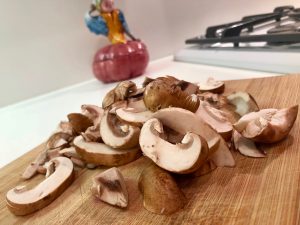 1 ½ cups arborio rice
2 tablespoons olive oil
1 cup minced sweet onion
½ cup dry white wine
4 cups chicken broth
1 teaspoon fresh chopped thyme leaves
HERE WE GO!
Put the scallops on a large platter/plate, add salt and pepper and a sprinkling of brown sugar
Put a medium sauté pan over medium-high heat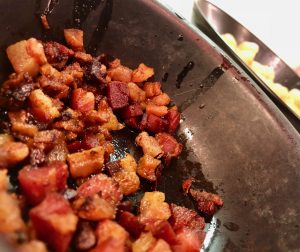 Add the pancetta, cook for 3 or 4 minutes
Stir and cook for 3 or 4 more minutes
When the pancetta has browned, remove it with a slotted spoon to a small bowl
Turn the heat to high
Add 1 tablespoon butter to the pancetta drippings (there should be a tablespoon or so in the pan, if not, add a tablespoon of olive oil)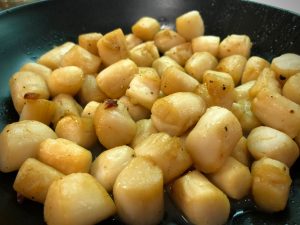 When the butter melts, add the scallops and cook for 1 or 2 minutes
Turn them over and cook for another 1 or 2 minutes, remove to a plate
Turn the heat to medium, add the mushrooms and cook for 5 minutes; stir occasionally
Remove the mushrooms with a slotted spoon to a small bowl
Add the chicken broth to the pan, reduce the heat to a simmer
Get a pot, a large pot with a heavy bottom, (like a small Dutch oven)
Put it over medium heat
Add 2 tablespoons of butter and 2 tablespoons of olive oil
When the butter melts, add the onion
Cook for 5 minutes, stir often
Add the risotto, stir and cook for 2 or 3 minutes
Add the wine, stir and cook for 2 or 3 minutes
Take a ladle of broth, add it to the risotto and stir slowly
When the broth has absorbed, maybe 3 or 4 minutes, add another ladle of broth
You might have to lower the heat if the risotto is absorbing the broth too quickly
Stir until the broth is absorbed, about 3 or 4 minutes
Keep adding ladles and stirring until absorbed
When the risotto is al dente, firm but not mushy (maybe 20 minutes total), add the scallops, the mushrooms, and the pancetta and stir gently
Add the thyme and stir gently
Dish it up!
Put some risotto on a plate, garnish with a sprig of thyme, and…
MANGIAMO!!!