I've been on a Bolognese kick lately. I wanted to make a Bolognese sauce last night, but I didn't want to wait 3 weeks while the sauce simmered.
So I simplified it, and made it mo' quicker.
It took 47 minutes, start to finish. But who's counting?
Here is my latest feat of time-saving culinary cleverosity…
INGREDIENTS
1 twenty-eight-ounce can Italian tomatoes
4 tablespoons olive oil
2 tablespoons minced garlic
Crushed red pepper to taste (I use about ½ teaspoon)
¼ cup dry white wine
1 pound hot Italian (I love hot Italians) turkey sausage meat
1 six-ounce can tomato paste
½ cup dry red wine
Small handful of fresh clean basil leaves
1 teaspoon dried oregano
Salt to taste
1 pound pappardelle or rigatoni pasta
HERE WE GO!
I put this sauce over pappardelle, and the first thing I did before I got started was to get the water boiling for the pasta.
Get a large pot, fill it with cold fresh water, put it on the highest heat you gots.
As the water heats up, let's make a sauce!
Put the can of Italian tomatoes in a large bowl, and smoosh them up with your hands, squeeze them and remove the stringy yellow center core, and any skin or other funkiness.
Put a large sauté pan over medium heat, add 3 tablespoons of olive oil.
Add the garlic and the crushed red pepper, cook and stir for a couple minutes until the garlic is PALE gold.
Add the white wine, turn the heat up to high, let it cook off for a minute or two.
Turn the heat back to medium, add the sausage meat, break it up and cook for 5 minutes.
Break it up again and cook for another 5 minutes. Give it a good stir, make sure the sausage meat has crumbled.
Add the tomato paste, stir and cook for a couple minutes.
Add the red wine, cook and stir for 5 minutes.
Turn the heat to high, add the tomatoes, when they start to boil and bubble, turn the heat to low.
Take the basil leaves, snip them with a scissors into the sauce and stir.
Add the dried oregano and stir.
Add salt to taste and stir.
Let the sauce simmer for 25 minutes, stir gently every couple of minutes.
And now for the pasta…
Ten minutes before the sauce is done, let's start the pasta.
When the water is really boiling, add a couple tablespoons of Kosher salt, and add the pasta, stir gently. Cook and stir gently until al dente, firm to the bite.
Drain the pasta, put it in a large serving bowl.
Add a tablespoon or so of olive oil, and gently mix.
Add a couple ladles of sauce to the pasta and gently stir.
Dish it up! Put some pasta on one of those gorgeous plates that Grandma has been saving for Thanksgiving. Add a little sauce on top of the pasta, and maybe grate a little fresh Parmigiano or Romano cheese on top and…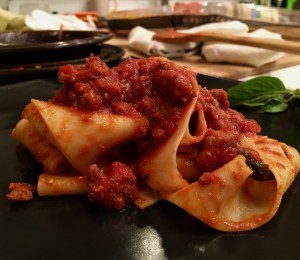 MANGIAMO!