I took a walk yesterday at the Empire Polo Club. It's real close to the Slim Shack, outside of Palm Springs, Californy.
The Empire is where they have music festivals…Coachella, StageCoach, Desert Trip.
But in January through March, they have polo matches. I thought it might be a little too hoighty-toighty for me, so I stayed away. I never wanted to go to a club that would have someone like me as a member! And then someone gave me tickets, so I went. I got comped!
And while the hoighties and toughties were sipping champagne in hats the size of small inflatable boats, there was some incredible athleticism going on in the field.
The horses are beautiful. Most of them are retired thoroughbreds, and they're amazing and graceful animals who fly at breakneck speed and stop on a dime while polo players swat at hard plastic balls, trying to score goals.
It was pretty exciting. Not many folks were paying attention, but wow, it was kinda thrilling. And yesterday they had a match that wasn't advertised. Nobody was there except the players, the announcer, and the grooms. And the horses of course.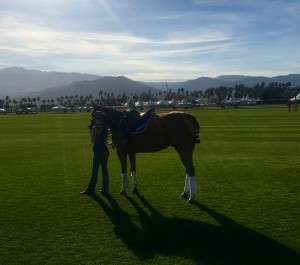 It was so wonderful, the weather was perfect, and I watched a match all by myself.
Then I went to the local grocery store. They had some beeyooteeful portobello mushrooms that the produce dude had just laid out; I bought some.
I made these last night. I stole the recipe from a really good cook.
Me.
A lot of people these days don't cook. I know folks who have been cooking for years, and they gave up. Why?
Because it's cheaper and quicker to just grab something at Trader Joe's and call it dinner. You go to Costco and get a roasted chicken for $5 that would cost you twice that in a grocery store and takes an hour to cook. At least.
So that's why most people don't cook anymore. But me? I keep on going. Why?
I live in a world where the things you create can sometimes seem like they're never finished. You work on a song, you work on a story, and you never really know when it's done. You can keep revising forever. Just ask Guns 'N Roses. They've been working on their new CD for 25 years.
But when you cook, you stand back when you're finished, and you know you're done. You can't go back and re-do or undo your meatballs.
I made a pasta dish way back when, it was my dog, Batu's, first birthday, and I made something special.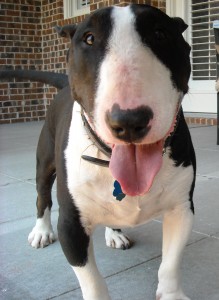 For me, not him. He got his regular dry food that day. Dogs must get sick of eating the same crap day after day their whole lives, right? Dry or canned or whatever…that can't be fun.
The pasta dish I created (it's in the Slim Man Cooks cookbook) called for portobello mushrooms and Gorgonzola cheese and walnuts. And I thought maybe I'd try that dish without the pasta, just use the sauce as a stuffing for the portobello caps.
So I simplified, modified, and came up with a certified, bona fide smash hit! It's been a while since I've made something this good. The last few dishes I've experimented with haven't turned out so great, and it was nice to have a Big Weiner!
NOTES:
I peeled the skin off the tops of the portobellos. Mushrooms grow in some dirty stuff. So I peeled off the skin from the top of the cap. There might be a little skin left in the very middle of the cap, the size of a nickel. I left it as it was.
Then I pulled off the stem and threw it away. You can save the stems if you want to make your own vegetable broth, but I ain't there yet. You start making your own vegetable broth and pretty soon you're making your own microwave oven.
I rinsed the caps off. Some people say not to do this. They're numbskulls.
Mushrooms are dirty. I'm not brushing them off with a paper towel or dusting them off with a brush. I gave them a rinse in some cold water, and patted them dry (gently) with paper towels.
When you bake these caps, if any liquid pools in the center, tip it off into the baking dish. You don't want no soggy 'shrooms. Keep a lookout for this.
I think that's it. These were really really good. Let me step you through what I done did…
INGREDIENTS
½ cup Gorgonzola cheese (I used creamy, crumbled Gorgonzola, or you can crumble it yourself)
¼ cup panko breadcrumbs (plain)
3 tablespoons chopped walnuts (I chopped them by hand…well I did use a knife)
3 tablespoons chopped fresh Italian parsley
¼ cup olive oil
Salt and fresh cracked black pepper
4 portobello mushrooms caps
Plus some olive oil for drizzling
HERE WE GO!
Set your oven to 425 degrees. As it heats up…
Take the Gorgonzola, the breadcrumbs, the parsley, the walnuts, and the olive oil and put them in a bowl. No need to add salt and pepper.
Mix everything with a fork. You want it chunky and lumpy, not smoothy-smoov.
Take the mushrooms caps, put them in a glass baking dish, cup side up.
Drizzle with A LITTLE olive oil, rub it in, and add salt and fresh cracked black pepper.
Turn them over, cup-side down, and drizzle the tops with A LITTLE olive oil, rub it in, and add salt and pepper.
When the oven comes to temperature, turn the mushroom caps cup-side-up, and put them on the middle rack.
Bake for 20 minutes.
Take them out of the oven, add equal amounts of the Gorgonzola mixture to each cap. Make an even layer—you don't want a mountain in the middle!
Put them back in the oven for 5 minutes.
Then stick them under the broiler for a minute OR LESS until golden brown. KEEP YOUR EYES ON THESE GUYS! Don't burn the tops.
That's it. When the tops are golden brown, take them out of the oven, plate 'em up, add a sprig of parsley…make 'em look nice!
Serve with some warm, baked bread to your warm, baked friends.
MANGIAMO!!!