I've said it once; I'll say it a million times…Lady People love salmon. I once went out with a woman who ate so much salmon she started to grow gills on the side of her neck.
I can't tell you how many times I hear women in restaurants ordering salmon. Grilled salmon. With a salad. Or on a salad. I know that salmon is good for you. I know that women eat it so much that they're getting really good at swimming upstream.
So the real challenge when cooking salmon for a bundle of femininity is to find new, creative, and healthy recipes. I've baked salmon, broiled salmon, sautéed salmon. I've blackened salmon, made salmon cakes, made pasta with salmon. I've made salmon salad, the way you'd make a tuna salad.
I've made frittatas with salmon.…but I never poached a salmon.
Poaching never appealed to me. I don't even like the word. How did that happen, that a word can have two really different meanings? Poaching is when you cook something in water. And poaching is also when you hunt endangered animals.
What?
Just for the record, when I talk about poaching, I'm talking about cooking in water. Not stalking endangered species.
I didn't understand poaching. How is anything gonna get any flavor by sitting in warm water? Where's the juiciness in that? Why bother?
I'll tell you why bother. When a woman asks you to cook poached salmon, that's why you bother.
One day a Lady People asked me to make poached salmon for her dad for his birthday. How could I refuse? So I looked up every recipe I could find. And most of them didn't tickle my fancy. But I had to start somewhere…
So I thought I'd give poached salmon a Slim Twist. Instead of using water, I tried broth. I tried chicken broth, and it didn't work. I tried just water and it was…bland. Then I added some white wine to the water, and it was mo' better.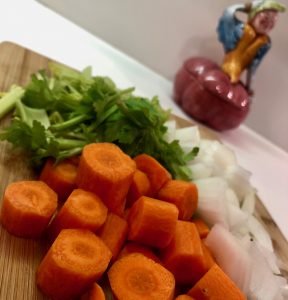 Then I added the Three Amigos, the trio with brio, carrots, celery, and onion. I chopped 'em up coarse, and added some peppercorns, whole. The broth was much better.
I once used seafood stock instead of water. It worked really well. But seafood stock is hard to find. And it gets away from the original intention of poaching, which is to figure out how to cook something in H2O and have it taste good.
My uncle Oscar used to poach salmon. He was an excellent cook, but he had a knack for turning something simple into something not simple. He used a whole salmon, with the head left on. Which was a turn-off for most of the American babes, and for me as well. There's something about having a fish eye staring up at you when you're ready to dig in that makes it…less enjoyable.
He had a special fish-shaped poaching pan that was harder to assemble than furniture from IKEA. Oscar always asked me to put it together for him. Building a plane takes less time.
Using a whole salmon also requires complex surgery afterwards to remove bones and fins and stuff. Oscar was a doctor, a surgeon. He was good with a knife. He could give you an emergency appendectomy with a paring knife.
But I didn't want to go through all that trouble. I needed to try something a bit less complicated. So when I went shopping for salmon, I was looking for filets. I found some Scottish salmon on sale for about $20 a pound.
That's the sale price?!?
Slim People, the fish looked amazingly good. I took a schniff; it smelled like the sea. I bought a pound.
When I got back to the Slim Shack, I cut it in three pieces.
I poached it in water, wine, and the Three Amigos. When it was done, I knew it would need a sauce to go with it.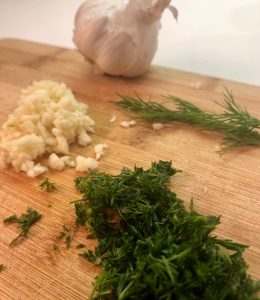 Why not whip up a little aioli? Aioli is a combination of the Italian words "aglio" and "olio". Aglio means garlic, and olio means, well, oil. Not motor oil. Olive oil.
So I made an aioli sauce, and added a little mustard and some mayo. Oscar used to make his own mayonnaise, but I ain't going through all that. You start making your own mayo and pretty soon you're making your own refrigerator.
I used store-bought mayo, mustard, lemon juice, olive oil, minced garlic, and fresh dill. She was a-so nice!
The poached salmon was a big hit at the birthday party. Nobody got sick and nobody died so I'm calling it a success.
So here ya go, Slim Men and Women. Poached Salmon with aioli sauce…on the side, of course. The Women Folk like their dressings on the side, in case you haven't noticed.
NOTES:
I used a pot to cook the salmon, the same one I use to make soup and stews.
The salmon has to be just covered in water and wine. If it's not, keep adding equal amounts of water and wine until it is. You don't want the salmon submerged, just barely covered.
When the salmon has cooked, you can put it in the fridg to cool down, just a few minutes. I don't like salmon when it's cold; room temp is best. Unless your room is in an igloo.
The aioli sauce can be done with capers instead of dill.
And the aioli recipe below is more than enough for one pound of salmon. Aioli sauce is also good on lots of stuff, like roasted potatoes or vegetables. Just dab a little on when they're done, the way they do in Spain with patatas bravas. Viva España!
You can also use it to wax your car.
INGREDIENTS
FOR THE SALMON:
3 salmon filets (I used Scottish salmon, a pound)
4 cups water (or seafood stock)
1 cup dry white wine (maybe more)
I cup each, coarsely chopped carrots, celery, and onions
1 tablespoon whole peppercorns
Salt and freshly cracked black pepper
FOR THE AIOLI
4 tablespoons mayonnaise
1 tablespoon Dijon or whole grain mustard
1 tablespoon fresh lemon juice (Meyer lemons are the best!)
1 tablespoon olive oil
2 teaspoons minced garlic (minced fine!)
1 tablespoon chopped fresh dill
WE GOT OPTIONS…If you'd rather have capers, substitute a tablespoon or two of drained capers for the dill.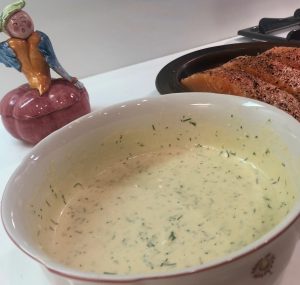 Let's make our aioli sauce!
Add all the ingredients into a small bowl, and whisk, whisk, whisk it up.
Put it in the fridg to chill.
Let's poach some salmon!
Salt and pepper the tops of the salmon.
Put the water and wine in a large pot, big enough to hold the fish.
Add the carrots, celery, and onions.
Add the peppercorns.
Bring to a boil.
Reduce heat to medium.
Place the salmon filets in the liquid.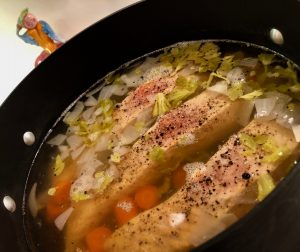 If the salmon is not covered, add equal amounts of water and wine until it just barely is.
Cook for about 10 minutes (or more, depending on the thickness of the salmon).
When the internal temperature of the salmon reaches 115 degrees, she's a-done!
Gently remove it to a platter, and put it in the fridg to cool, or put it on the counter to come to room temperature. A couple minutes, either way.
AND NOW…
Dish it up!
Put a piece of salmon on a plate, drizzle some aioli sauce on top (ON THE SIDE FOR THE LADY PEOPLE!) garnish with a sprig of fresh dill and…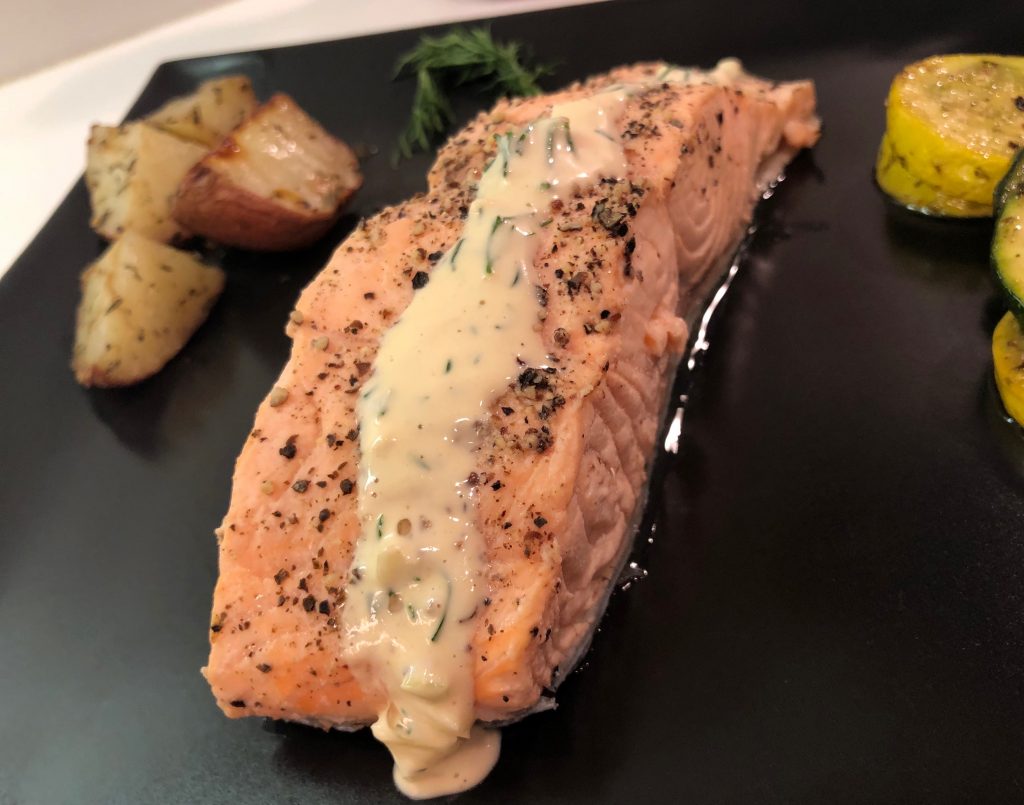 MANGIAMO!!!!!!!!!!