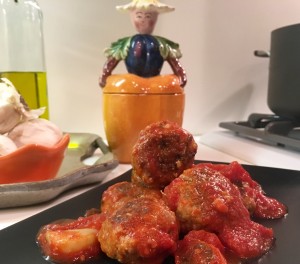 One of my new year's resolutions for 2017 is to get out more often.
You Slim Folks may find this hard to believe but I don't go out very much at all.
But when my friend, The Wiz, called on New Year's Day and asked me to come over, I said yes. It's time for a change, SlimNation!
I played a party for the Wiz about 15 years ago. It was a big birthday fiesta, and he brought the whole Slim Man Band from the east coast, just to play for his B-Day.
The Wiz and I have become good friends. How good? Well, Wiz is a chemist. Seriously. He has a company—one of many—called Lift Off that features stain removers.
One night, I flew from L.A. back to Baltimore. I had a bottle of olive oil—wrapped tight—in my black leather satchel that my Mom had given me for Christmas years ago. I loved the satchel.
When I opened it up, the olive oil spilled all over the bag and my clothes. It looked like everything was ruined. So I called the Wiz in the middle of the night.
Well, Wiz told me what to use, in what combination, and I did as I was told. I left the bag outside overnight, as instructed, and in the morning there was no stain. Like magic, the olive oil had disappeared. I still use that black leather bag. The Wiz saved the day.
So when he asked me to come over New Year's Day, 2017, I accepted the invite. He lives nearby the Slim Shack in Palm Springs, CA. I took some turkey meatballs I had made the day before.
Normal meatballs are made of pork and veal and beef. But Selma Krapoff, Head of Slim Merch, gave up red meat for New Year's. So I made meatballs using half turkey and half spicy Italian turkey sausage. They were exquisite; Selma loved them.
But I needed a second opinion. So I took some turkey balls over to The Mad Wizard.
He loved them. As a matter of fact, he knows of a company in Fullerton, CA, that bottles food products. The Wiz told me that I should start getting the Slim Sauces to market—the pesto, the Bolognese, the turkey meatballs.
We'll see what happens, Slim People. I'll keep you posted.
And let's all get out a little more this year. There's a big, wide, beautiful world out there.
Italian Turkey Meatballs
Selma Krapoff, our head of Merch here at Slim's Shady Trailer Park, gave up red meat for New Year's. So when I wanted to make some meatballs, I had to figure out a way without using the traditional pork, veal, and beef.
I tried salmon. Not good. I tried turkey, and it was better, but needed a little something. I mixed half turkey and half spicy Italian turkey sausage meat, and bang. It was a big weiner.
Selma loves these turkey balls. They're a bit spicy, so you don't need to add any pepper. If you want less spicy, use mild or sweet Italian turkey sausage.
You can serve them plain; I put mine in my homemade tomato sauce—it takes about 25 minutes to make, I used about 6 cups.
This recipe yielded about 60 meatballs.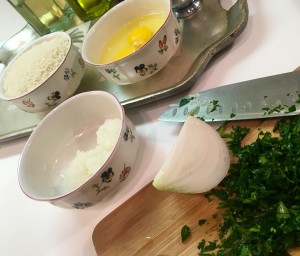 INGREDIENTS
6 cups tomato sauce (my quick and incredible recipe is in the cookbook)
1 ½ pounds ground turkey
1 ½ pounds spicy Italian turkey sausage meat
3 eggs
3 tablespoons onion, minced fine
3 tablespoons Italian flat-leaf parsley, chopped fine
1 ½ cups panko breadcrumbs (I used plain)
1 cup freshly grated Parmigiano-Reggiano cheese
Salt (I used 1 teaspoon Kosher salt)
A couple tablespoons of olive oil
HERE GOES…
Heat your tomato sauce in a large pot. When it starts to bubble, lower to a simmer.
Get a large bowl. Put in the turkey, all 3 pounds.
Add the eggs, the onion, the parsley, the breadcrumbs, the cheese, and the salt.
Mix 'em up! Dig in with your mitts, and mix up all that stuff until it's well-blended.
Roll your balls! Grab a little mixture, about the size of a golf ball. Roll it in between your palms about 10 times, and put it on a large platter.
Do this with all your meaty mixture.
Get a large sauté pan. Put the heat on medium. Add a tablespoon of olive oil, swirl it around. Wipe out the excess with a paper towel. Let the pan heat for 2 minutes.
Grab your balls. Then grab your meatballs. Notice the difference.
Put the meatballs in the pan. Cook for 4 minutes, or until golden brown on the underside.
Flip 'em over, and brown on the other side for 4 minutes, or until golden brown.
It shouldn't take more than 5 minutes per side. If the bottoms are too brown after 4 or 5 minutes, the heat is too high. If they're not brown enough after 4 or 5 minutes, the heat is too low. You're smart. We got this.
Slice one open. Take a good look. It should be juicy and lovely.
Put your balls in the sauce. Sauté the next batch but before you do…
Let the pan cool for a minute. Add a little olive oil. Take a paper towel, wipe out the bottom.
Put the pan on medium heat. Wipe out the excess olive oil with a paper towel, so the brown bits don't stick to the bottoms of your fresh balls.
Cook the rest of your meatballs, and put them in the sauce.
That's it! Dish 'em up, make 'em look nice with a sprig of fresh basil, maybe some crusty Italian bread and…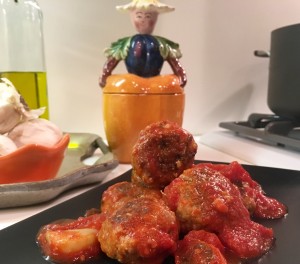 MANGIAMO!!!