How do you know if someone is vegan?
Don't worry, they'll tell you!
Towards the end of his life, my dad ate the same thing almost every day. He'd start off with some biscotti and a cup of tea, then a sandwich for lunch, then pasta with tomato sauce for dinner.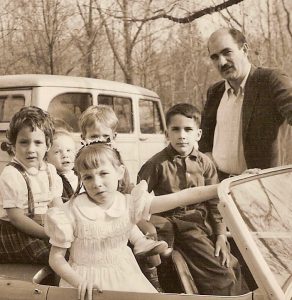 This from a guy who used to cook eel and once put a woodchuck he'd shot in a tomato sauce. (Both were horrible.)
I don't want to eat the same thing every day. I don't want to do the same stuff every day. I need variety. I want to eat new things, do new things, go to new places.
I try to keep challenging myself. Emphasis on the word "try"…
When I was thinking of making a salad the other night at Slim's Shady Trailer Park, I didn't want to use the same old crap, lettuce, spinach, arugula. I certainly didn't want to make a kale salad.
Kale is OK. But I've seen more appetizing stuff pulled out of a lawn mower bag.
I wanted to do something different, but good different.
So I started thinking about chick peas. In Italy, they call them ceci, in Mexico they call them garbanzos and as it turns out, they're pretty good for you.
They're a good source of protein. They're good for heart health and blood pressure. And they're also supposed to be good for irritable bowel syndrome. IBS.
I was hoping they might be good for IGS…
Irritable Girlfriend Syndrome.
I like chick peas. You see them a lot in Middle Eastern cuisine, and also in Mediterranean diets.
I was thinking of maybe making a chick pea pasta sauce, or maybe a chick pea soup, but then I thought…
It's 109 degrees outside the Slim Shack here in Palm Springs, Californ-eye-yay. Why not make something cool? Like a salad! Plus, it's California. Salads are the state meal. As soon as you cross the border, you're required to eat one.
So I decided to make a chick pea salad.
Ceci…most serious food people buy them when they're dried, and soak them in water overnight, and then boil them for an hour, and then drain them, and then…
I don't have time for all that these days. I went to Ralph's and bought a can of Bush's garbanzo beans and when I opened them, they looked good and smelled good and were molto delizioso. Seriously.
I drained them and put them in a bowl. Then, I thought I'd add some other salad-type stuff. I wanted the ingredients to be about the same size as the ceci, but I wanted different colors and textures and flavors.
So I put together some stuff that I thought would go well together, but also have a bit of a contrast in texture and flavor and color.
Then I made a dressing that I thought would tie the whole thing together nicely.
And?
The first time I made it, it was excellent. Guess I got lucky. It was different, yes, but good different.
Lick my spoon, she was a-so nice!
Sometimes it's OK to be lucky, Slim People.
And I was lucky I wrote this down as I was making it!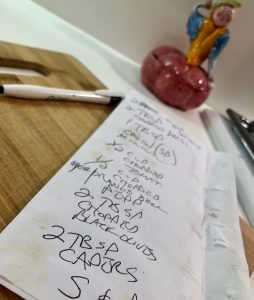 NOTES:
I'm pretty sure this dish is vegan. None of the ingredients had a mother, so let's go with vegan.
I drained the chick peas. They weren't covered in a lot of goo, so I did not rinse them off. But…if they are covered in glop, give them a quick rinse with cool water.
I used Meyer lemon for the lemon juice. I love Meyer lemons, they're sweeter than regular lemons. If you can't find Meyer lemons, use a soft, ripe lemon.
I used Roma tomatoes, but if you can't find them, you can use cherry or grape tomatoes. Just cut them in half and squeeze out the seeds.
Try and chop up the tomatoes and bell pepper so the pieces are about the same size as the chick peas.
INGREDIENTS
The Salad
1 can chick peas (15 ounces), drained
½ cup chopped ripe Roma tomatoes (seeded, cored)
½ cup chopped yellow bell pepper (seeded, cored)
2 tablespoons minced Spanish (red) onion
2 tablespoons chopped Italian parsley
2 tablespoons chopped black olives (no pits)
2 tablespoons capers (drained)
¼ cup (small handful) of basil leaves, clean and trimmed, for snipping
S&P
The Dressing
3 tablespoons olive oil
1 tablespoon white balsamic vinegar
1 tablespoon freshly squeezed Meyer lemon juice (or any ripe, soft lemon) no seeds!
1 clove smashed, peeled, garlic
1 teaspoon Dijon mustard
1 teaspoon agave syrup (or honey, or good maple syrup)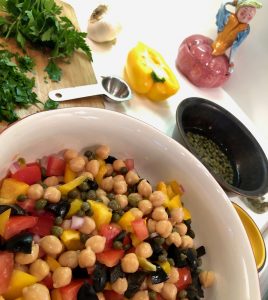 Here We Go!
For the salad:
Put the salad ingredients (except the basil) in a bowl.
Snip the basil on top of the other ingredients and mix gently.
For the dressing:
Put all the dressing ingredients in a jar with a lid.
Put the lid on it and shake it, baby, shake it.
That's it!
Let the dressing sit for a few minutes. Let the salad mingle for a few moments. Have a relaxing beverage. Meditate.
And then…put the dressing on the chick pea salad. You can remove the garlic clove from the dressing first, if you prefer.
Mix the salad gently and judiciously, Slim People.
Add Kosher (Mazel Tov!) salt and freshly cracked black pepper to taste.
Gently mix it again.
Serve with a hunk of warm crusty bread to your hunka hunka burnin' love. If they are irritable, they won't be after this dish. She's a-delish!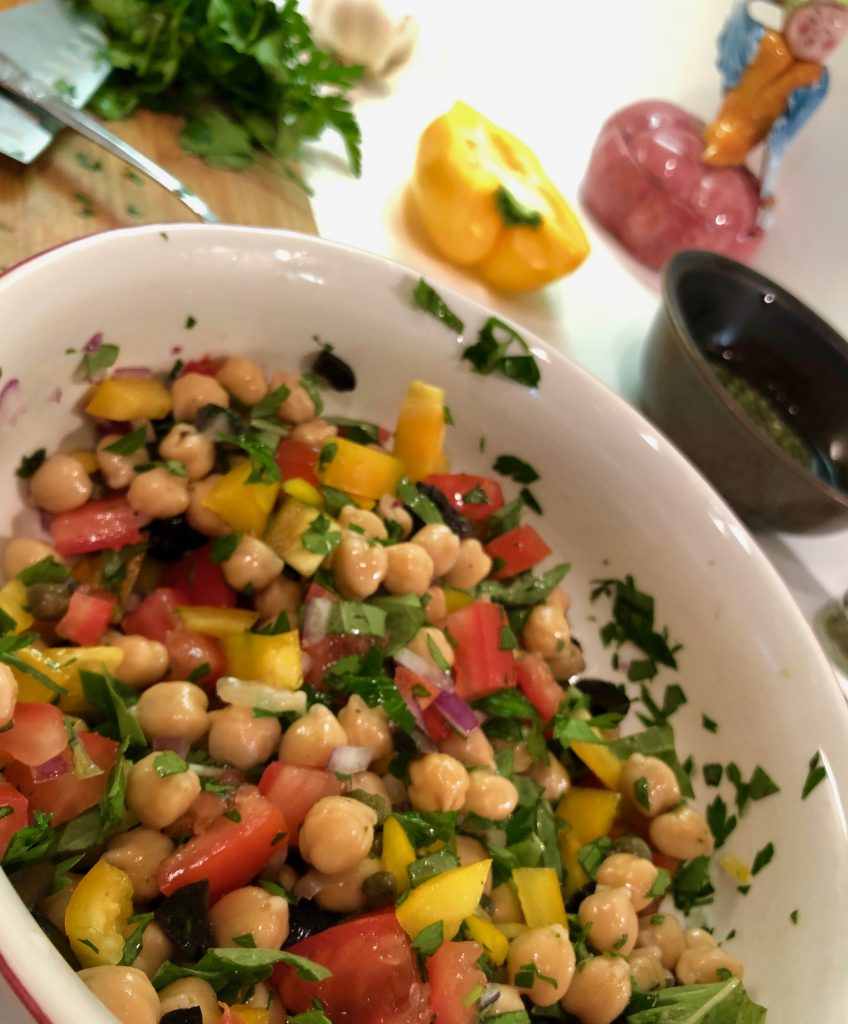 MANGIAMO!!!