CACIO E PEPE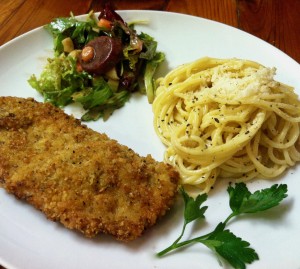 The name of this dish sounds like an Italian cartoon show. But it's a quick and easy pasta dish with cheese and butter and black pepper. That's it.
The first time I had this dish was in New York City. It was at a restaurant on 19th Street in Manhattan called Bocca (it means "mouth" in Italian). It's a great restaurant, not expensive or stuffy, and a lot of Italians eat there, which is usually a pretty good sign.
The waiter dude prepared the dish tableside. He brought over a half-wheel of Pecorino Romano cheese and placed it on a serving table. The cheese wheel was cut in half—horizontally—and the center was scooped out, so it looked like a huge bowl. He poured some liquor in the cheese bowl, just a splash, and set it on fire.
When the flames died down, and the fire department left, he put some butter in the bottom. The cheese was soft from the burning booze, and the butter got melty from the heat of the cheese.
Then he tossed freshly cooked pasta into the wheel/bowl. He mixed it around, grated some black pepper on top and…
Pronto! That was it. Quick, easy, delicious.
My friend Patrick Clifford is a pretty amazing guy. He's a fabled music biz exec, and he's signed everyone from the Romantics , to Etta James, to the Neville Brothers to Blues Traveler. He's had a long and illustrious career as a legendary music dude.
Patrick's favorite thing I cook is cacio e pepe. It's a Roman dish, and it's so simple and quick. Lots of Roman recipes are like that.
If you have kids, this is one of the best dishes in the world to make. And if you want a little side dish for your main course, like a lamb chop or chicken Milanese, this is the dish.
But if you're making it for Patrick Clifford, cacio e pepe is the main event.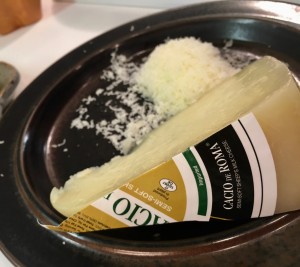 Cacio de Roma is a specific cheese. Cacio means sheep in Italian, so let's take a wild guess and say that this is a Roman cheese made from sheep's milk. A few days ago, I called around and found a grocery store that had it, I bought a pound, and ate some on the way home.
It was good. It didn't blow me away. It's a little creamier and less salty than Pecorino Romano, which is what most recipes call for. But it didn't have the same zing.
I tried the Cacio de Roma in the recipe. It was good, worth a try, but I like the Pecorino Romano better.
I have also used Parmigiano-Reggiano cheese, it's a little sweeter, but really good.
No matter what cheese you use, please freshly-grated cheese, will ya Slim People?
When you grate in advance, the cheese dries out, and it ruins the recipe. So grate it fresh!
And that pre-grated cheese in a box? That stuff ain't no good, especially when cheese is the main ingredient, the star of the show. Use the goodest cheese you can find, and grate it fresh!
I usually cook just a half-pound of pasta.
From start to finish this dish takes less than a half-hour.
Here it is…in real time, step-by-step.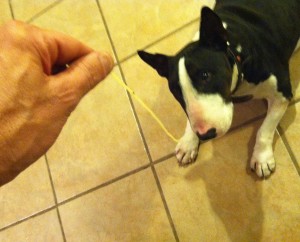 Ingredients
3 or 4 tablespoons of Kosher salt
Half a pound of pasta, I use spaghetti
1 cup freshly-grated cheese (Romano or Parmigiano or Cacio) plus ¼ cup for sprinkling!
4 tablespoons unsalted butter
Fresh cracked black pepper
HERE WE GO…
Take the butter out of the fridg. Put it in a big serving bowl, large enough to hold the pasta.
Get a large pot, fill it with cold water, and put it on the highest heat you got.
When the water comes to a full boil, add the salt and then add the pasta. Keep the heat on high!
When the pasta is al dente, drain it and add it to the serving bowl—put it right on top of the butter, which should be a little soft by now.
Mick 'em up.
Add the cheese. Mick 'em up.
Grind a generous amount of black pepper over the pasta. Mick 'em up.
Plate it up—sprinkle a little grated cheese on top, and add a little freshly-ground black pepper if you like and…
MANGIAMO!