Before we get started, a few things to keep in mind…
Before you start cooking, you'll need to drain the scallops of their juice. I normally don't do this, but searing won't work when there's a lot of liquid. After you drain them, gently pat them dry with a paper towel.
Searing scallops is quick, 90 seconds per side.
After you've seared your scallops, if there's a lot of scallop juice/broth in the bottom of the pan, here be a couple options…
If I'm making puff pastry, calzone, or bruschetta, I drain it all off. The juice/broth will just make those things soggy.
If I'm putting this over pasta, I don't drain it all off. I save a little broth for the sauce. I like it saucey. I'm the Boss with the Sauce!
Also, I use sun-dried tomatoes in oil, chopped into small pieces. Big hunks of tomatoes won't work with these molto delicato scallops.
I use Slim Man's home-made pesto sauce which is probably the best recipe for pesto that has ever been created since the beginning of time.
Or at least the last few weeks.
I love this sauce! I have used it over pasta. I've put it in puff pastry. I've wrapped these scallops in very thin pizza dough and made baked mini calzone.
It's one of my favorite sauces; quick, easy, simple, not expensive.
Unless you use butter that costs $18 a pound.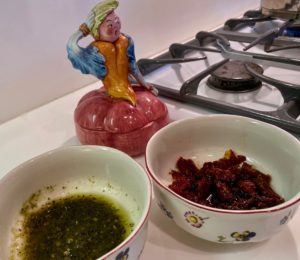 INGREDIENTS
1 pound of bay scallops, drained of excess liquid
Salt (I use Morton's Kosher), freshly cracked black pepper, turbinado or brown sugar (to taste)
1 tablespoon butter
1 tablespoon olive oil
2 tablespoons pesto sauce (Slim's pesto is the besto!)
2 tablespoons chopped sun-dried tomatoes (the ones packed in oil)
HERE WE GO!
Put the scallops on a large platter and sprinkle with salt, pepper, and turbinado sugar.
Put the butter and olive oil in a 12-inch sauté pan over high heat.
When the butter starts to bubble, add the scallops in a single layer.
Cook for 90 seconds.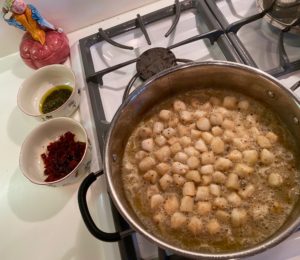 Flip 'em over, give 'em a stir. Try and get the other side seared. Good luck!
Cook for another 90 seconds.
Drain off any excess liquid.
Add the pesto and the sun-dried tomatoes, give it a stir.
Remove from heat.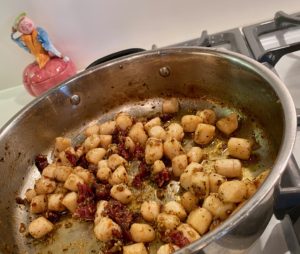 That's it! Serve it any way you want. Pasta, rice, bruschetta, calzone, puff pastry, and…
MANGIAMO!