Selma Krapoff, our Head of Merch here at Slim's Shady Trailer Park is a woman who loves salmon. She eats more salmon than a grizzly bear during spawning season.
I really started getting concerned when she went down to the river in back of the Slim Shack and started swimming upstream like Michael Phelps.
When she asks me to come up with a new salmon recipe, I try. I try, Slim People!
I've done seared salmon, baked salmon, grilled salmon, roasted salmon, poached salmon, broiled salmon, sautéed salmon, jerk salmon, fried salmon…salmon cakes, salmon balls, salmon steaks,
salmon frittatas, salmon burgers…
I didn't think I had another salmon dish in me.
But the other day I woke up with a craving for pistachios. I don't know why, I just woke up thinking about pistachios.
Well, it's better than waking up and thinking about robbing a convenience store. Which I might have to do unless our PR Person Kenny B. Morpoplar gets me some more gigs soon.
I started thinking about what I could cook with pistachio nuts. And then it hit me…I could satisfy two people with one dish! Why not make salmon with a pistachio crust? Salmon for Selma and Nuts for me!
Selma Krapoff yanked a piece of salmon out of the freezer. I made the pistachio crust, smeared it on top, and stuck it in the oven.
I think Selma might have forgotten to check the expiration date on the salmon, because it tasted like it was from World War II. It was so bad even the goats out back wouldn't eat it. It was inedible. I had to toss it, and you know I hate to waste food.
The pistachio crust was good, though. Not quite there, but good.
The next day, I had to try again. I couldn't let it go, Slim People! I needed to get it right.
My dad used to tell me, "If you're not going to do it right, then don't do anything at all."
Which is why I didn't do anything at all for the first half of my life.
But I was determined to get this salmon with pistachio crust done right.
I went to a place called Jensen's out here in Palm Springs, CA. They had some beautiful salmon, thick and pink and luscious looking. I bought a 1-pound filet, $20. I made the pistachio crust and put it on the salmon and baked it in the oven and…
Wow. It was really good. But in my relentless pursuit of mediocrity, I knew I could do mo' better. It was missing something…
So last night I got another piece of salmon, same size and weight.
I made another batch of crusty stuff. But this time I added a teaspoon of honey to the mix. Honey and mustard go together like cheese and crackers! Like peanut butter and jelly. Like Frank and Dino.
Slim People! Call me crazy, many have, but this salmon dish was worth fighting grizzlies for! She was a-so nice!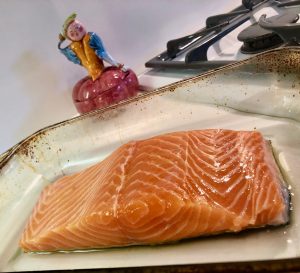 NOTES:
I used a one-pound piece salmon filet, about 1 ½ thick. It was Scottish salmon; it was farm-raised, but they roam free in the sea, in an immense area bordered by a net fence. They live happily and eat and thrive in their natural habitat, which is more than I can say for myself.
The salmon was delizioso.
If the salmon has the skin on, that's OK. Make sure you bake this skin-side down. Regardless.
I used salted pistachios, no shell. Also, you can switch your nuts around. Macadamia nuts are delizioso in this dish.
I stuck my nuts in a food processor and chopped them up that way. You could also do it with a knife. Make sure you chop the nuts fine enough so Aunt Elma doesn't bust a crown when she digs in. And you don't want them too fine, either. You don't want your nuts to turn to dust.
I love Meyer lemons, that's what I used in this dish. If you can't find them, use a soft, ripe regular lemon.
You can use this pistachio crust on any firm thick fish like halibut. You could also put it on cod or mahi-mahi.
Or use it as a face mask in the evening before you go to bed.
INGREDIENTS
1-pound salmon filet
1 tablespoon olive oil
Salt and pepper
For the crust:
¼ cup pistachio nuts, chopped fine
¼ cup panko
1 tablespoon Meyer lemon juice (or a real ripe regular lemon)
1 tablespoon melted butter
1 teaspoon Dijon mustard
1 teaspoon honey
HERE WE GO!
Preheat the oven to 375 degrees.
Put the olive oil in a baking dish, I used a small glass one.
Put the salmon in the dish, give it a spin in the olive oil, turn it over, give it a spin. Make sure both sides get coated in a light layer of olive oil.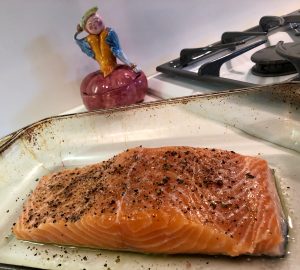 Sprinkle a little salt (I use Kosher, Mazel Tov!) and some freshly cracked black pepper on top.
Put the panko, pistachios, lemon juice, butter, mustard and honey in a small bowl and mix with a fork until she's a-so nice.
Put a little bit of this stuff on top of the salmon and gently smear a thin layer around with your fingers.
Put a little more crusty stuff on top of the salmon and smear around gently until the entire top surface of the salmon is LIGHTLY coated.
Put the salmon in the oven and bake until almost done; it took my 1 ½-inch piece of salmon about 14 minutes.
Turn on the broiler and broil the salmon for ONE MINUTE OR SO! Don't burn your nuts!
Take it out of the oven, make sure it's done the way you like, and serve it with some broccolini and some roasted potatoes, and…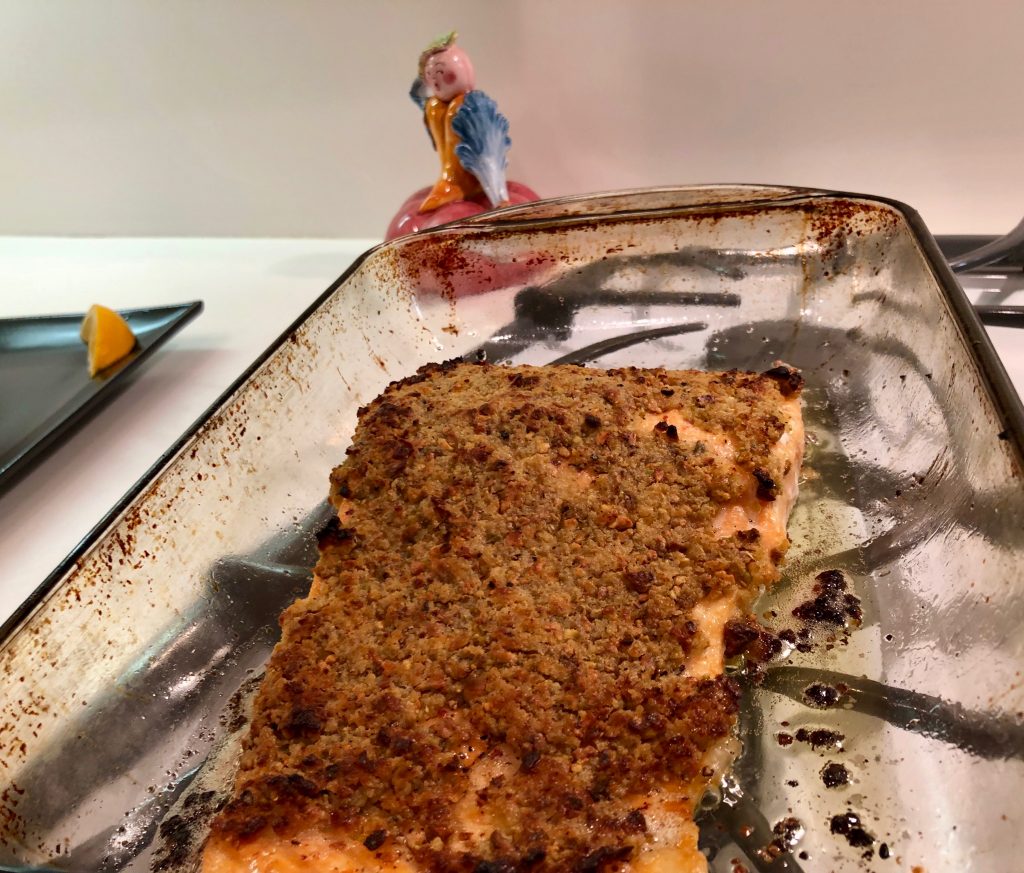 MANGIAMO!