Slim People, here is my latest, greatest culinary creation…
I finally came up with a new salmon dish. I marinated the salmon in Nutella. I call it…
Salmonella.
How often do I cook salmon? I cook it so often that I'm running out of salmon jokes.
Trying to figure out new ways to cook salmon is a challenge. I love eating salmon. I also love not eating salmon.
So why all the salmon dishes, you ask?
Women.
I make a lot of salmon because a lot of women want salmon and that's all right with me. It's not that I'm afraid of denying women what they want. It just saves me a lot of time and aggravation.
Plus, a lot of times, these kinds of culinary challenges make me a better cook. And that's a good thing. For instance…
I had a meeting with a guy in Palm Springs, CA, a guy named Jimi Fitz. He's a musician, DJ, promoter, and we had a lunch meeting at my favorite pizza place out here, a place called Pizzavino. I had an arugula and prosciutto pizza, which was delicious.
Fitz wants me to do an Italian night at a club out here, sing some Sinatra, make a few meatballs. Why not? Music and meatballs? I can do that!
After the meeting, I went to a food store nearby and they had New Zealand salmon, called Ora. It's farm-raised, but in massive pens out in the sea, their natural habitat. New Zealand salmon got a "green" rating from the Seafood Hatchery Industry Tribunal.
You know the acronym.
But the bottom line is…how the hell does it taste? It looked great. It was pink and fatty and smelled like the sea, which is the way I like my salmon. And my women.
Just kidding! Boy, I'm gonna get in trouble for that joke!
So…what to do with this Ora salmon?
Selma Krapoff, our Head of Merch here at Slim's Shady Trailer Park, doesn't want anything that's fried or sautéed these days. And whatever Selma wants, Selma gets! She scares me…
So I decided to bake the salmon in foil, for two reasons…one, it wasn't fried or sautéed. And two, there wouldn't be any pots or pans to clean up!
So I chopped up some tomatoes, smashed some garlic, snipped some basil, added a little salt and pepper and oregano, put it on top of the salmon and wrapped it up in foil like a hot dog from a stadium vendor, and stuck it in the oven.
What a treat. It really was delizioso, Slim People. And healthy and quick and easy and no cleaning up afterwards.
The salmon was $20 bucks a pound, which seems expensive to me.
Maybe I should look into salmon farming. Do you have to wear overalls?
NOTES:
A pound of salmon will feed about 3 people, as long as those people haven't been stranded on a deserted island without food for the past 3 years.
The salmon I got was about an inch and a half thick. It took about 20 minutes to bake. But some ovens run hotter than others, so take a peek at the middle of the salmon before you serve it to your shipwrecked mates to make sure it's done.
I added a squeeze of fresh Meyer lemon on top of the salmon before I served it.
She was a-so nice!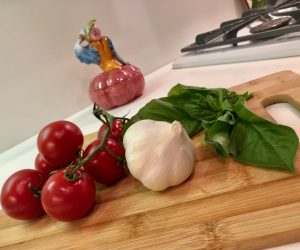 INGREDIENTS
1 pound salmon filet
2 tablespoons olive oil
Salt (I use Kosher) and freshly cracked pepper
½ cup chopped tomatoes (I used Campari/cherry)
4 cloves peeled, smashed garlic
2 tablespoons snipped fresh basil
½ teaspoon dried oregano
HERE WE GO!
Preheat your oven to 400 degrees
Put the salmon on a large piece of aluminum foil.
Add 1 tablespoon of olive oil.
Rub it on both sides.
Add some salt and pepper to the top of the salmon.
Put the tomatoes, garlic, basil, and oregano in a small bowl.
Add some salt and pepper.
Add 1 tablespoon of olive oil.
Mix gently. Gently!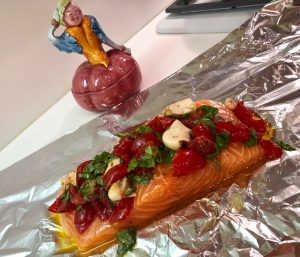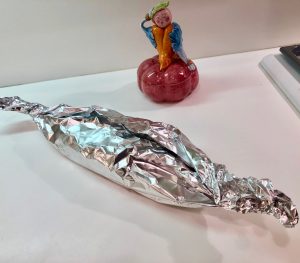 Put the tomato mixture on top of the salmon, spread evenly.
Fold the foil around the salmon, twist the ends closed.
Place it on a baking pan, put it in the oven.
Bake for 20 minutes or until done.
Unwrap the salmon, add a squeeze of fresh lemon, and…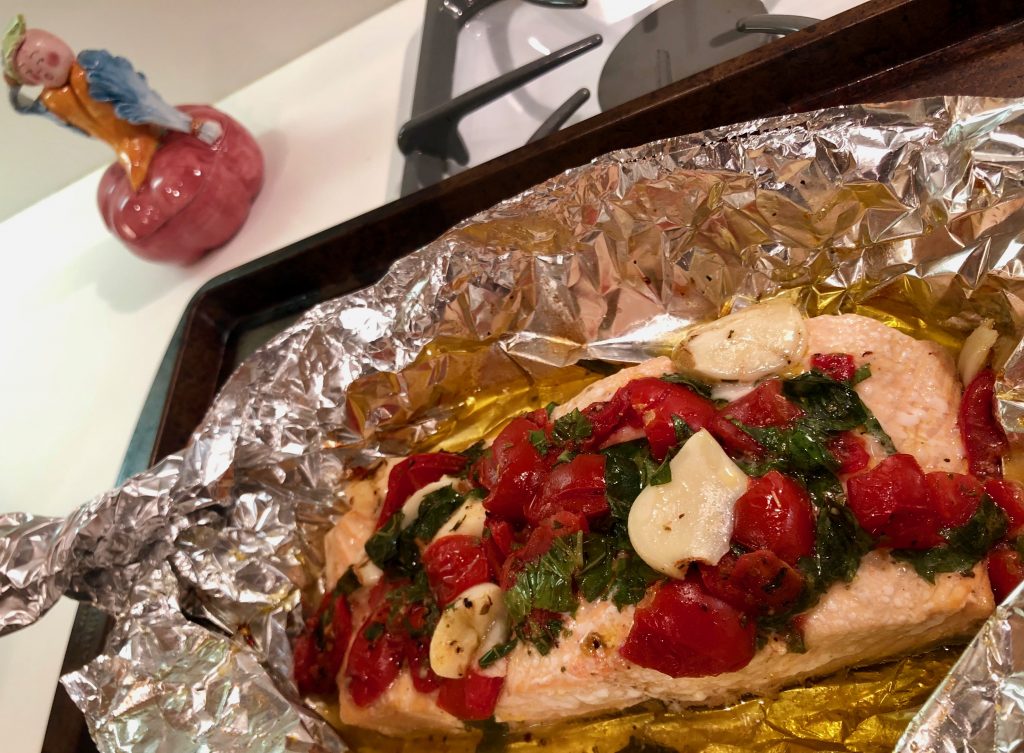 MANGIAMO!